Fourth in an occasional series documenting Dréa Baldini's transformation.
When Dréa Baldini was a young boy living in a trailer park in North Carolina, he'd stand outside, extend his arms, and spin around and around, trying to re-create Diana Prince's change into Wonder Woman.
But the transformative, white light never flashed.
And neither shoulder-length tresses nor magic lasso appeared.
In the end, Baldini was simply a dizzy, disappointed little boy in dungarees and a T-shirt.
"Oh, my God, I would spin until I threw up," Baldini said one Friday afternoon, dressed in a curve-hugging, cleavage-baring, black-and-white-striped jumpsuit. Even as a 5-year-old boy, she knew she was all girl.
"It just had to work. So I kept trying and trying and trying."
Finally, last September, Baldini started a journey to womanhood.
[Read the first installment of Diary of a Transition here]
A little over a year later, even without a sudden burst of Amazonian magic, Baldini, 43, has made tremendous progress, thanks to hard work and thousands of dollars.
Every other Friday, she injects estrogen into her buttock muscles. She had cheek implants in her face, and lost 60 pounds by cutting out carbohydrates. In January, she had breast-enhancement surgery that proved difficult to heal. Now, however, she's a healthy 38 DD.
In August, Baldini stopped her twice-weekly Hair Club appointments to have her wigs fitted, groomed, and coiffed. As a hairstylist, makeup artist, and the owner of André Richard Salon and ARS Parlour in Midtown Village, she now feels comfortable maintaining her own 'do.
[Read the second installment of Diary of a Transition here]
That means that, every night in her man-cave-turned-boudoir, she brushes out the wig for the next day - she has a collection of shoulder-length hair in a range of dirty blond to strawberry blond - and applies double-sided tape to its hairline. In the mornings, she wants to quickly pop the hair on and press it down.
In the last year, she gave away nearly all her bulky men's shirts and baggy jeans to friends or to the LGBTQ Home for Hope in Philadelphia. The two closets in her room and five densely packed rolling racks are now the sartorial home to a collection of Michael Kors' outerwear, cozy sweaters and capes, assorted black leggings, and psychedelic-print babydoll dresses.
[Read the third installment of Diary of a Transition here]
She has mastered the art of taking selfies from the perfect angle for a slim waistline, and, in August, she had a new driver's license picture taken and changed the gender to F for female.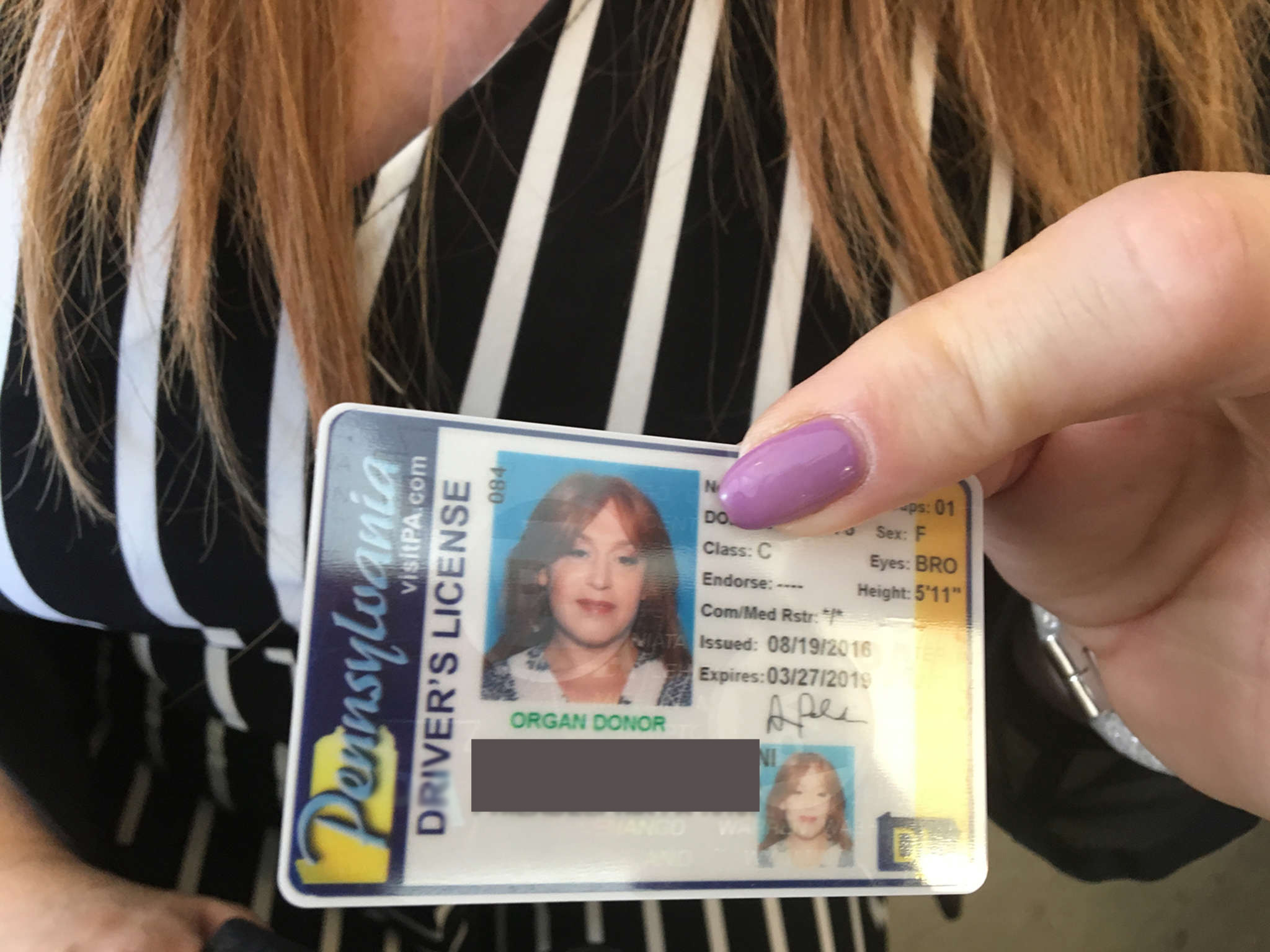 "That was really important to me," Baldini said, "You don't know what it's like to have that ID. I cringed on the inside."
What else makes Baldini suck her teeth? The way women are treated. Baldini may have walked through life as a gay man, but she was still a man.
"When I was a man, people didn't cut me off midsentence," she said. "They didn't talk to me like I was stupid. I had one guy who was talking to me about air-conditioning, and he said something about the compressor and then said I probably had no idea what he was talking about," she said.
"Whatever . . . I've installed three of them in my salons."
And please don't treat Baldini like a science experiment. She really hates it when old friends ask her questions about her new lifestyle - especially in front of strangers.
"As soon as people catch on in the salon, they turn all ears," Baldini said. "All of a sudden, I'm an animal in a cage. What does it eat? How is it feeling? How does it walk? It becomes really uncomfortable."
She's still getting used to some day-to-day etiquette, like what to do when she approaches a door with a woman. She always reaches first. And for that matter, what to do when it's a guy? When should she sacrifice heels for comfort? What days are dress days? Are panty hose a must?
"It's not going to be automatic for her just because she takes hormones and has larger breasts," said Sherman Leis, a Philadelphia doctor of osteopathic medicine who specializes in plastic and reconstructive surgery for transgender people.
"These are learned behaviors. Still, in her heart of hearts, she is still a woman."
How is that possible?
The answer is science.
Inside the hypothalamus, which connects the nervous and endocrine systems, is the bed nucleus, a walnut-shaped part of the brain that controls gender identity, Leis said.
Most men - especially those who identify as men - have bed nuclei twice the size of women's.
However, according to a 2000 report by University of Amsterdam scientists, CT scans, MRIs, and autopsies of female transsexuals - men who identified as women but hadn't taken hormones - showed that their bed nuclei were the same size as women's. (There has been no similar study of male transsexuals because, Leis said, that transition is less common.)
"It's like being born with any other congenital anomaly of the body," Leis said. "The biological shape of the body is opposite the perceived gender. We don't know why it happens. Maybe there are abnormal hormone levels in the pregnant female, or it may possibly be chromosomal gene changes. They are born like this."
So what kind of woman is Baldini?
Well, for one, she's calm. Now that her testosterone levels have dropped to barely negligible, the internal fight within is gone, she says.
"The poison is out."
She doesn't get flummoxed when she has to complete more than one task at a time - multitasking, it seems, is a signature trait of most women. She has a boyfriend.
But most important, she finally feels more of a connection to her mother, who died in 2010. As a child, Baldini lived in her mother's shadow.
"I was connected to her femininity - the way she carried herself, the way she walked, the way she cared. I wanted to express myself in that way."
A few days ago, Baldini found herself chatting with an old friend about Wonder Woman. While discussing bulletproof wrist cuffs, the friend looked up at Baldini and said sincerely, "Well, I guess all that spinning around finally worked."
Said Baldini: "All I could do was cry."
215-854-2704
@ewellingtonphl