NEW YORK - Maybe it was the unrelenting summer heat, or perhaps American designers are acknowledging the varying paths women are taking on their life journeys.
Either way, many of the spring 2017 collections presented at this week's New York Fashion Week were filled with nomadic references that made them comfortable, travel-friendly, and, believe it or not, a touch dressier than recent seasons.
Designers like Diane von Furstenberg featured tops blousy yet tailored. Tory Burch's printed skirts continue to hover midcalf to midankle in both pencil and A-line silhouettes.
Alexander Wang's slip dresses shimmered. White blouses - and there were lots of 'em - were replete with natty details like pleats, ruching, deep cuffs, and a few asymmetrical hems. Geometric patterns by Allentown-bred Thom Browne and J.Crew's mix-matched stripes abounded. In an interesting nighttime-as-daywear twist, the belted bathrobe will be well on its way to being embraced by this time next year. Check out Lacoste's collection if you don't believe me.
And the pants, pants, pants. So many options. Veronica Beard did wearable wide-legged jumpsuits, tailored trousers, and tapered gauchos, and Tadashi Shoji gave us lace jumpsuits.
There was such a variety of looks on the runways it was hard to pin down one dominant trend. This season, designers also were battling elements threatening not just their relevance, but their future.
Shoppers' dissatisfaction with the quality of clothes is reported to be behind the chronic retail sales slump. On Thursday - the first day of New York Fashion Week: The Shows - the Washington Post printed an op-ed by Project Runway mentor Tim Gunn that scolded American designers for largely ignoring women over size 10.
This season, a few designers tried to make amends. Tracy Reese and Christian Siriano were among a handful who featured more normal-size women in their collections. A few designers, such as Tommy Hilfiger, Tom Ford, and Rebecca Minkoff, showed their fall 2016 collections with an option to buy.
The reality remains, however, that the majority of designers debuted next spring's collections on tall, thin models who could easily wear deep slits and décolletage. But the rest of us can still pull elements from this week's runways into our existing wardrobes next spring - even right now.
Nomad chic
Monse (pronounced MAHN-say) - the collaboration between Laura Kim and Fernando Garcia - was among the best of the crisp, safariesque collections this season. The duo, who also debuted their first collection as the creative directors of Oscar de la Renta, gave us boxy jumpsuits with interesting origami details. And they mixed in khaki skirts with off-the-shoulder, button-down shirts. Maria Cornejo focused on caftanlike whites. And Niklaus Hodel, Matthias Weber, and Florian Feder of Band of Outsiders added a preppy touch to their boxy, oversize desert look. Everything can be worn with sneakers.
Stripes everywhere
Stripes crisscross every which way. But not the thick, nautical ones. Next spring's pressed, menswear-inspired pattern appeared in Christian Siriano's shirtwaist dresses, and Tango-worthy off-the-shoulder button-downs by Banana Republic. The classiest runway veteran of them all, Carolina Herrera, worked the vertical stripes - and denim - into her elaborate, floor-length gowns.
Waist interest
Alexander Wang put his models in crisscross belts with short shorts. Amanda Phelan, a Chadds Ford-bred designer, featured two-piece skirt and top sets with the slightest sliver of midriff. And Vera Wang's interesting off-the-shoulder blazers (Hood by Air's Shayne Olivier did an even more deconstructed version of this kind of outerwear) were all about a little tummy when paired with shirts, miniskirts, and booties.
Not your same old pants
Trousers will be new and different next spring. Nicole Miller did black trousers with up-to-the-knee splits and soft ruffles around the ankles that she smartly showed with tops with tassels and Aztec prints. Prabal Gurung showed ankle-length pants with a deep front-of-the-leg slash held together with chain detailing, and Adam Lippes created several pairs of wide-legged bottoms that would make Katharine Hepburn jealous.
Bathrobe elegance?
And then there was this: Designers paired basic shorts and maxi dresses with bathrobes. Wang's and Shoji's cover-ups were silky and lace-trimmed like lingerie. The Band of Outsiders tied its plaid bathrobes-masquerading-as-dusters over jeans with white T-shirts. On the Lacoste runway were terry-cloth bathrobes coolly worn with joggers.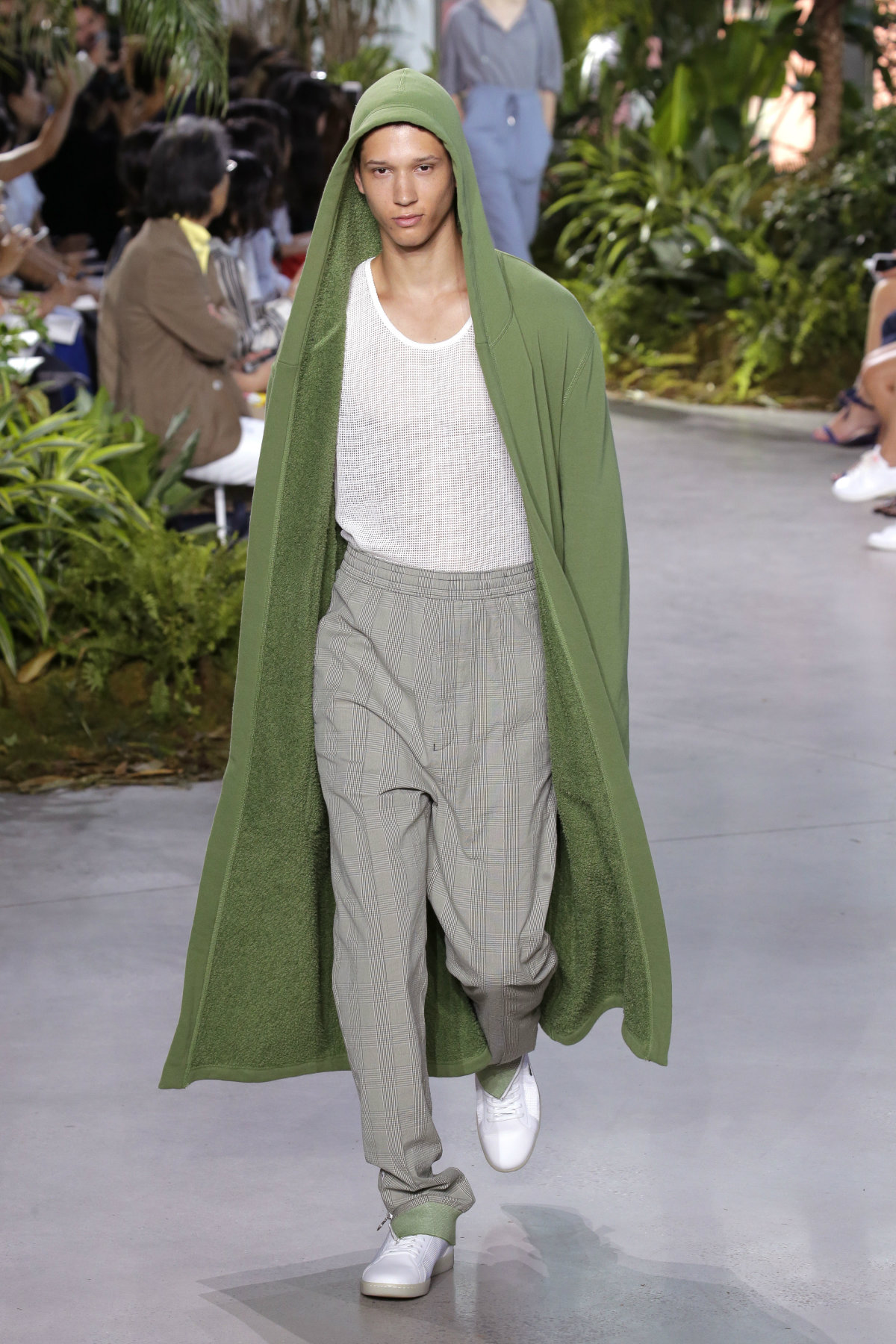 215-854-2704
@ewellingtonphl