You know how it is. Restaurants that are super-heralded for their savory food also happen to do great sweets.
Here are six restaurants whose pastry shops don't always get the attention they deserve.
Vedge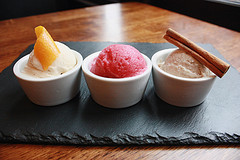 While her husband Rich Landau wows diners with his unorthodox vegetable meanderings, Vedge pastry chef/co-owner Kate Jacoby takes a straight-away approach to vegan sweets.
"If a [non-vegan] creme brulee is four ingredients, so is mine," explains the self-taught Jacoby of her pastry approach, sans milk, butter or eggs.
Traditionalists dig into satisfaction via popular meal-enders like the Uber Chunk, a pretzel-crusted combo of malt custard, peanut butter cream and chocolate ganache, paired with off-sweet dark beer ice cream made with coconut and soy milks. (Her freezer also boasts soy-free seasonal sorbets — orange five-spice and cranberry, recently). But the standout has got to be Jacoby's sweet potato turnovers, inspired by plum dumplings she tried on a trip to the Czech Republic. Filling spice-dusted dough with candied sweet potato infused with vanilla, she accompanies the fried pockets with "sweet kraut" (red cabbage braised in Riesling and brown sugar) and vegan sour cream flavored with clementines.
1221 Locust St., 215-320-7500, vedgerestaurant.com.
Photo: Vedge sorbets.
Koo Zee Doo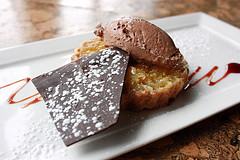 A number of traditional Portuguese desserts feature almonds, widely harvested in the southern regions of the country.
Even more ubiquitous? "It's all eggs," says Koo Zee Doo co-owner Carla Goncalves.
The folksy story goes that Iberian nuns, relying on albumen to starch the convent laundry (good habit), were left with a preponderance of yolks that couldn't go to waste. This led to the development of some super-decadent sweet stuff.
Goncalves, who owns KZD with chef/husband David Gilberg, shouts out this yellow-bellied tradition with her coconut tart. A rich "egg jam" of simple syrup and yolks joins shredded coconut in a shortbread-style cookie crust. Centered on a plate squiggled with port wine syrup, the tart comes with a shard of salted chocolate and a topper of homemade chocolate whipped cream.
614 N. Second St., 215-923-8080, koozeedoo.com
Photo: Coconut tart at Koo Zee Doo
Johnny Brenda's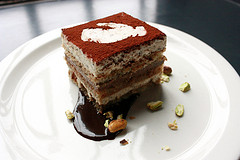 "I'm a pretty classic guy," says JB's Mike Vandergeest. He's got the CV to prove it — the pastry chef ran the sweet show at the Four Seasons and Lacroix, among other spots, before landing over at Fishtown's favorite beer bar and music venue.
Vandergeest's old-schoolness is reflected on his small dessert menu. It's not uncommon to see standards like tarte tatin a la mode (made with local Stayman-Winesap apples) and lemon chess pie pop up on the blackboard, but java drinkers should try his tiramisu if they're looking for a new way to get wired. Using the coffee beans JB's roasts on the premises, Vandergeest bakes a coffee-infused sponge cake that he proceeds to soak in cold-brewed coffee. Layering that up with bittersweet chocolate cream and mascarpone mousse mixed with even more coffee, the squared-off dessert gets dusted in cocoa powder to finish, often with the assistance of stencils (see boxing glove!) custom-cut by bartender Tuesday Kay.
1201 Frankford Ave., 215-738-9684, johnnybrendas.com
Photo: Tiramisu at Johnny Brenda's
Ela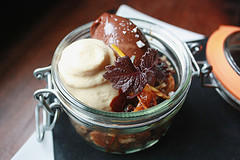 Jason Cichonski has gotten mounds of attention for his liquid cookie dough, but don't sleep on the rest of the chef's pre-check options at Ela.
Two intricate and unexpected desserts recently landed on the list. Check out the chocolate peanut cake, saturated in a "burnt" chocolate/caramel sauce and accompanied by chocolate ganache, whipped butterscotch and a chili/orange marmalade.
On the lighter end: a milky white chocolate pannacotta, plated with pomegranate/ginger sorbet and pistachio crumble.
627 S. Third St., 267-687-8512, elaphilly.com.
Photo: Chocolate/butterscotch at Ela.
Kanella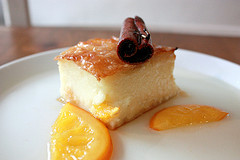 "If you go to 20 Greek restaurants, you'll find 20 versions of this," says Konstantinos Pitsillides of his galaktoboureko, one of several uncomplicated options on Kanella's homespun "glika" (sweets) list.
Common though it may be, the Cypriot BYOB's version is extremely worthy of your attention. Pitsillides envelops an incredibly light semolina custard inside phyllo dough, soaking it the whole way through with hot orange-cinnamon syrup and preserved orange slices. Say it "gah-lock-toe-BOOR-ay-koe."
1001 Spruce St., 215-922-1773, kanellarestaurant.com.
Photo: galaktoboureko at Kanella
Talula's Garden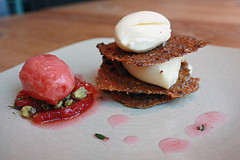 Aimee Olexy's whimsical Washington Square spot earns accolades for chef Sean McPaul's seasonal to-the-second savory menu, but pastry chef Vita Shanley is working the same exact angles with dessert. Check out her creme brulee napoleon, a dish she originally developed across town during a stint at Il Pittore. Vanilla creme brulee fillings gets sandwiched between crunchy, chewy pistachio tuile pieces. Alongside the stack, Shanley quenelles up blood orange sorbet she sticks atop ground pistachio and blood orange segments soaked in thyme syrup. Fans of Shanley's will be able to try even more of her handiwork come early spring, when Olexy debuts Talula's Daily, an accompanying cafe and takeout shop right next to the restaurant.
210 W. Washington Square, 215-592-7787, talulasgarden.com
Photo: Creme brulee Napoleon at Talula's Garden