You know how it is. Restaurants that are super-heralded for their savory food also happen to do great sweets.
Here are six restaurants whose pastry shops don't always get the attention they deserve.
Vedge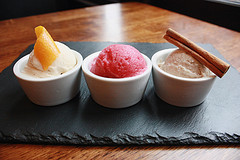 While her husband Rich Landau wows diners with his unorthodox vegetable meanderings, Vedge pastry chef/co-owner Kate Jacoby takes a straight-away approach to vegan sweets.