Maybe it was the cannoli.
Maybe it was the ferocious defense. With a dominating 10-sack performance last week, there was definitely defense.
But after Temple's shocking 27-10 win over Penn State on Saturday - a career high point for a rising young coach and one of the greatest victories in the Philadelphia university's history - coach Matt Rhule wasn't taking any chances.
His Owls have a tall challenge ahead, meeting conference favorite Cincinnati on its home field Saturday, and that assured one thing as he prepared this week for the game: lunch at Mr. Joe's Cafe in South Philly.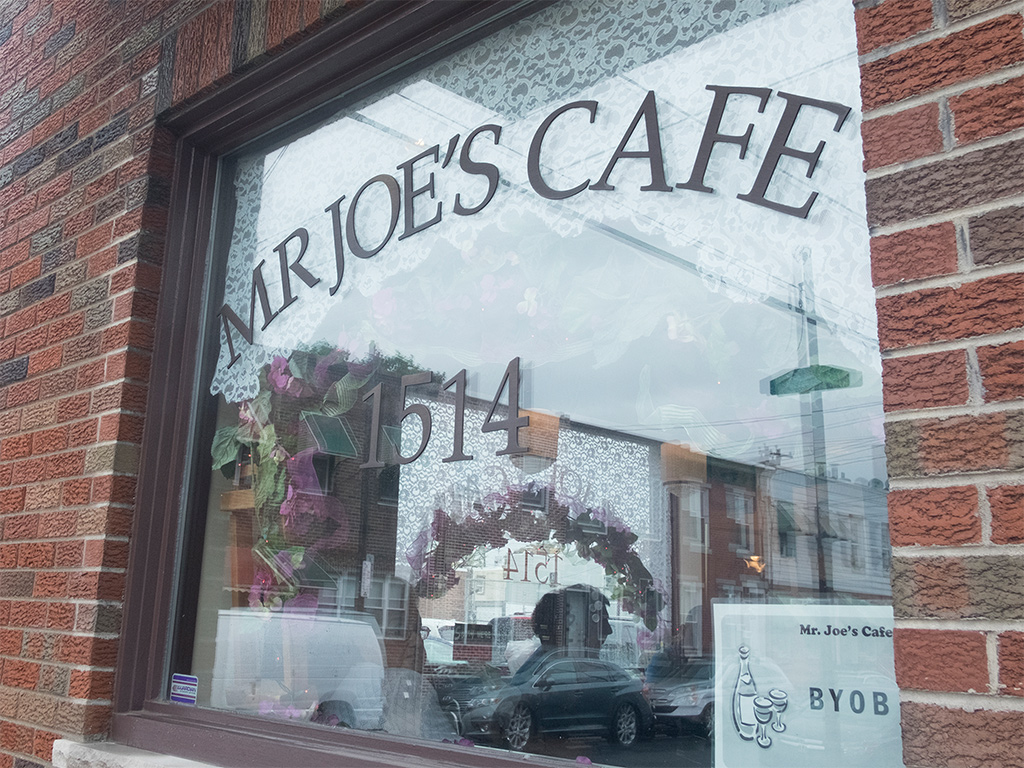 "Whatever we did last week, we're doing the same thing this week," he said Thursday, raising a glass of the cafe's complimentary jug wine to linebackers coach Mike Siravo and recruiting assistant Mike Wallace. "Cent'anni!"
Glasses clinked as Rhule said his toast (meaning "one hundred years of health") with the legitimate swagger of his Italian American heritage just as bowls of hearty pasta e fagioli soup arrived.
The crew of five old-timers at the next table - Mr. Joe's regulars and owner Vincent Termini's pals from the South Philadelphia High School Class of 1956 - took instant notice, and began chiming in like the South Eighth Street Chorus.
"What a game that was Saturday."
"Cincy's going to be tougher than Penn State. Now that's a good team."
"Your defense will eat 'em up."
"You know, we saw the Eagles win the championship in 1960. . . ."
"Ah, he's too young to remember that!"
Rhule, still boyish at 40 despite his untrimmed season stubble, was clearly tickled by his brush with the regulars. "Right out of Central Casting," he said, impressed with their local pride and football savvy - not to mention that they actually knew who he was. After three years as Temple's head coach, with steady improvement each season, that's becoming a more frequent occurrence.
Whatever it takes to build on that success, he is ready to oblige. Especially if it means invoking the Gods of Red Gravy with a lucky meal.
"I can't decide: do I get the braciola or the spaghetti with crab?" said Rhule, somewhat anguished.
Athletes can be famously superstitious when it comes to food. Wade Boggs ate chicken before every game of his Hall of Fame career. Flyers captain Claude Giroux always downs grilled cheese sandwiches before taking the ice. Someone in the Eagles front office placed large take-out orders for lobster rolls from Luke's Lobster every weekend during last year's winning streak, though no one in management will confirm the gourmet's identity. ("When someone well-known comes in, we ask as few questions as possible," says Luke's co-owner Ben Conniff.)
But at Mr. Joe's, with a daily-changing menu hand-scrawled on lined paper, no ruts are allowed. Vincent Termini's old-school luncheonette is a time-capsule ode to his father, Giuseppe, who founded the family's famous bakery with his brother in this charming corner space in 1921. (The bakery now sits directly across South Eighth Street.)
"All bets are off, Matt. You got two downs to go and you've got to make your decision before she walks over," said Siravo, motioning to manager Anna Maria Di Gregorio.
"She makes it all go for me," Rhule said, his heart warming at the unexpected cannolis Di Gregorio brought at the end of his previous meal. He'd come following a recruiting trip in the neighborhood at the recommendation of Mark DeLeone, an assistant coach with the Kansas City Chiefs. Now he's hooked. "She's the one who makes it all work."
So, naturally, with her being Mr. Joe's MVP, Di Gregorio audibled with a dish of complimentary meatballs to tide them over. "I didn't see that coming," Rhule says, pleasantly surprised. "Didn't even see that on the menu."
In the offseason, Rhule's dining tastes veer toward Philly's most sophisticated options, from Zahav to Talula's Garden, Osteria, Parc, and the South Philly Tap Room.
During the insanity of the season, however, establishing steady meals becomes less a matter of pure superstition than creating an oasis of ritual and repose amid the chaos.
"When you go on the road, it's you vs. 40,000 people," he said while expertly whirling his fork through a tangle of pasta in crab-laced marinara. "So you control what you can control. And when we eat, it's one of the few moments we know we can relax and really enjoy something."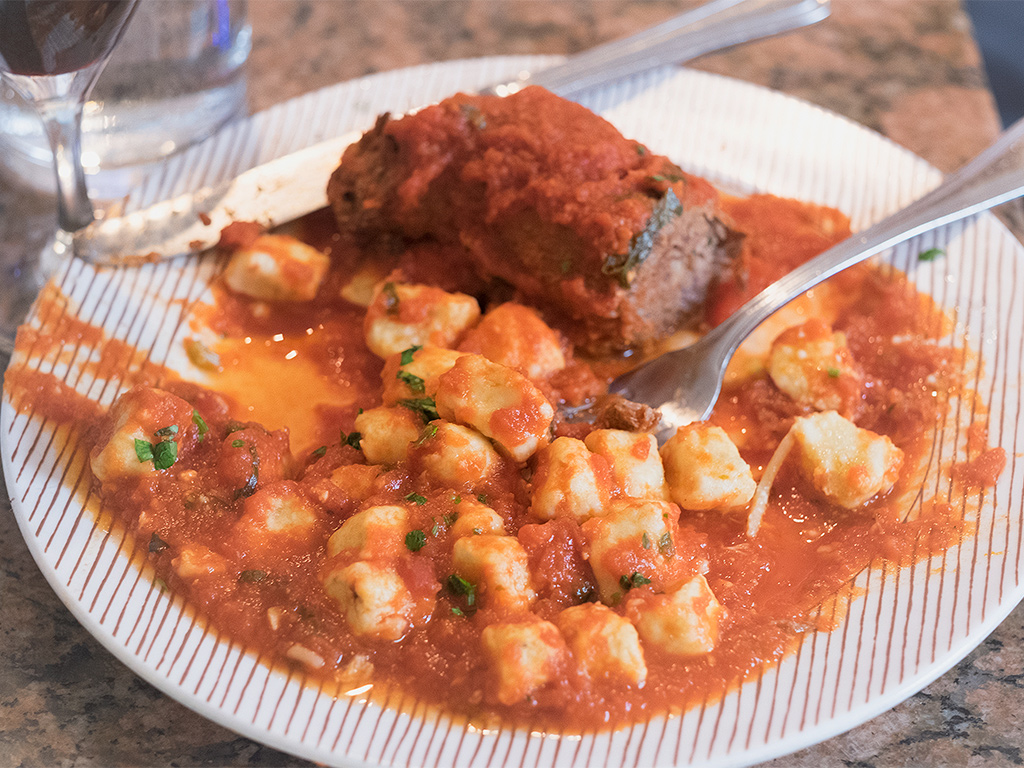 "It's comforting," agreed Siravo, digging into a side of tender stuffed flank steak braciola and an aglio-olio spaghetti scattered with toasted pine nuts. He was already dreading the dry baked hotel chicken and overcooked noodles ("with those browned burnt ends") that awaited on the road.
While at home, the entire team maintains a steady eating routine. Tuesday night, soul food (turkey legs and fried catfish) from Sugafoot Cafe on Chelten Avenue. Pizza night Wednesdays in the weight room ("Tacconelli's when we can"). Richie's Deli, Mario's, and Baby Blues BBQ are other favorites. And then there are the home game Friday feeding frenzies at Fogo de Chão, when 70 guys walk into the Brazilian steak house, eat meat for 30 minutes straight, and then walk out hundreds of pounds heavier.
But there is something uniquely soulful about this new lunch tradition at Mr. Joe's that conjures up the spirits.
"For a few moments, he's transported back to Rhode Island," says Rhule, referring to Siravo's home state. "I'm transported back to my grandma's kitchen [near Altoona], with her broken English and housecoat, frying every meatball by hand. Wallace, over there? He's transported back to the Olive Garden."
They erupt in laughter as the youngest football staffer at the table takes his ribbing in stride: "It's true, I'll admit it. But now that I've been introduced to Mr. Joe's, I'd say Olive Garden is overrated."
"If we win [against Cincinnati], we'll be back next week for gnocchi and braciola," Rhule said. He finally conceded, "You're probably right. . . . I need to come to terms with my own superstitions."
Their 2:30 departure time was suddenly upon them. Rhule's eyes flickered up to give Di Gregorio the signal. With the clock running down, the cannolis appeared just in time.
"Like the extra point," said Ruhle, devouring the crispy shell and sweet cream. "No, a two-point conversion."
"This," said Siravo, popping the cannoli into his mouth, "is what I call the victory formation."
---
215-854-2682@CraigLaBan