Part I review of the Phillies' 2017 minor-league seasons: A look at the position players
Some of the fruit from the Phillies' minor-league trees ripened this season, but it did not make the product at Citizens Bank Park any more visually appealing. Still, the promise of better days ahead was provided by enough of the prospects in the farm system to consider the seasons of the team's minor-league affiliates a success.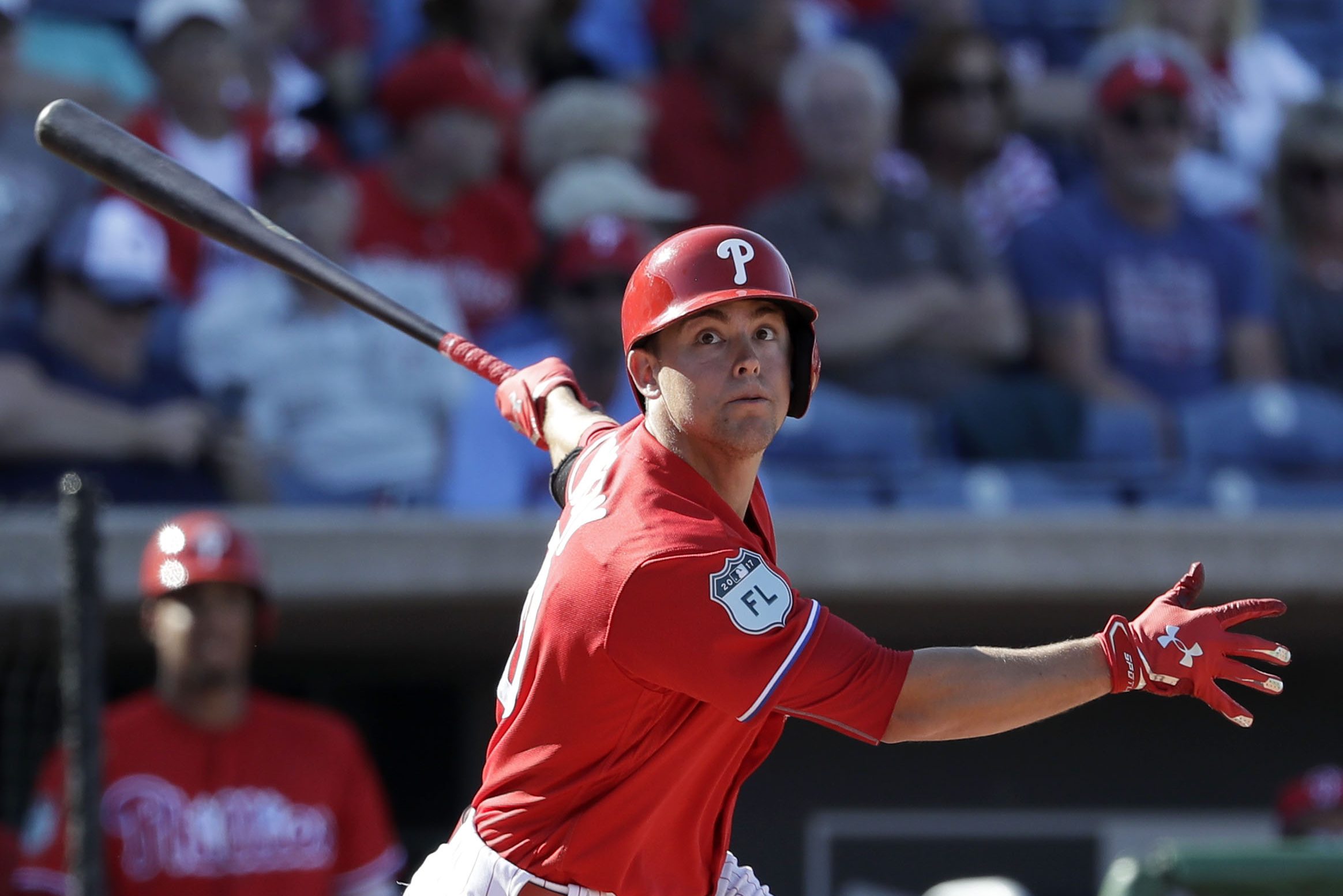 "I'm very, very happy with the season we've had," director of player development Joe Jordan said as the minor-league teams neared the completion of their regular-season schedule. "There are success stories all over the place."
Indeed there are, and many of them at the higher levels of the minor-league system have involved the position players. Jordan has said in the past that he often compares the Phillies' organization to the New York Yankees. He does so not because the Yankees have been the gold standard since Babe Ruth arrived in 1920, but because the affiliates of each team play in the same leagues.
[Phillies designate Stassi for assignment, add reliever]
A scout familiar with the two teams said he believes the Yankees' farm system surpassed the Phillies' system with the help of the trades New York made last season, but he also is bullish on the future in Philadelphia.
"The Yankees might be a little above them, but I think the Phillies have a bright future," the scout said. "I wouldn't be dismal about what is going on with that organization. I see the Mets' system and I think they're ahead of them."
Positional player success stories
The largest dose of optimism at Citizens Bank Park in quite some time arrived on Aug. 10 in the form of Rhys Hoskins. Those who saw the 6-foot-4 slugger play the last two seasons in the minor leagues believe the feel-good story that put him on the national map in less than three weeks believe he has staying power.
"There has to be brightness in the Phillies' future with what Rhys has done," the scout said. "He's capable of doing great things. I didn't think he'd immediately break records, but I've always liked his power and his approach at the plate."
Nick Williams' late June graduation to the big leagues has also gone well. In fact, his numbers in his first 53 games with the Phillies – .281 batting average, .344 on-base percentage, and .829 OPS – were quite similar to his numbers in 78 games at Lehigh Valley – .280, .328, and .839 – before he was promoted.
Go up and down the minor-league system and you'll find plenty to be pleased about.
Scott Kingery, with his bat, glove, speed, and extraordinary baseball IQ, has given the Phillies one of the best second-base prospects in the game and a nice problem to have with Cesar Hernandez already playing well in the big leagues.
J.P. Crawford can also be considered a success story because of his ability to climb out of the abyss he found himself in through 42 games. After going hitless on May 25, Crawford was batting .175 with a .291 on-base percentage, one home run, and four extra-base hits. In his next 80 games, he hit .268 with a .375 on-base percentage, 15 doubles, and 13 home runs. He will more than likely be promoted to the big leagues when the Lehigh Valley season ends Monday.
"I'm not going to give up on that guy," the scout said. "He's just not ready quite yet, but I still like him a lot. Listen, position-player wise, there are a lot of things for the Phillies' to be hopeful about."
Jordan was encouraged by the development of outfielders Jiandido Tromp  and Carlos Tocci at double-A Reading this season, and he also felt third baseman Mitch Walding took a step forward before being sidelined by fractured facial bones.
Lefthanded hitting first baseman Darick Hall, a 14th-round pick in 2016, was the best hitter at low-A Lakewood this season, connecting for 27 home runs, which is 10 more than anybody else in the South Atlantic League. He hit two more in his first three games after recently being promoted to high-A Clearwater.
The most powerful prospect for the Phillies at any level is Jhailyn Ortiz, the 18-year-old rightfielder the Phillies signed for $4 million two years ago. He was hitting .302 with eight home runs and a league-leading .961 OPS through Wednesday.
The first-rounders
Johnny Almarez has overseen three drafts since becoming the Phillies' scouting director, and all of his first-round picks have been top 10 overall selections. The biggest concern of the three at this point has to be 2016 No. 1 overall selection Mickey Moniak. The lefthanded-hitting centerfielder was hitting .189 with a .228 on-base percentage in his last 54 games before Thursday and his .627 OPS overall heading into Thursday was the second lowest among the 19 position players drafted in the first round last season.
"If you take away the last 30 or 40 days, you're looking at a guy who was hitting .270ish," Jordan said. "He's running out of gas. He'll physically get himself where he needs to be over the next couple of winters to not go through this. It's the same thing that happened to Scott Kingery last August, and we all know what has happened with Scott this season."
Moniak, 19, could end up returning to Lakewood again next season, especially since this year's No. 1 pick Adam Haseley is also a centerfielder who is two years older and should be ready to play at high-A Clearwater at the start of next season.
"I don't think we've seen Haseley at a hundred percent yet," Jordan said. "He was a two-way player in college, and this winter he can prepare and condition as just a position player, and that will allow us to really see the player he has a chance to become."
Cornelius Randolph, after missing much of his second professional season with a shoulder injury, still was promoted from low-A Lakewood to high-A Clearwater this season and for the second straight year got off to a slow start. He hit .220 with just 14 extra-base hits in his first 65 games, but rebounded in his next 56 games to bat .279 with a .366 on-base percentage and 22 extra-base hits, including seven home runs.
"Developmentally, Cornelius has had a great year," Jordan said. "He's running better, he's a better outfielder, and he has started to transition as a hitter to a guy who you have to respect his power. He's learning to drive the ball to the pull side more, and I'm very excited about the year he has had."
The Roman Quinn injury of the year
For those of you keeping score at home, Roman Quinn's injury history now includes an elbow injury, which ended his season on May 28. As usual he was playing well when he got hurt, but in six seasons since being taken in the second round of the 2012 draft he has never played in more than 92 games.
Jordan said Quinn will try to make up for this year's lost time by playing winter ball.