Wood, Anthony R.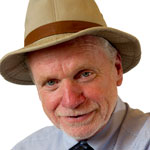 Everyone talks about the weather, and here we write about it.
By standard measures, this has been an uneventful winter until now, stingy with snow, ice and drama. So much for standard measures.
Weather or Not | When trees do it, allergy sufferers rue it

Pollen saturates the air. Sneezing is heard in the land.

We are in the heart of one of the region's most underrated aesthetic seasons. The late-day light playing upon the tree tops is ever more spectacular. The still-bare branches are showing off their architecture, limbs subtly colored with swollen buds.