Say you're just starting out, as overstressed and underpaid as the next twentysomething, and looking to connect with world-class wireless service and a smartphone to match. In other words, you want megabytes on a mini-budget. Where to turn?
One answer, at least in the Philadelphia area, might be MetroPCS, the prepaid-wireless carrier that last week announced plans to merge with T-Mobile. With an array of Android smartphones and a promotional plan that offers unlimited voice, texts, and data for $55 a month, it plainly counts as a price leader - just as T-Mobile does in the contract-based market dominated by Verizon Wireless and AT&T Mobility.
Though the latest wireless pair-up has been criticized by some who recall the headaches Sprint faced in integrating the Nextel brand, subscribers and technology, T-Mobile and MetroPCS seem compatible in many ways.
T-Mobile recently returned to offering truly unlimited data, dropping the threat of speed throttling and overage charges that AT&T and Verizon have imposed. Executives of T-Mobile and MetroPCS - even together, they would still rank in fourth place nationally with 42.5 million subscribers - made a credible case for their plan to emerge as the country's "leading value carrier."
To get a better idea what kind of technology and service is available on a modest budget, I tested two of MetroPCS's newer smartphones: a $149 LG Motion and a ZTE Anthem that sells for $199 after a mail-in rebate. The phones rank in the middle of a smartphone lineup that starts below $100 and tops out at $459 for the Samsung Galaxy Lightray.
(Unlike contract carriers, prepaid carriers don't routinely spread the cost of a device over a two-year term, so don't expect any "free phone" offers.)
MetroPCS offers an array of plans that work with smartphones. For $40 a month, you can get unlimited voice and text plus 250 megabytes of data at LTE speeds, throttled to slower speeds if you run over the limit. If you read e-mail and have a light touch with apps, that's probably all you need. For $50 a month, you can get the same unlimited voice and texts plus 2.5 gigabytes of data - enough to add strenuous app use and a fair dose of video to your monthly menu.
But the higher-price plans, starting with the $55 unlimited-data deal, may hold a special appeal for budget-conscious "cord cutters" - younger users willing to use mobile devices as their primary tools for Internet access and entertainment.
MetroPCS says that all its prices include taxes and fees, and that multiple lines come with a $5-a-month discount. So a two-phone, unlimited-service family plan costs $100 a month, and a five-phone plan - that's the limit, so don't try this for your whole frat house - costs $250.
For an extra $15 a month, cord-cutters can add unlimited music through Rhapsody plus unlimited MetroStudio Video on Demand - a TV-replacement service that offers streaming news, sports, and entertainment shows from familiar channels, including ABC News, BET, Bravo, CNBC, Disney Channel, ESPN, MSNBC, NBC Sports, Oxygen, Syfy, Telemundo, Univision, and USA. (MetroStudio also comes as a $10 add-on with other plans.)
Some details about the ZTE Anthem and the LG Motion:
ZTE Anthem. With a 4.3-inch screen, the ZTE could be an attractive phone for surfing the Web and watching TV shows - it even features an HDMI connector to deliver high-definition video to your television. It also includes a front-facing camera useful for video-chatting, a MicroSD card, a camcorder, and a 480-by-800-pixel WVGA touchscreen.
Its primary drawbacks: It runs on an older version of Google's Android operating system, Android 2.3, also known as Gingerbread. And it weighs a clunky 6.7 ounces. For a point of comparison, Apple's iPhones have never topped 5 ounces, and the svelte iPhone 5 weighs in under 4 ounces - albeit with just a 4-inch display.
LG Motion. Smaller, sleeker, and lighter at 4.7 ounces, the Motion is in many ways reminiscent of an older iPhone. It includes 5 gigabytes of internal memory, a microSD slot for up to an extra 32 gigabytes, and a 3.5-inch HVGA video display measuring 480 by 320 pixels - the same as iPhones through the 3GS.
On the plus side, it runs on the later Android 4.0 "Ice Cream Sandwich" platform, and has an array of features that include a 5-megapixel camera and HD video recording. And, unlike any Apple smartphone till the iPhone 5, it runs on MetroPCS's LTE network.
LTE is the best part of MetroPCS's latest offerings - at least where the carrier offers robust service, as it does through much of Philadelphia.
So how does its LTE measure up?
RootMetrics, a company that studies how carriers actually deliver on calls, texts, and data, says Verizon Wireless averaged download speeds of 11.6 megabits per second in its recent Philadelphia tests - far better than second-best T-Mobile, which averaged 4.3 Mbps without LTE. (T-Mobile is adding LTE next year.)
MetroPCS was well behind, averaging less than 1 Mbps, RootMetrics said. But my own small-sample tests of the ZTE Anthem and LG Motion were encouraging. Inside my Market Street office, with less-than-optimum service of no more of two or three of four bars, I consistently recorded download speeds between 1 and 2 Mbps - plenty fast for most data, and passable for video.
For a cord-cutter or anyone on a budget, it's worth a look.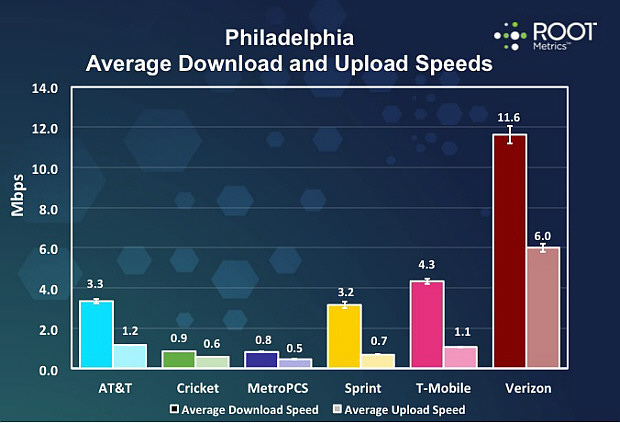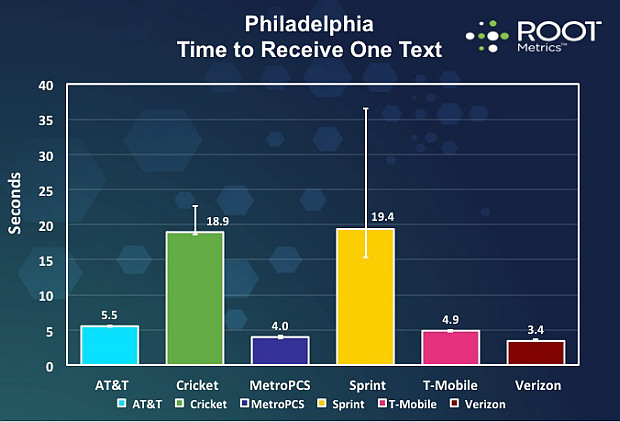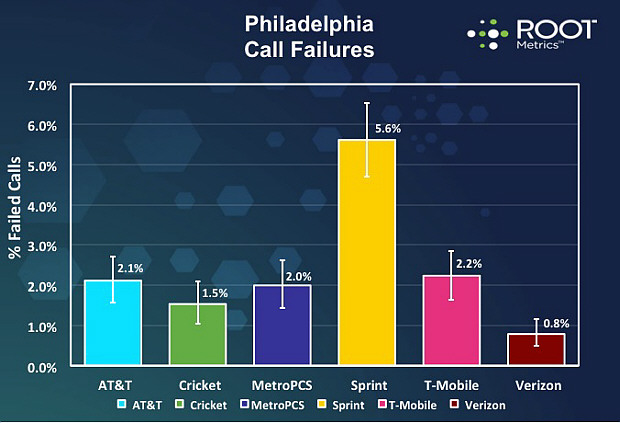 ---
Contact Jeff Gelles at 215-854-2776 or jgelles@phillynews.com.