Welcome to Top Workplaces 2012, an extensive effort to uncover the best employers in the Philadelphia region - as decided by each company's employees. More than 28,000 people took part in this year's survey. We now present the best large, midsize and small companies.
MORE ABOUT THE SURVEY ...
---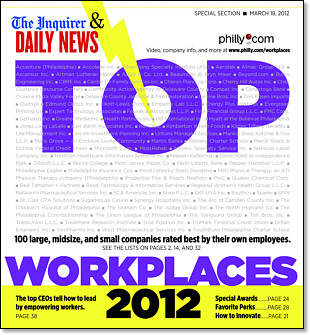 THE BOSSES ROUNDTABLE

IN THE WORKPLACE: THE UPS, THE DOWNS, THE FUTURE
SPECIAL AWARDS
Some employers in the region stood out in our survey based on workers' responses to statements about their company. Here are the top workplaces in six of those categories.

DIRECTION

ViroPharma
's employees - from top execs to scientists to support staff - stay the course by participating in disease education, community activities, patient advocacy and "lunch and learns," regular midday opportunities to meet patients to eat, talk and get to know each other.

MEANINGFUL
At
YouthBuild Charter
, teachers' rewards aren't just abundant, they're also nearly immediate. Each year, they take 210 high-school dropouts and shepherd them through a rigorous program of academic, vocational, and community learning with a success rate of 75%.

CAREER GROWTH
The
Philadelphia Eagles
want their people to dream big, think big and grow beyond their original job descriptions. In fact, 52 of the organization's employees began working there as interns.

CLUED-IN
Founded and run by a family that believes in careful financial planning, operating without debt, and keeping employees informed and happy,
Lincoln Investment
didn't lay off a single worker as the recession came and went.

FLEXIBILITY
Training Research Institute
's flexible policies on working from home and switching up schedules are integral to not just the well-being of its staff, but also of the people who benefit from their work.
TRAINING
Hands-on, over-and-above coursework is a part of the day-to-day at
SPIN
, a 40-year-old nonprofit that serves locals with intellectual and developmental disabilities and autism.

MORE INFORMATION ON THE TOP WORKPLACES SURVEY
Visit the WorkplaceDynamics website for more information about the 2012 workplaces survey, the companies in the survey and an interactive map.