Philadelphians may be haunted by a sense of déjà vu today with the news of an Amtrak derailment in Washington state.
A train on Amtrak's Cascades Line derailed shortly before 8 a.m. at a bridge over I-5, south of Seattle, the rail carrier reported. There are at least six dead, according to the Associated Press, and more deaths are expected. That story also quoted an anonymous source who said it's possible the train struck something on the track that caused the disaster.
U.S. official: At least 6 killed in Amtrak train derailment outside Seattle. https://t.co/XGvKWfVrjD

— The Associated Press (@AP) December 18, 2017
On the train rode 78 people and five crew members, according to Amtrak. It's unclear if those killed and injured were all aboard the train, or if there were also people hurt in the cars on the highway below the bridge.
All SB lanes of I-5 blocked near Mounts Road in Pierce County due to derailed train car. Avoid area! pic.twitter.com/SBH7dCc6yg

— WSDOT Tacoma Traffic (@wsdot_tacoma) December 18, 2017
Amtrak train derails from bridge onto Interstate 5 near Olympia. https://t.co/RVYbsHo77E

— The Seattle Times (@seattletimes) December 18, 2017
The National Transportation Safety Board would investigate Monday's derailment, a spokesman said.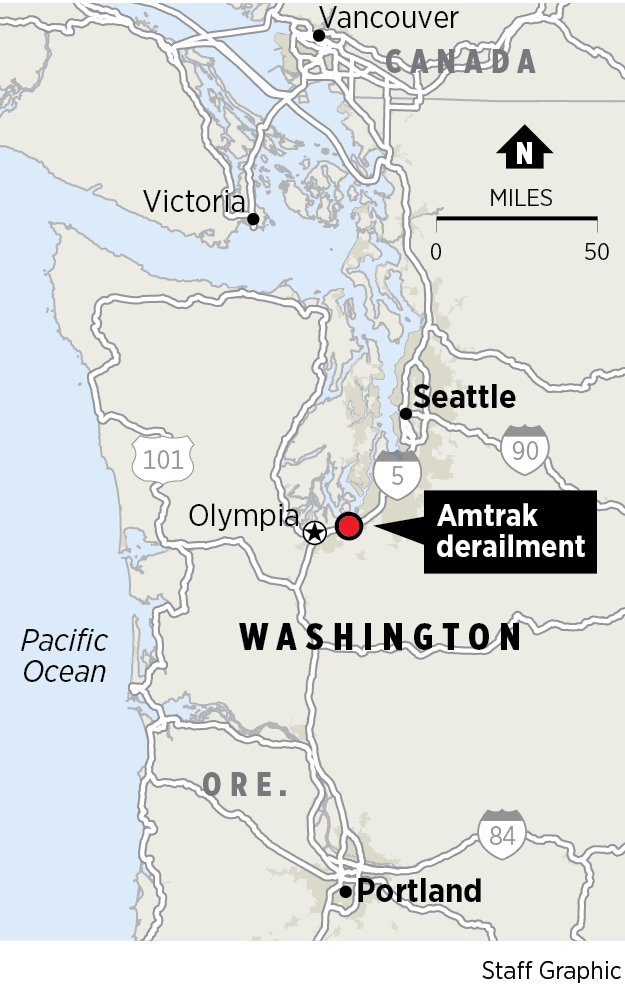 The train involved in the crash was part of a new line on the West Coast, running between Eugene, Ore., and Vancouver, that launched today. The Cascades service included eight new locomotives and $800 million in rail improvements to create faster travel, according to the Washington Department of Transportation. The irony is that the work was meant to create safer rail travel. The project was designed to improve track quality, eliminate track defects, upgrade signals, and create safer railroad crossings.
It was just a month ago that a crash in Chester, Pa., prompted a harsh rebuke for Amtrak from the National Transportation Safety Board, which found that a poor safety culture contributed to the April 3, 2016 derailment that killed two Amtrak railroad workers. Many of the flaws the NTSB cited have yet to be fully addressed, according to Amtrak.
It's too soon to know whether any of that played a role in Monday's crash. One rail expert who used to work with the Federal Railroad Administration, Steven Ditmeyer, said a failure in either the bridge or one of the train cars could have caused the crash, though that would be surprising since the route underwent maintenance work so recently.
Philadelphia had its own derailment about two and a half years ago, when an Amtrak train heading to New York City derailed at Frankford Curve after stopping at 30th Street Station. That May 12, 2015 derailment, which killed eight and injured more than 100, happened because the train was traveling too fast through the curve, something that could have been prevented if Amtrak had a speed control system in place. That system, called Positive Train Control, is now installed throughout the Northeast Corridor, and was also included in the upgrades to the Cascades Line, according to Washington DOT.
But it won't be turned on until next year. It is unclear if speed played any role in Monday's crash.
Philadelphia's derailment happened because, the NTSB found, its engineer became confused about where the train was on the track. He still faces the possibility of criminal charges. A hearing to determine the status of charges against Brandon Bostian is scheduled for Wednesday.