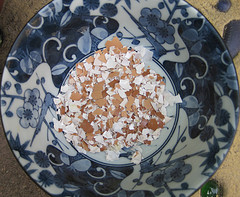 My introduction to recycling came in my grandmother's garden. Granddad was a big-city veterinarian who, years ahead of this century's homesteading movement, decided to buy a farm and leave urban life behind, turning to the treatment of cows and horses rather than cats and dogs. Reluctant at first to leave her familiar environment, Grandma eventually adapted. In fact she thrived in the country, raising border collies and cultivating her own organic vegetables.
During a summer visit to the farm as a curious five-year-old, I loved to follow Grandma as she tended her garden. When I asked why she was sprinkling "smushed" eggshell around the base of her tomatoes, she explained that it helped the plants to grow. Wow! I was amazed by the notion that food - in this case, the fledgling tomatoes - also needed to be fed.
A lot of summers have passed since that July day and the benefit of using eggshells as garden fertilizer is now widely known. In fact, gardeners and green homemakers have discovered many more ways to repurpose this humble item. Here are a few that would make Grandma smile.
Garden