The adventures never seem to end for Sunoco Pipeline's Mariner East project.
The Pennsylvania Public Utility Commission on Thursday lifted an emergency order and allowed Sunoco Pipeline to restart operations on the Mariner East 1 pipeline, two months after sinkholes appeared in Chester County, exposing the pipe's bare steel.
The PUC voted unanimously to allow Sunoco to resume pumping Marcellus Shale natural gas liquids such as propane through the 87-year-old pipeline. The commission ordered the shutdown on March 7 after sinkholes opened up while the company was constructing the new Mariner East 2 pipeline along the same route.
Gladys M. Brown, the commission's chair, said PUC's Bureau of Investigation and Enforcement was satisfied that the pipeline "can resume operations safely." The bureau sought the emergency shutdown in March after expressing concern about potentially catastrophic consequences of a pipeline rupture.
Sunoco said Thursday that it would resume operations immediately.
A few hours after the PUC's decision, another arm of state government, the Pennsylvania Department of Environmental Protection, announced that it fined Sunoco $355,622 for reported spills of drilling fluids over 10 months in connection with construction of the Mariner East 2 pipeline. The incidents it cited are unrelated to the West Whiteland sinkholes.
The new fine comes on top of a $12.6 million penalty that Sunoco agreed to pay in February for "egregious and willful violations," including unauthorized drilling to install the ME2 pipeline and failing to notify the agency of discharges.
Sunoco, a subsidiary of Energy Transfer Partners LP, is building two new adjacent pipelines to expand the capacity of its Mariner East system to deliver Marcellus Shale gas liquids to a terminal in Marcus Hook, where much of the material will be exported. Sunoco is spending $5.1 billion in Pennsylvania on the energy infrastructure project. Sunoco says the ME2 pipeline is 98 percent complete.
The two-month shutdown of the Mariner East 1 pipeline has cost Sunoco Pipeline LP (SPLP) millions of dollars in revenue, and blocked a key outlet for Marcellus Shale producers to ship materials to market. Sunoco requested the reinstatement in an April 27 letter to the PUC, arguing that it was "imperative" for its customers to restart service.
Sunoco said it had complied with the PUC's emergency order and the pipeline was now "fit for reinstatement of service" after underground cavities were filled with grout and the pipeline was inspected.
Sunoco said that tests showed the subsidence did not impair the pipeline where it passes less than 50 feet from houses through backyards on Lisa Drive in West Whiteland Township, near Exton. The sinkholes developed about 300 feet from Amtrak's mainline corridor from Philadelphia to Harrisburg.
"The area at issue may be the most tested and vetted property where a utility pipeline resides in Pennsylvania," Sunoco maintained.
West Whiteland Township, State Sen. Andy Dinniman (D., Chester), and the Clean Air Council objected to lifting the emergency order, saying the site and others like it along the 350-mile route required more testing.
Clean Air Council executive director Joseph Otis Minott, whose group has led legal efforts to thwart the project, said that given Sunoco's track record, "the council is deeply concerned about the reliability of claims Sunoco is now making about the safety of the Mariner East 1."
The Mariner East 1 pipeline, which went into service in 1931 to carry motor fuel, was reconditioned in 2014 and now carries up to 70,000 barrels a day of volatile natural gas liquids such as propane and ethane to Marcus Hook.
Unanimous vote by @PA_PUC confirms Mariner East 1 is safe. #Energy transportation will resume, benefiting customers! Learn more: https://t.co/Vxg3Hf8G01 pic.twitter.com/0frxiFsW9b

— MarinerEast2 (@MarinerEast2) May 3, 2018
When construction of the new Mariner East 2 pipeline resumes at the West Whiteland site, the company also said it would abandon plans to use horizontal directional drilling to build the new pipeline under the Lisa Drive properties and instead would install the pipe in an open trench.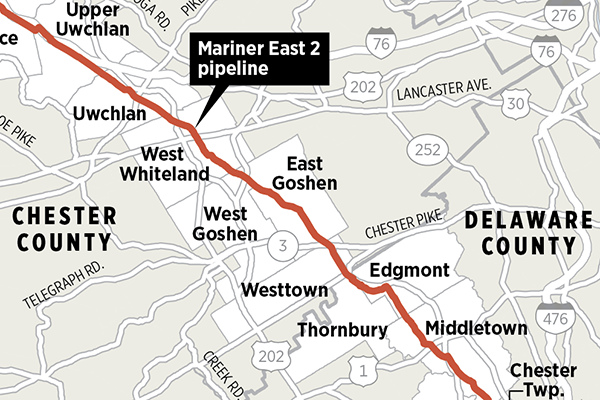 Sunoco's use of horizontal drilling, which involves injections of high-pressure drilling fluid while a boring machine creates an underground tunnel into which the pipeline is fitted, has been linked to a series of mishaps, including sinkholes, fouling of private water wells, and leaks of drilling fluid into waterways.
DEP, in its announcement of new fines on Thursday, cited Sunoco for 69 instances of spills or discharges into waterways or wetlands in Allegheny, Blair, Cambria, Cumberland, Dauphin, Huntingdon, Indiana, Lancaster, and Washington Counties between May 2017 and February 2018.