Happily for Ford's customers — and, perhaps, not so happily for the automaker — the company has been better of late at building cars and trucks than it has been at building its stock price, which hovers near its 52-week low.
A case in point for the disparity between product quality and share price would be Ford's nifty midsize crossover, the Edge. This attractive and comfortable critter was Ford's first venture into the crossover wars when it debuted in 2007. Prior to that, all of Ford's SUVs were truck-based vehicles. That meant they were good at rock hopping and stream fording, but not as comfortable and agile as the car-based crossover.
The Edge last underwent serious revision for the 2015 model year, when it was restyled and fitted with new or revised engines. The 2017 is available with three engines, all of which deliver their power via the same six-speed automatic transmission. The standard engine is a four-banger that uses a tweaked turbocharger to extract 245 horsepower and a substantial 275 pound/feet of torque from Ford's two-liter EcoBoost. This is the engine I found in the tester, and it proved quite adequate.
Optional motivation includes a normally aspirated 3.5-liter V-6, which develops 280 horses and 255 pound/feet of torque, and a 2.7-liter twin-turbo V-6 good for 315 horsepower and a whopping 350 pound/feet torque rating. The latter, a gutsy guy available only in the performance-minded Sport model, is the same engine employed in the Lincoln MKX and the Ford F-150 pickup.
The Edge starts at $28,950 for the base, front-driver, and goes on up to $35,600 for the front-drive version of the top-of-the-line Titanium model I drove. All-wheel-drive tacks $1,995 on the sticker.
When options and shipping were stirred in, the tester's tariff swelled to $44,690, which seemed like pretty stiff stuff for a front-driver with the base engine. On the other hand, the truly extensive litany of hedonism and safety electronics are the sort of thing you'd find in the driveway of a Chestnut Hill mansion.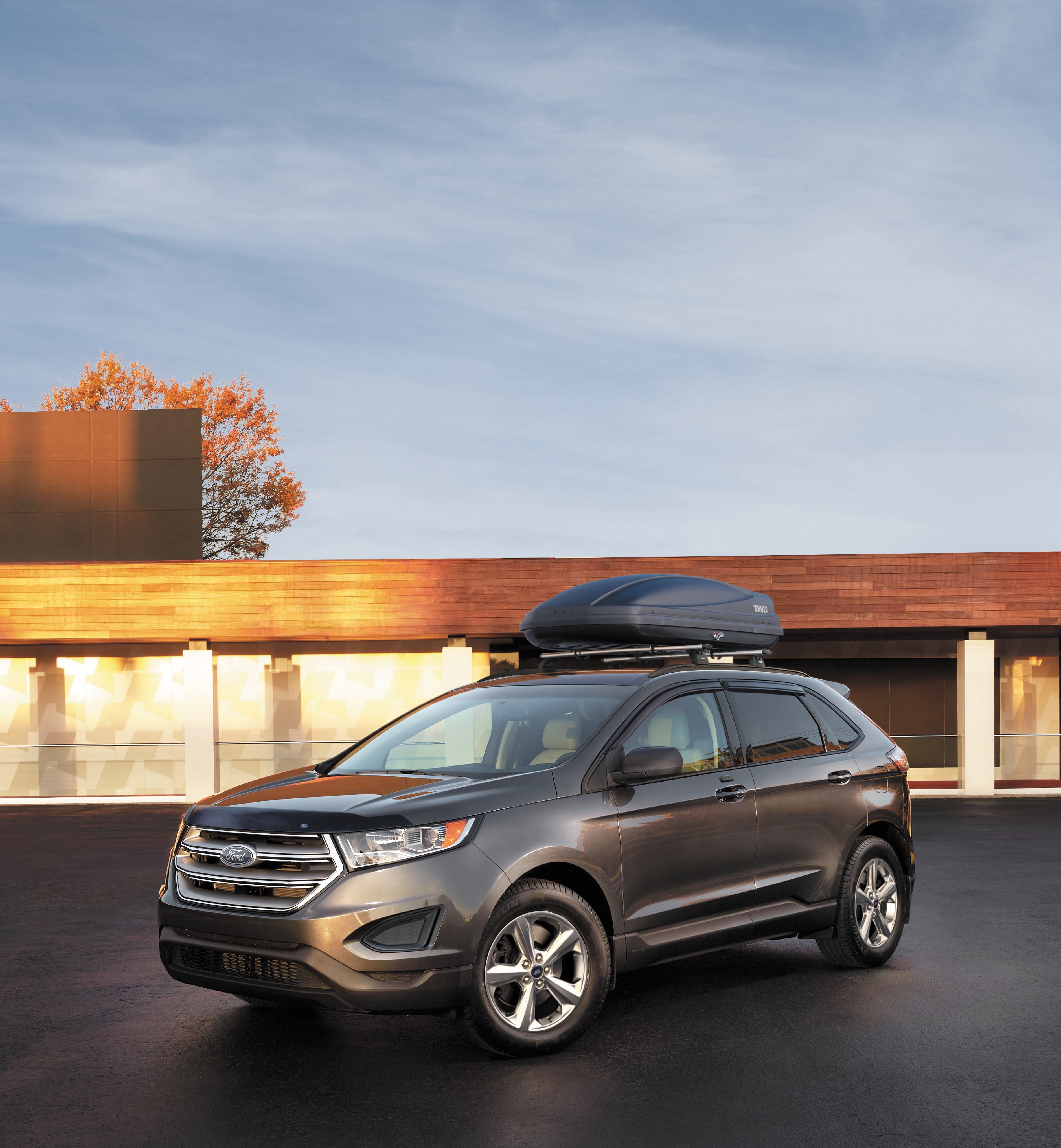 The Edge is nicely realized inside and out. The properly proportioned body manages to be stylish while pulling up short of the au courant propensity for over-sculpting — and the busyness that follows. The tester's good looks were enhanced by a set of newly coined optional 20-inch polished aluminum wheels, which would set you back an extra $995.
The tester's interior was equally pleasing. It was handsomely designed with restrained chrome trim and a dashboard accent evoking carbon fiber. There was a generous amount of soft-touch surfaces. The leather-trimmed seats were comfortable and supportive; visibility was good.
And space abounds. Tall people can sit behind a tall driver and still have an embarrassment of legroom. There's even a relief cut into the back of the front seats, presumably to accommodate the limbs of NBA bigs and other Bunyanesque boys. Headroom is plentiful back there, too, even with the incursion of the tester's optional panoramic sunroof.
The cargo cavity is another plus. It offers a generous 39 cubic feet with the backseat up and a sprawling 73 with it down.
Driving the Edge is a pleasant proposition. The steering is nicely weighted, the car corners competently, and the engine, while not exactly the 2.7-liter twin-turbo, is spicy enough. The Edge proves quiet, and the ride, while comfortable on smooth pavement, can remind you of the suspension's firmness when the going gets bumpy.
The Edge got the top, five-star government overall safety rating, and earned a "good" score (the top grade) on all crash tests performed by the Insurance Institute for Highway Safety save for the small overlap front crash, which received an "average" rating.
2017 Ford Edge (Titanium model)
Base price: $35,600.
As tested: $44,690.
Standard equipment: Two-liter engine, six-speed automatic transmission, front-drive, and amenities ranging from leather-trimmed seating and 10-way power front seats to a power liftgate, hill-start assist, and automatic headlights.
Options: Range from a heated steering wheel, cooled and heated seats, and a panoramic sunroof to safety electronics like lane keeping, blind-spot alert, adaptive cruise control, parking assist, and a 180-degree, split-view front camera.
Fuel economy: 20 city and 29 highway (regular gas).
Engine performance: More than adequate.
Handling: Good agility.
Ride comfort: Passable.
Styling: Top shelf.
Warranty: Three years/36,000 miles bumper to bumper.
Four bens: Excellent.