JOHN TIERNO / Staff Artist
3,700
> The number of people who can be seated banquet-style in the Terrace Ballroom.
6,000
> Number seated auditorium-style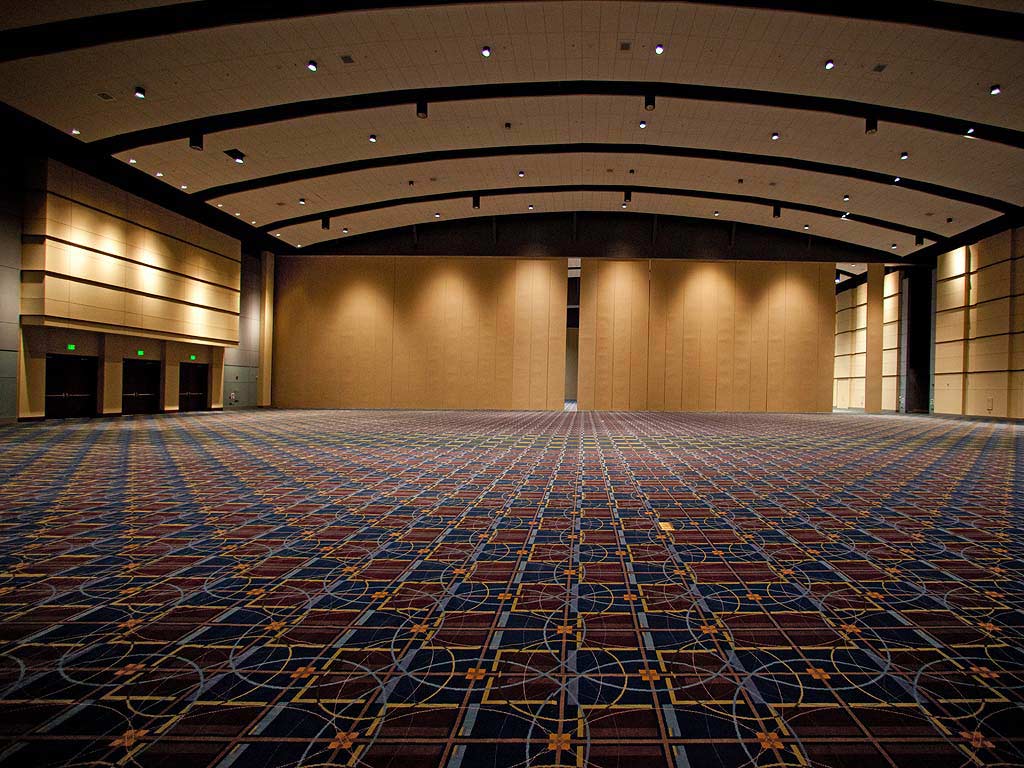 Terrace Ballroom
> The largest ballroom on the East Coast - it's slightly smaller than an NFL football field - has movable walls so that it can separated into four rooms. (Photo: David M Warren / Staff Photographer)
Bathrooms> The bathrooms can be reconfigured to accommodate conventions that skew toward one gender

Either way, lines should not be a problem - the expansion has 368 toilets and urinals.
528,000> Contiguous square footage of all five second-floor exhibit halls.

Each 1,000-square-foot section of floor required 100 trucks of concrete.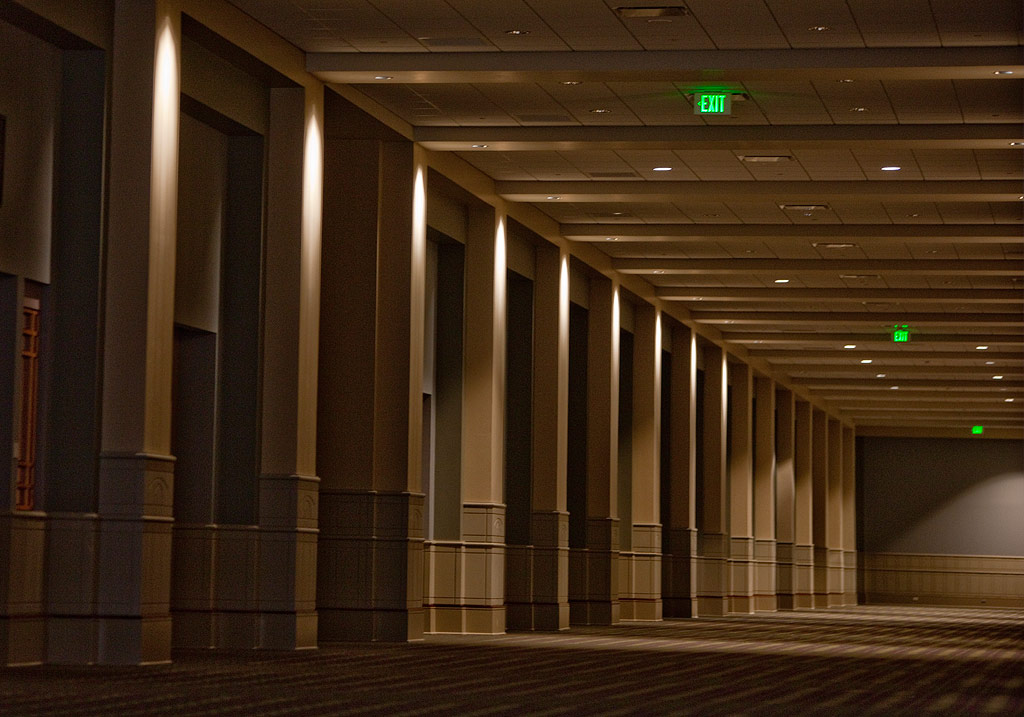 Meeting Rooms
> Hallways to meeting rooms dim their lights when not being used. Just one of several features the Convention Center hopes will get it LEED certified. (Photo: David M Warren / Staff Photographer)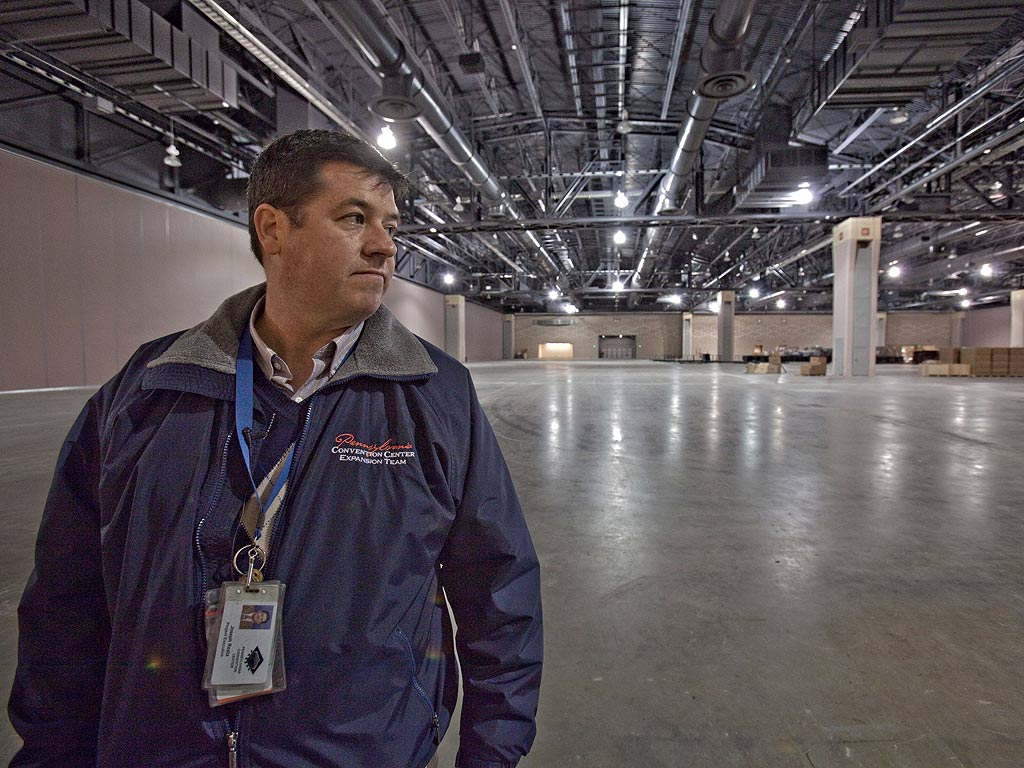 Exhibit Halls
> Joseph Resta, project executive for the Pennsylvania Convention Center Authority, in the Exhibit Hall. (Photo: David M Warren / Staff Photographer)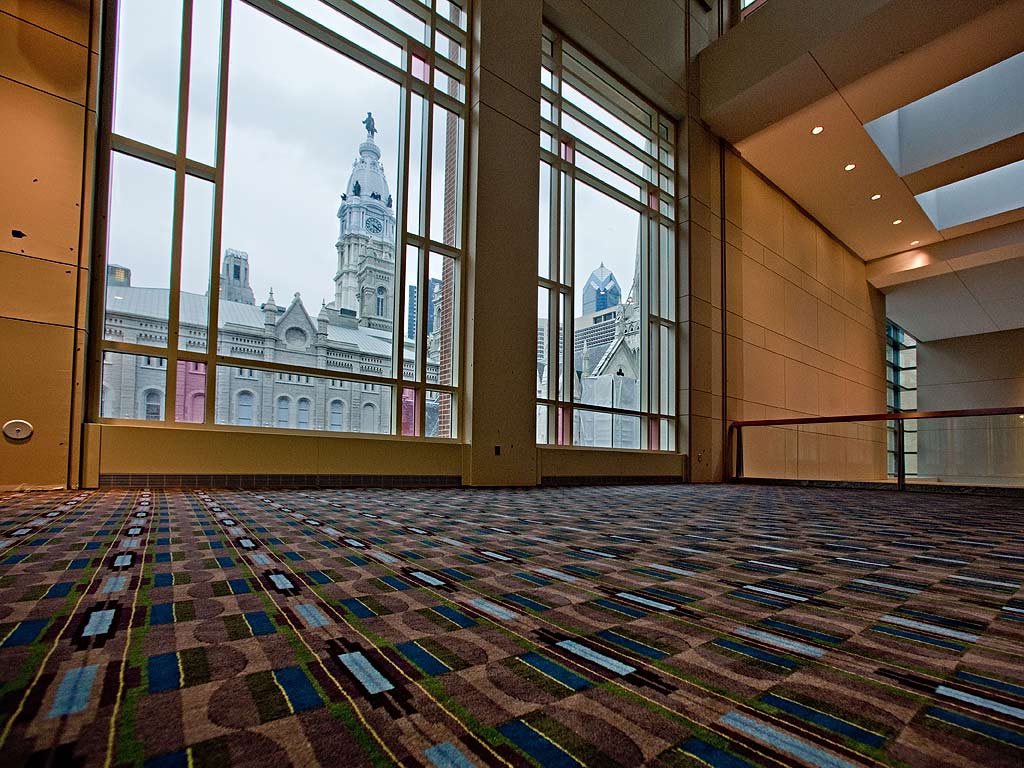 > View of City Hall and Penn Tower from the second-floor concourse on the Arch Street side. (Photo: David M Warren / Staff Photographer)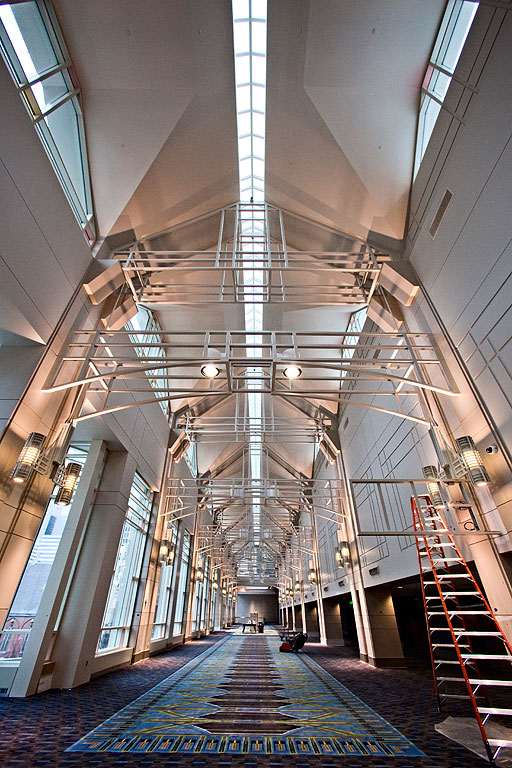 > 200-level concourse of the expansion of the Philadelphia Convention Center. (Photo: David M Warren / Staff Photographer)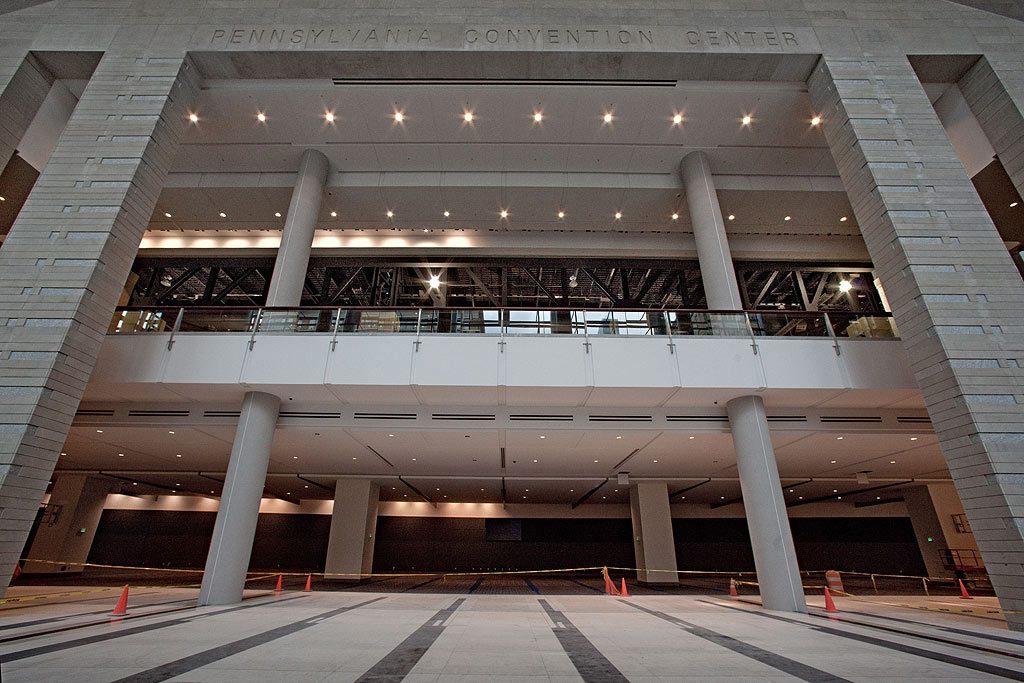 Entrance
> Broad Street entrance lobby. (Photo: David M Warren / Staff Photographer)
> First-floor concourse along Arch Street. (Photo: David M Warren / Staff Photographer)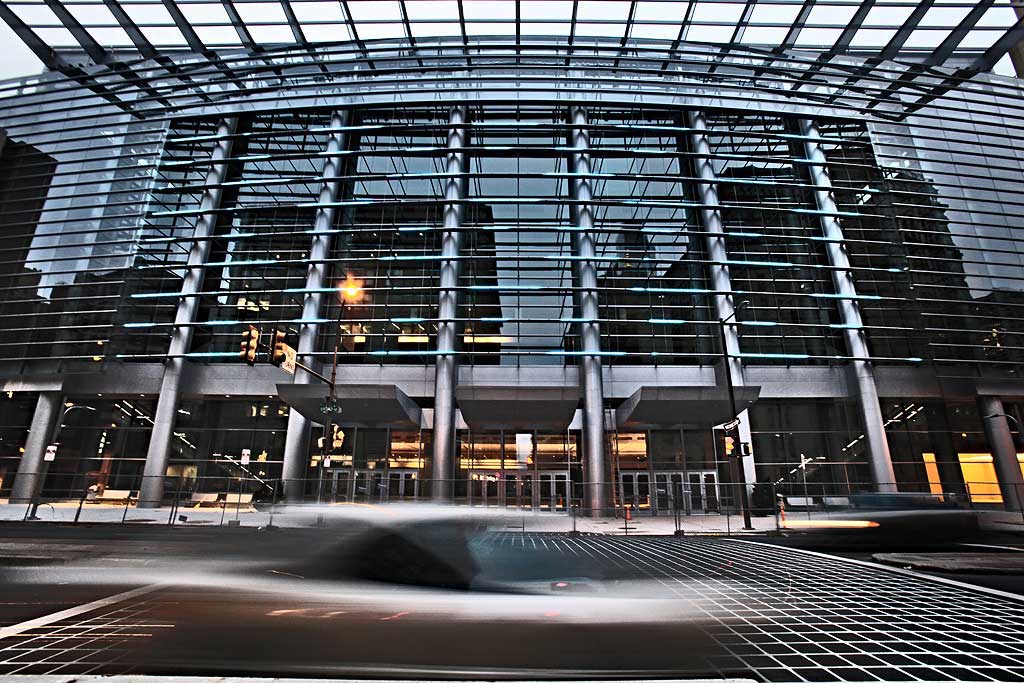 Broad Street entrance
> LED lighting display on the Broad Street glass facade. (Photo: David M Warren / Staff Photographer)
STORIES
Big space question
By Marcia Gelbart

The $786 million Convention Center expansion - the largest public-works project in state history - has given Philadelphia a great commodity in the competitive business of hosting conventions: a total of one million square feet of sellable space.
Goal is bringing more visitor dollars to Philadelphia
By Suzette Parmley

During its 98-year existence, the National Safety Council - an organization with 54,000-plus members headquartered just outside Chicago - never considered Philadelphia for its annual convention. It can now, and will be here in October for seven days.
To serve a bigger center, city needs more hotel rooms
By Suzette Parmley

To maximize a city's position in the national realm of convention-hosting, there is an exquisite tension between the size of a convention center and the number of hotel rooms that will serve it.
Design meets needs but misses opportunities
By Inga Saffron

Changing Skyline: The supersized Philadelphia Convention Center is a virtual clone of the original 1993 building. It exhibits all the same strengths and limitations of that 18-year-old design, with one notable improvement: Now people will be able to find the front door.
PHOTOS
5. WHEN WILL THERE BE ENOUGH HOTEL ROOMS?
There are 10,606 rooms now in Center City.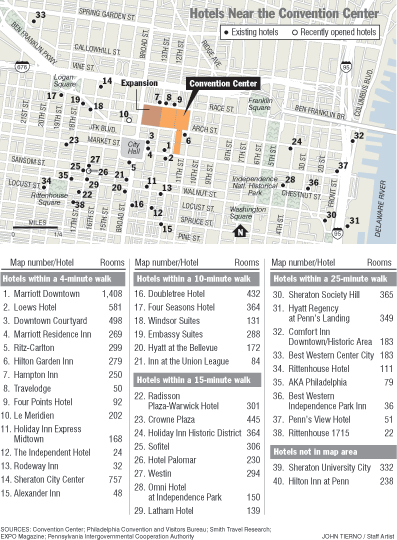 To expand graphic, click here.
Five Big Questions Facing the Convention Center
1. IS IT BIG ENOUGH?
Even with the expansion, the Convention Center is only the 14th-largest in the country in exhibit
space. It does have the 11th-largest maximum contiguous space, though.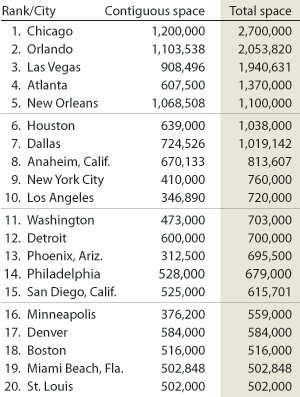 2. WILL IT LEAD TO MORE BUSINESS?
The space gives the center flexibility. During the time that large gated events such as the Flower and Auto Shows are set up and run, the facility can still handle large national conventions with attendees who stay overnight in local hotels. The chart below shows 2011 Convention Center events that utilize more space than existed in original building.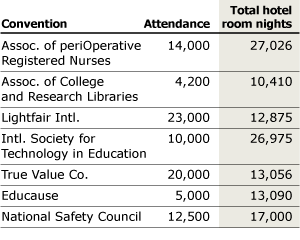 3. WHAT WILL BE THE ECONOMIC IMPACT?
The Philadelphia Convention and Visitors Bureau projects that current convention bookings will lead to a total of $2.7 billion spent in the city by 2020. Estimated annual impact for fiscal years 2011-13.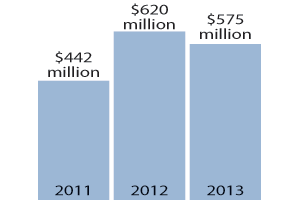 4. IS IT WORTH THE PRICE?
This thing wasn't cheap. Including the original building, the state-funded Convention Center cost more than $1.5 billion to build.