JESSICA GRIFFIN / Staff Photographer
High-profile fixed index annuities salesman Phillip J. Cannella 3rd at one the free dinners he hosts across the region to promote his company. Cannella, who also hosts an hour-long paid radio infomercial every Saturday and Sunday, says his firm writes $100 million in contracts annually, earning $6 to $8 million in commissions.
As sales of the insurance product soar, regulation remains lax, and experts urge caution, especially by the elderly. Trump could halt a rule aimed at putting clients first.
March 5, 2017
That night, like most nights, Phillip J. Cannella 3rd warned that the financial world was at the brink of a massive meltdown, one that would wipe out savings and crush retirees.

"We're about to enter a horrible period, crash followed by recovery, followed by inflation," the insurance agent said last fall, pacing excitedly in front of nearly 100 retirees and middle-aged guests at the Springfield Country Club, enticed by the promise of a free dinner.

When he asked for a show of hands of who lost money in the 2008 financial crash, about half raised theirs. "It's going to be a world collapse, economically speaking," Cannella warned them. "You need to plan for this storm coming. You need to be in a vehicle that's not going to sink when Wall Street sinks."

If Wall Street is the problem, Cannella believes he has the solution: fixed index annuities, a popular but complex insurance product known for lucrative commissions and opaque fees.

Sales of these lightly regulated investments have surged since the 2008 financial crash, when mom-and-pop investors saw the stocks and mutual funds they counted on for retirement plummet in value. Seizing opportunity, insurance agents began pitching these annuities on cable TV and radio infomercials, telling seniors how to protect their savings with investments reassuringly described as "risk free" and "no fee."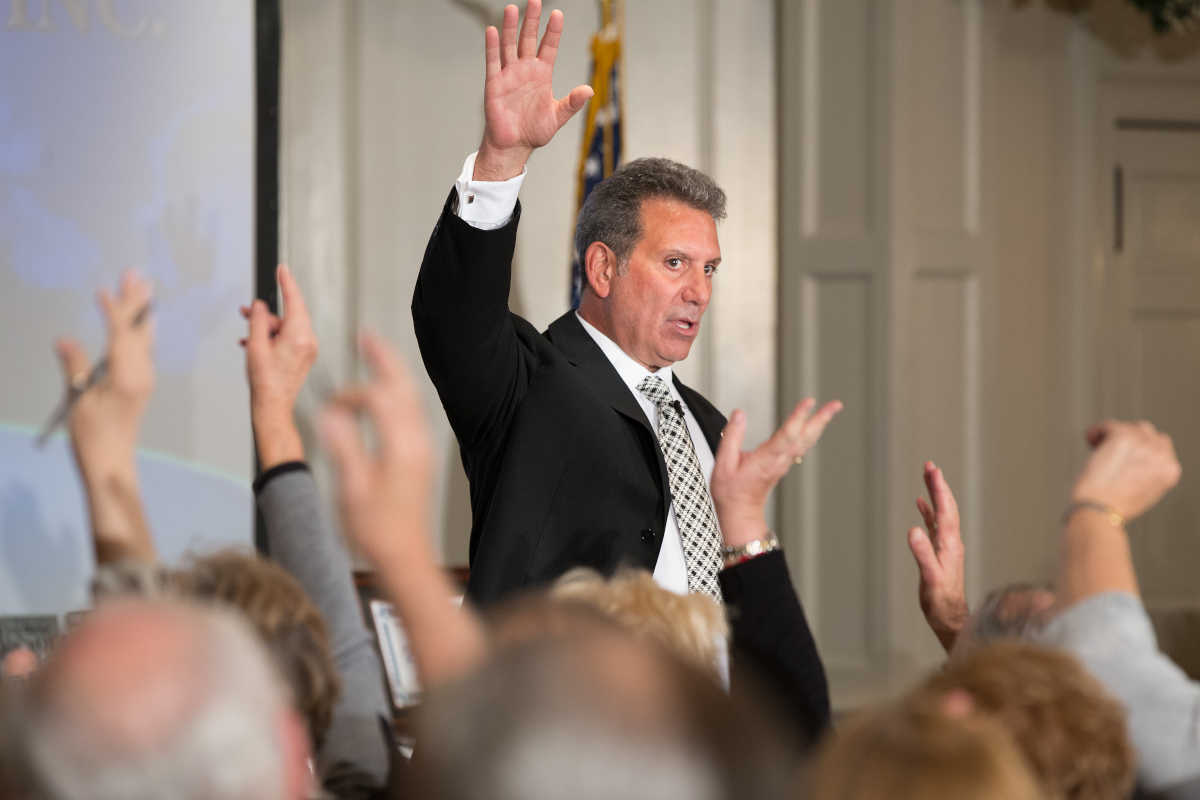 JESSICA GRIFFIN / Staff Photographer

At a free dinner to promote fixed index annuities, Phillip J. Cannella 3rd asks for a show of hands to illustrate how many lost money in the 2008 market crash. His spiel includes warnings of economic collapse, but he leaves out key information to prove his product is safer than stocks and mutual funds.

But in Pennsylvania and most states, sales agents aren't required to disclose their commissions, typically 6 to 10 percent, that insurance carriers pay them for putting retirees' money into these long-term investments. Seniors also can face huge penalties for early withdrawals for unexpected medical bills or other emergencies.

California Insurance Commissioner Dave Jones, who oversees the nation's biggest insurance market, urged caution: "We've seen people being sold annuities that are entirely unsuitable because of their age, because of their financial circumstances. ... It's an area of increasing complexity, a population that is extremely vulnerable, and one in which there is a lot of room for mischief."

"It's an area of increasing complexity, a population that is extremely vulnerable and one in which there is a lot of room for mischief."

Dave Jones, California Insurance Commissioner

The U.S. Department of Labor, which has oversight of retirement plans, became alarmed about insurance agents and investment brokers pushing clients into inappropriate retirement investments with high or undisclosed commissions. These practices, it estimated, cost retirees $17 billion a year in excess fees.

The department crafted a regulation, set to take effect in April, that would require financial advisers to put their clients' interests first when selling investments for retirement. Known as the "fiduciary rule," it was the first federal regulation of insurance agents, including some of the 230,000 in Pennsylvania.

With its potential for curtailing high-commission insurance sales, Cannella said, the rule was "going to knock out half" of the agents selling annuities.

But in February, President Trump, by an executive order, halted the long-debated regulatory change and called for another review. The insurance and investment industry had fought the new rule for years and hope the new administration can kill the Obama-era reform.

If so, sales of insurance products will remain overseen primarily by state regulators, unlike sales of stocks and mutual funds, which have some federal consumer protections.

In Pennsylvania, investors have poured billions of dollars into fixed index annuities over the last decade just as the state Insurance Department has been slashing its staff. It has 225 employees, slightly more than half its 2006 workforce of 414.
Fewer regulators for a growing market
The number of employees at the Pennsylvania Insurance Department fell from 414 in 2006 to 199 in 2016. As a rate per premiums sold, the state has fewer than half the regulators than the national average.

Insurance department employees per $1 billion in premiums
‍United States
‍Pennsylvania

SOURCE: National Association of Insurance Commissioners

GARLAND POTTS / Staff

Meanwhile, staffers in the department who look into consumer complaints have been saddled with the highest annual caseloads in the nation. In 2014, each consumer staffer on average had 655 complaints — more than three times the national average, according to an Inquirer analysis of insurance-industry data. (Their New Jersey counterparts had a caseload of 163.)

Asked whether the department could keep up with its thousands of annual consumer complaints, spokesman Ronald G. Ruman said the agency has enough staff to be "fully able to do the job needed to enforce our laws and protect Pennsylvania consumers."
Q: What is an annuity?
An annuity is a contract between you and an insurance company—a contract that promises to pay you a certain amount of money over a specified time. Social Security is one example of an annuity that pays retirees steady cash flow in retirement.

Typically, retirees who wish to guarantee a minimum income stream during their retirement years may purchase annuities.
Q: What should I look out for when buying an annuity?
Commissions & Fees

Agents typically reap commission of 6% or more, depending on the contract. So on a $100,000 annuity the agent makes $6,000. Annuities can lock up your money for a decade or longer, and if you cash out early, you may pay a "surrender charge" of between 10 to 22 percent. That means on a $100,000 annuity, if you cash out early, you could pay a penalty of $10,000 to $22,000, not including commissions. Surrender charges decline the longer you leave in your money.
Q: Who should buy an annuity?
For those who have no pension or want a supplement, annuities can provide income, help avoid overspending and provide a floor of guaranteed money. Annuities may be inappropriate or too expensive for people who have shorter-than-normal life expectancies. The elderly, who may not outlive these insurance contracts, should likely avoid annuities.

Do-it-yourself retirement planning

Consumer protection for seniors has become all the more important because of a tectonic shift in how Americans prepare for their retirement. Today, old-standby pension plans – in which the employer provides a fixed monthly payout for life – are offered by only 5 percent of Fortune 500 companies, down from 50 percent in 1998, according to a recent study.
Resources
Guides and more information from state and federal government agencies:

Retirement planning is now more do-it-yourself, with some turning to fixed index annuities. They're marketed as a way to give investors a portion of the stock-market gains while protecting against market downturns. But they're hard to understand for most investors. The "fixed" part of the annuity is this: The company will set a minimum rate of return on money invested, often about 1 to 2 percent a year over the term of the contract, often six to 17 years.

The "index" part is tied to the S&P 500 or another well-known market index, and can provide an upswing of several more percentage points, depending on how the stock market performs. But the insurance company typically caps how much of the upswings an investor receives.

For those who find comfort in a minimum guaranteed return, even if small, and strict control on their money, some experts say putting a portion of savings in index annuities can be a good choice. But Barbara Roper, director of investor protection at the nonprofit Consumer Federation of America, said "absent real reforms ... just stay away."

"A magical mutual fund"

Cannella, 61, founder of the King of Prussia-based First Senior Financial Group, is something of a local celebrity. He hosts an hour-long paid radio infomercial every Saturday and Sunday on 1210 AM, the Philadelphia affiliate of CBS. He says he spends as much as $2 million a year on advertising, a lot of it airing on cable TV news shows. His company, headed by his wife, Joann Small, writes $100 million in contracts annually taking in $6 million to $8 million in commissions, he said. He also is licensed to sell insurance in Florida.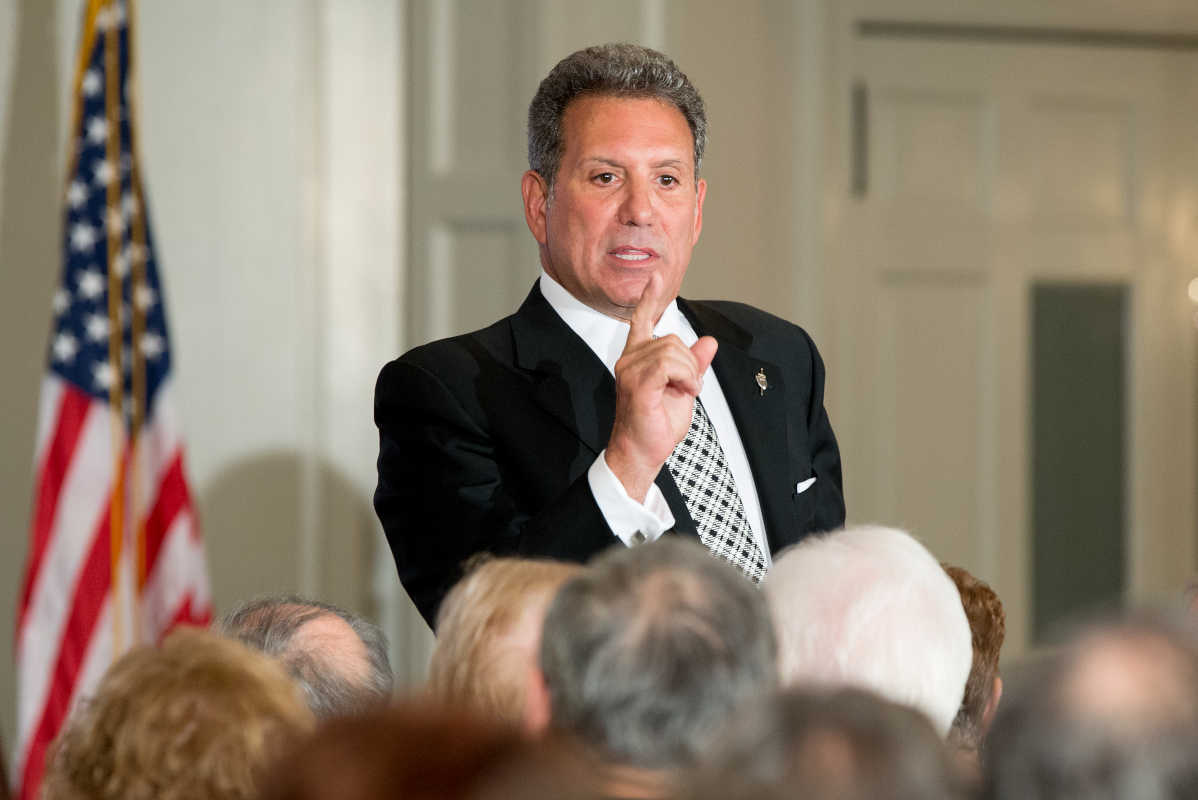 JESSICA GRIFFIN / Staff Photographer

At his events, Phillip J. Cannella portrays himself as a lone, fearless advocate for seniors, unafraid to reveal harsh truths about Wall Street. Stock brokers compete with insurance agents for retirees' money.

"I am the expert on fixed index annuities. No one knows more because I've taken the time to care and learn," he said. But he doesn't call them annuities at his presentations. He prefers to describe them as "crash-proof" investments, "like a magical mutual fund."

"I am the expert on fixed index annuities. No one knows more because I've taken the time to care and learn"

Phillip Cannella

He portrays himself as a lone, fearless advocate for seniors, unafraid to reveal harsh truths about Wall Street, willing to sacrifice everything to its counterattacks. Stock brokers compete with insurance agents for retirement investments, and Cannella criticizes them. But his characterizations are harsh: greedy, corrupt, the enemy. As a result, he said in an interview, his competitors are responsible for numerous complaints against him with state regulators. (The state Insurance Department doesn't reveal or discuss consumer complaints. In contrast, consumer complaints about stockbrokers are publicly searchable in the national BrokerCheck database.)

Some of his clients, Cannella said, are even worried that he's putting himself in harm's way for exposing "the atrocities on Wall Street."

"If I get picked off for doing something great nationally, I'm OK with that," he said. "Isn't that how Martin Luther King died? They all died for a cause, and the cause still survives. ... So, I'm not afraid to die."

What is important to understand, he said, is that his product is safer than stocks and can earn bigger returns. At the Springfield Country Club last fall, he showed the crowd a version of a promotional chart that insurance agents across the country use to push fixed index annuities. Annuities, Cannella told his audience, out-performed the stock market "every year."

The chart, by industry giant American Equity Investment Life Insurance Co., shows one of its fixed index annuities outperforming the S&P 500 index from 1998 to 2015. But there was a major omission:

What Cannella and other agents don't mention is the S&P 500 returns on the chart do not include reinvested dividends. With dividends included, the stock market's aggregate return handily outperformed Cannella's favorite annuity product over the same period.
How they sell you...
Like thousands of insurance agents across the country, Phillip Cannella 3rd, one of the region's leading promoters of fixed-index annuities, used a version of this chart in his sales presentations to show that investing in annuities is safer than the stock market. The chart showed that $100,000 invested in 1998 in an annuity offered by American Equity Life Insurance Company outperformed the nominal S&P 500, a broad-based stock market index. Next ‍
‍Annual Monthly Avg. (Index-5)
‍S&P 500 without dividends
...and What They Don't Tell You
However, not shown to potential clients were the values for the S&P 500 with the dividends included, a standard benchmark. Under that scenario, the S&P 500 easily outperforms the annuity, earning 6.3 percent annually vs. the annuity's 4.6 percent. ‍ Previous
‍Annual Monthly Avg. (Index-5)
‍S&P 500 without dividends
‍S&P 500 with dividends
NOTE: The annuity used in this sales pitch, American Equity Investment Life Insurance Company's Index-5, is no longer sold.

SOURCE: American Equity Investment Life Insurance Co., Bloomberg News

GARLAND POTTS / Staff

Asked later why he used a chart without telling his audience that stock dividends aren't included, Cannella said he was using insurance company marketing material, all of which is approved by the Pennsylvania Insurance Department. Ruman, the department spokesman, said promotional materials get vetted and approved if the agency has received a complaint about them. He couldn't confirm whether the department received a complaint about such a chart.

Cannella also said customers of First Senior Financial are protected because insurance agents are held to a higher standard than Wall Street demands.

"Licensed professionals in our insurance industry must operate under a fiduciary duty," he said in an interview. "There is no fiduciary duty with Wall Street."

Under federal law, only Registered Investment Advisers, who typically charge clients hourly fees for advice and file annual compliance documents with the federal Securities and Exchange Commission, have a fiduciary duty — putting a client's interest ahead of earning a bigger commission. Cannella does not have to offer the best deal for consumers; his obligation is to sell products that are "suitable" for the consumer. The suitability standard varies state to state. In contrast, stockbrokers are governed by a national standard.

Roper of the Consumer Federation of America says "suitable" is a low standard for the financial industry. In her view, it offers the public little protection. "Suitability lets you recommend the worst of all suitable options," she said.

"The seller remains free to recommend the one most profitable to him or her, rather than the one best for you."

Fans and critics

Cannella has critics dating to the 1990s — when the Pennsylvania Insurance Department fined him $10,000 and suspended his license for three months. It accused him of improper sales of health insurance policies to the elderly. The department said he had been involved in "misrepresenting the benefits and coverage of the policies being sold" and selling "duplicate coverage to persons in excess of 60 years of age."

Cannella said the case was ginned up by his competitors and was unsubstantiated. He said he paid the fine and accepted the suspension without admitting wrongdoing because he was a young insurance agent, supporting a family, and was financially unable to face a drawn-out court battle.

Cannella's brother-in-law, who worked for him for about a year, once described the company's sales tactics at its senior seminars.

"The theme was very consistently gloom and doom, and the market is going to crash and bad things are going to happen," Stephen M. Fine, after he left the company, said in a deposition filed in a lawsuit First Senior brought against a former accountant. "Wall Street is bad and everything about Wall Street is bad and only we're good."

"We want to make sure that we leave the least amount of money on the table and we get — garner back the highest commissions to us"

Stephen M. Fine

Fine said the company sought to invest as much of the clients' money as possible. "We want to make sure that we leave the least amount of money on the table and we get — garner back the highest commissions to us," Fine said.

In an interview, Cannella disputed that his firm put the totality of its clients' savings in annuities. He provided account statements for a dozen clients that showed his company invested no more than 80 percent in annuities. As for his brother-in-law, Cannella said he fired him and disputes his account.

More recently, the family of Delaware County resident Kay Guzman, 68 at the time, complained she was inappropriately persuaded to cash out a long-held $1 million insurance policy to buy fixed index annuities. When Guzman realized the mistake, she said in court records, she couldn't get a new life insurance policy because she was a cancer survivor. She sued Cannella, First Senior, and others.

Cannella said competitors may have convinced Guzman she could make money by filing suit. Both parties said they expect to settle soon.

Cannella does have many clients who swear by him. Stephen Desirey, 69, of Schwenksville, and his wife are satisfied with the fixed index annuities they purchased. "If an individual is looking for a safe place to hold extra retirement funds that they believe will not be needed until after the next 10 years, they are terrific vs. the alternative risk," he said in an interview.

Some claims on Cannella's website raise questions. Cannella says many of his clients got "double-digit returns" on their investments with First Senior. Below the photo of John J. Wallin, now 83, a retired Philadelphia Electric manager, the text read: "8.3% 1 YEAR AVG."
Stealing retirement
The Nave sisters were victims of annuities salesman Richard Piccinini Jr., who pocketed nearly $200,000 from their $500,000 retirement savings by moving them through dozens of complicated, commission-rich insurance contracts.

Wallin, of Chester County, said he never earned anything near 8.3 percent since he put $300,000 in the annuity in 2014. He's gotten 4 to 5 percent a year, a return he's happy with.

The difference appears to be in the way Cannella's firm calculates the returns. Wallin's 10-year contract came with a 10 percent first-year bonus from the insurance company. Cannella said his company includes the one-time bonus to help investors "get out of the gate" and his figures are accurate.

Wallin's fixed index annuity matures when he's 90 but will be transferred without penalty to his wife if he dies before then. More important, he said, none of the principal will be lost if the stock market drops.

A photo of John Vitko, who invested in a 15-year contract in 2013, appears above the words "6.2% 2 Year Avg."

Vitko, 66, a former salesman in Northeast Philadelphia, said he made 1.5 percent in interest the first year for one annuity, then about 1 percent for a while, and 1.75 percent last year. He said Cannella's firm added some of the bonus to come up with the 6.2 percent figure. "It's really not all earnings," he said.

"I just pray I made the right decision."