Millennials in Philadelphia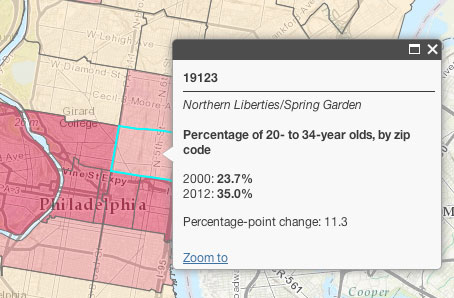 Where Millennials Live in Philadelphia
In Philadelphia, 26 percent of residents in 2012 were young adults, ages 20 to 34. But in seven of the city's 46 zip codes, young adults made up at least 40 percent of all residents. Leading the way was zip code 19127, in Manayunk, where 59 percent of residents were young adults. Other areas with high concentrations of 18- to 34-year-olds were in Center City, University City, and Fairmount.

Click on the zip codes in the map below for more information.

A Growing Young-Adult Population
Philadelphia has seen strong growth in the three age groups that constitute the millennial generation. Since 2006, when the city's population fell to its lowest level since the 1900 census, about 100,000 additional young adults moved into Philadelphia.

In all, 26 percent of Philadelphians are between the ages of 20 and 34. That share is typical for large U.S. cities. Young adults make up much higher proportions of the population in Boston (35 percent) and in Austin, Washington, and Seattle (31 percent each).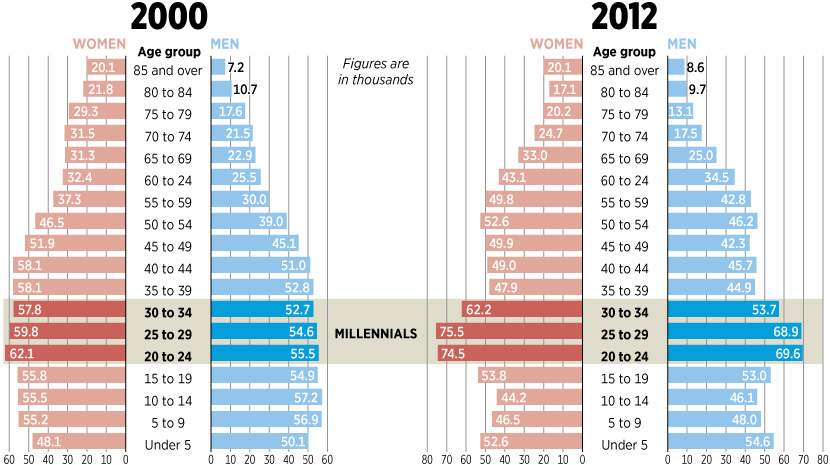 Millennial Attitudes Toward Philadelphia
While a majority of millennials would recommend Philadelphia to a friend as a place to live, only 36 percent would recommend the city as a place to raise children. And young adults are far less likely to expect to stay in the city for the next five to 10 years than older adults.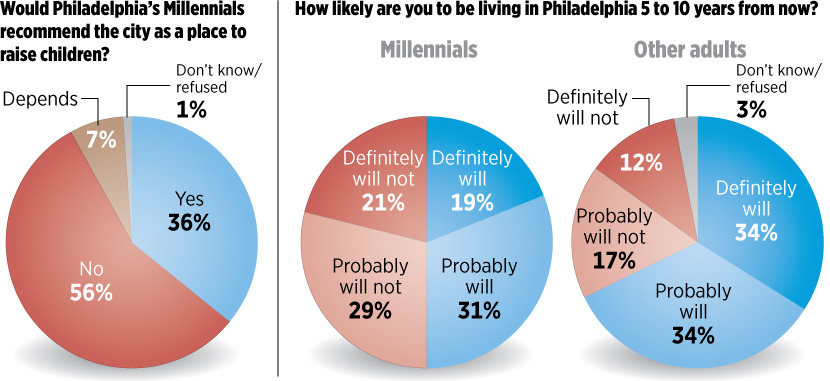 SOURCES: Pew Charitable Trust analysis of U.S. Census Bureau data; Pew Philadelphia poll
JOHN DUCHNESKIE / The Philadelphia Inquirer