Philadelphia's building boom is not only notable for the positive economic implications, but also for the unique and sizable projects reshaping the skyline. Each year since 1998, the General Building Contractors Association (GBCA) has honored those companies and projects setting a new standard of building excellence at the Construction Excellence Awards.
As the Philadelphia chapter of the Associated General Contractors of America, GBCA was established in 1891 and provides 247 member companies with the opportunity to engage in collaborative activities that promote education, safety, marketing and better relationships within the industry as well as with labor and government. Below are Philadelphia's best projects, as elected by a panel assembled by GBCA for the 19th Annual Construction Excellence Awards, applauding the innovative projects and companies defining our city.
Best Adaptive Re-Use Project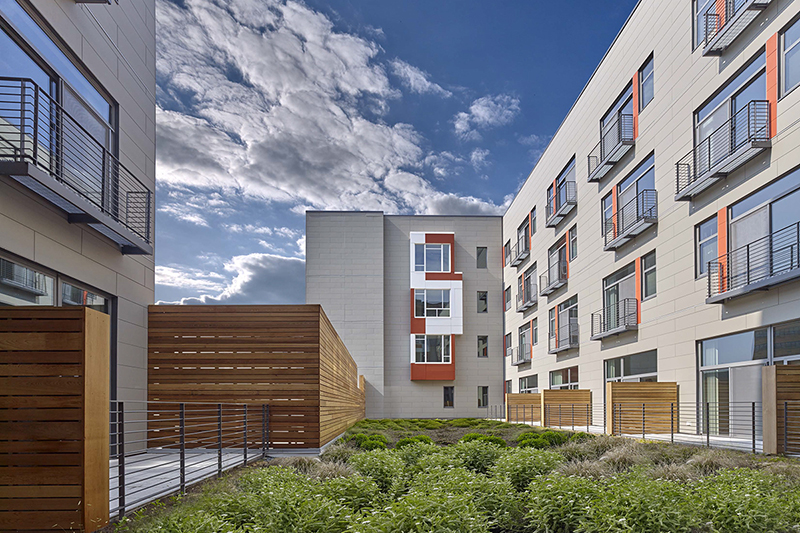 1112-1128 Chestnut Street and "The Collins"
Contractor: Clemens Construction Company | Architect: Blackney Hayes Architects | Owner: The Brickstone Companies
Playing a pivotal role in the revitalization occurring east of Broad Street, the 1112-1128 Chestnut Street project demanded the seamless integration of historic renovation, demolition, and new construction, all in a high-traffic, urban setting. The existing building — The historic Oppenheim, Collins & Co department store — served as an architectural reference for this ambitious project providing an aesthetic framework throughout the eat wing of the building. Notable features include high ceilings, restored decorative plaster, and exposed brick.
Best Concrete Contractor Project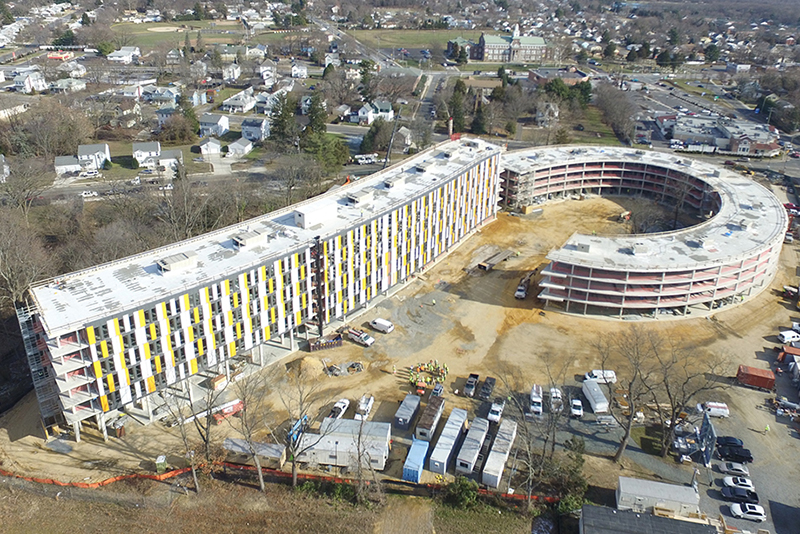 Rowan University Holly Pointe Commons
Contractor: Healy Long & Jevin, Inc. | General Contractor: Torcon, Inc. | Architect: Erdy McHenry Architecture, LLC | Owner: Rowan University
For the development of this new 300,000-square-foot dormitory complex, Healy Long & Jevin embraced the most aggressive deadline for a cast-in-place structure within the company's history: They placed 15,000 cubic yards of concrete and 1,200 tons of steel within a short, seven-month time period. Opting against traditional structural concrete construction techniques, Healy Long & Jevin used PERI Quattro columns and Titan horizontal shoring and filigree, successfully integrating factory precast and field-construction technologies.
Best Demolition Project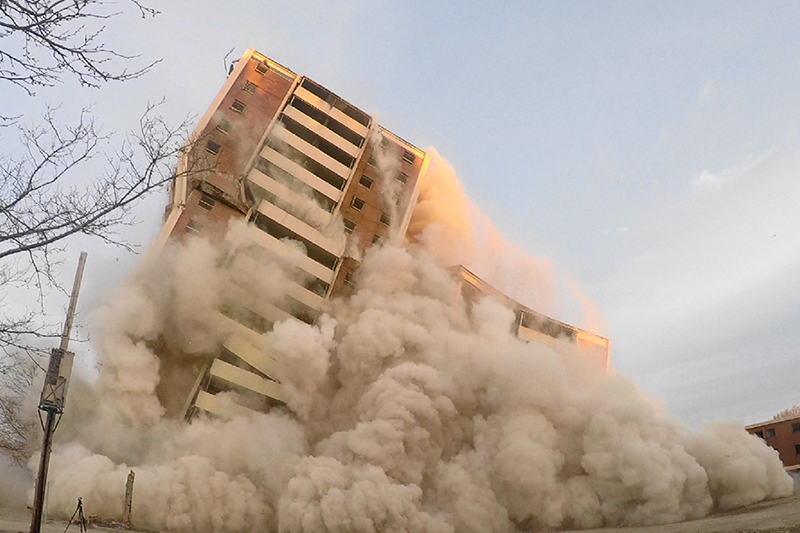 Blumberg Revitalization Demolition & Implosion
Contractor: TN Ward Company | Architect: LR Kimball (a CDI Company) | Owner: Philadelphia Housing Authority
With commendable attention to detail, TN Ward Company managed the implosion demolition of two, 18-story towers and the conventional demolition of 15 low-rise buildings. Although the project faced multiple scheduling constraints as well as unique challenges to safely implode within a densely urban environment, TN Ward's experienced team planned and handled all the necessary logistics and details so that the project was completed safely and without incident.
Best Educational Institution Project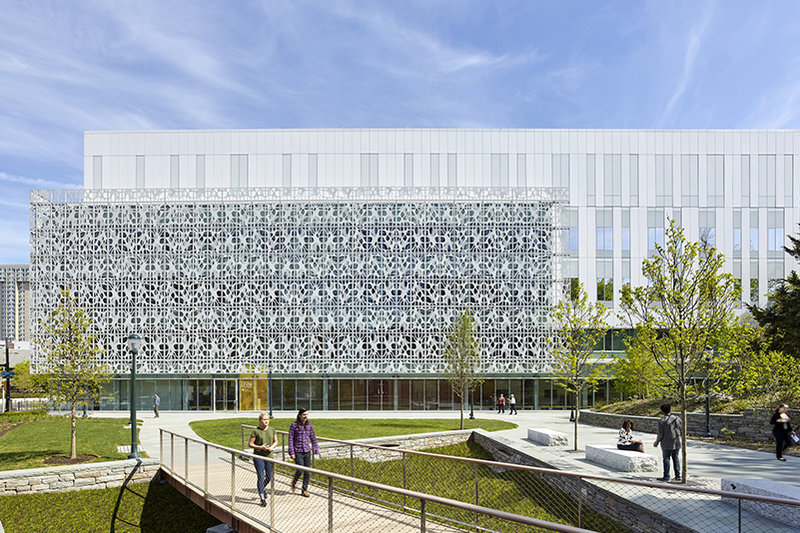 University of Pennsylvania Stephen A. Levin Building
Contractor: P. Agnes, Inc. | Architect: SmithGroupJJR | Owner: University of Pennsylvania
This 77,000-square-foot, six-level structure consists of behavioral science laboratories, wet laboratories, and lecture hall space to create a signature building on the Penn campus for neural and behavioral sciences research and education. This project was facilitated utilizing lean principles and modeled entirely in 3D allowing for extensive prefabrication efforts. The project was meticulously planned and designed, through the implementation of custom materials, including the copper exterior façade building and a custom scrim exterior sunshade (which serves as a key energy conservation contributor).
Best Fit-Out Project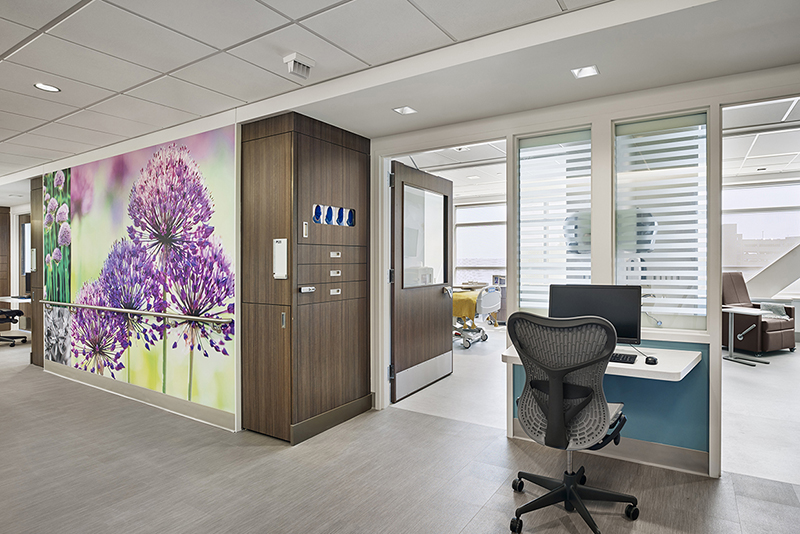 Cooper University Hospital, MD Anderson Cancer Center, 5th Floor
Contractor: HSC Builders & Construction Managers | Architect: Ballinger | Owner: Cooper University Hospital
This $15 million ($9 million construction) project, encompassing 22,000 square feet of floor space, resulted in 30 private radiation oncology patient rooms on the fifth floor of the Cooper University Hospital. The design and construction objective was to create a calm, patient-centered environment to promote healing. Innovative features include the development of nine protective environment rooms equipped with a wall-mounted control system that activates an immunoprotective environment. To promote fall prevention, special floor considerations were made, including the design of doorways without thresholds.
Best Healthcare Project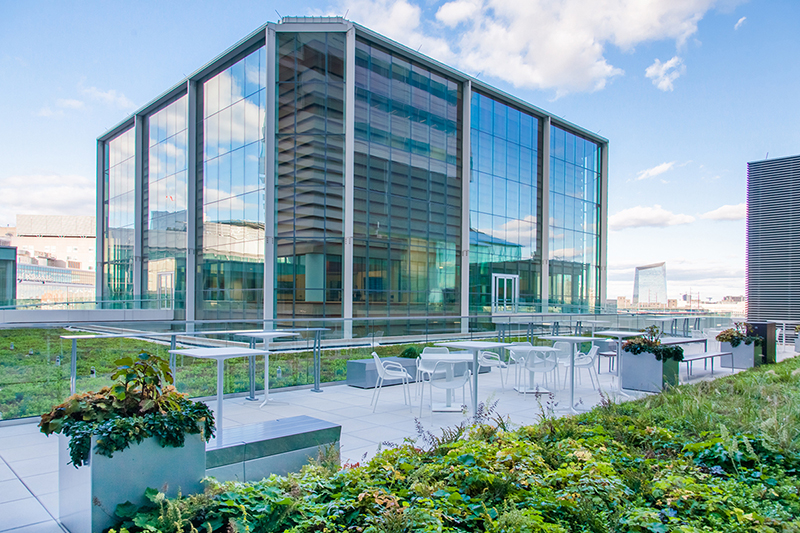 Penn Medicine South Pavilion Expansion
Contractor: LF Driscoll | Architect: Viñoly, CannonDesign | Owner: University of Pennsylvania Health System
The new, 16-story, 540,000-square-foot addition to Penn Medicine's Perelman Center for Advanced Medicine is a high-profile location where Joe Biden announced the "moonshot" initiative to cure cancer in early 2016. Construction was completed in multiple phases, in a tight, urban location, in the midst of a neighboring operational hospital. Creative solutions, such as installing a crane in the elevator shaft and limiting loading dock work to overnight hours helped make for smooth transitions during each phase. With its cutting-edge cancer research activities, the Center for Advanced Cellular Therapeutics in South Pavilion had to be built to exact specifications to maintain research integrity.
Best Historic Preservation Project
Liberti Church Renovation
Contractor: C. Erickson & Sons, Inc. | Architect: Wulff Architects | Owner: Liberti Church
The historic First Baptist Church of Philadelphia is a fixture of Philadelphia's culture. Throughout the restoration process, C. Erickson & Sons maintained the utmost care and attention to the materials and methods used. Stone repointing and roofing replacement and repairs were completed so that the finished product matched the surrounding work and did not detract from the overall appearance of the exterior, and skilled masonry preservationists ensured mortar repairs were seamless with original surrounding mortar joints. Interior renovations involved the salvaging and reuse of existing woodwork and trim from the areas demolished during the course of the renovation.
Best Hospitality Project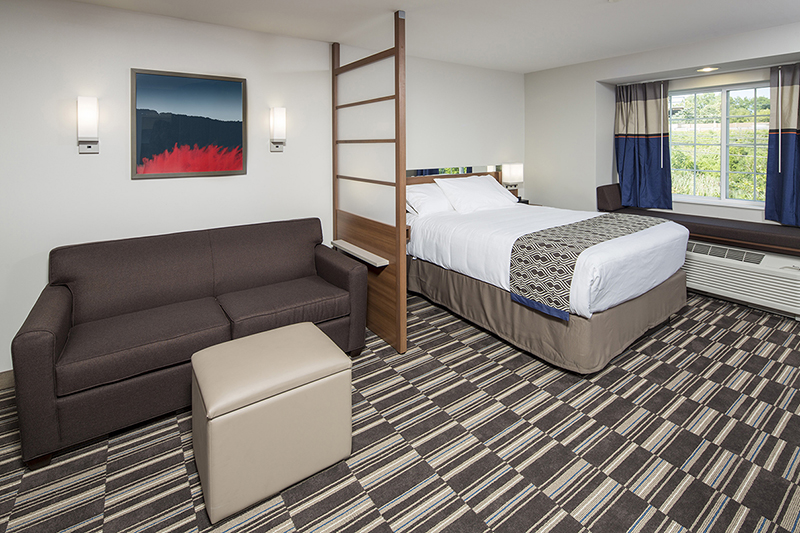 Microtel Inn & Suites
Contractor: EP Guidi, Inc. | Architect: FORM Architectural Group | Owner: MGM Ridley Hotel, LP
This 36,000-square-foot, 79-key hotel, featuring a business center, exercise facility, and common areas, was built to exude high-end luxury at a budget-friendly cost for guests. The project team worked closely with Wyndham representatives to procure materials, and finishes were selected and installed with careful attention to current design trends. Even though unexpected challenges arose — including major revisions to the building framing, changes to electrical service requirements, and special requests for furniture, fixtures, and equipment — the schedule and budget were not affected.
Best Residential/Mixed-Use/Office-Space Project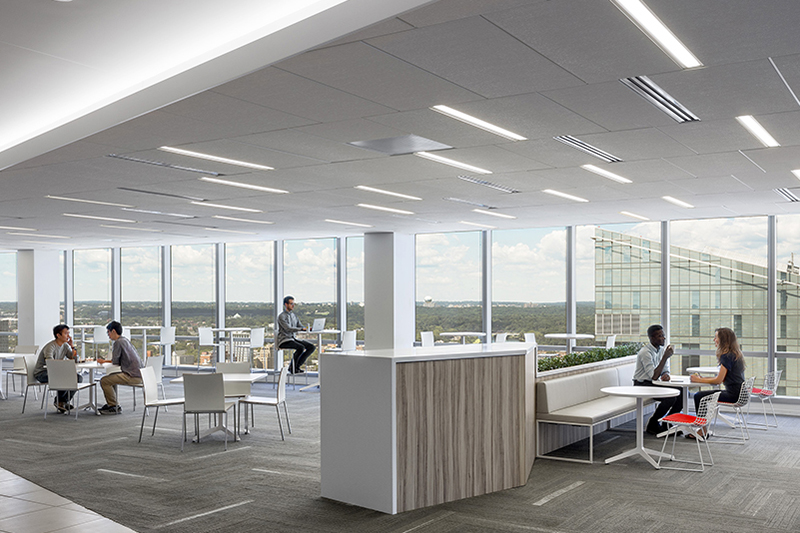 FMC Corporation Tenant Fit-Out
Contractor: Turner Construction Company | Architect: Granum A/I | Owner: Brandywine Realty Trust
The FMC Corporation tenant fit-out encompassed 11 floors of the new, 49-story FMC Tower at Cira Centre South, concurrent with the construction of the core and shell of the tower. In fact, the structure was still being erected and the curtainwall installed when the first floors of the fit-out began. This required continuous and thorough coordination between teams; the superintendents and project engineers met daily to coordinate deliveries and work progress. Lean techniques and BIM modeling were employed to efficiently manage coordination and to obtain the highest level of quality.
Best Retail Project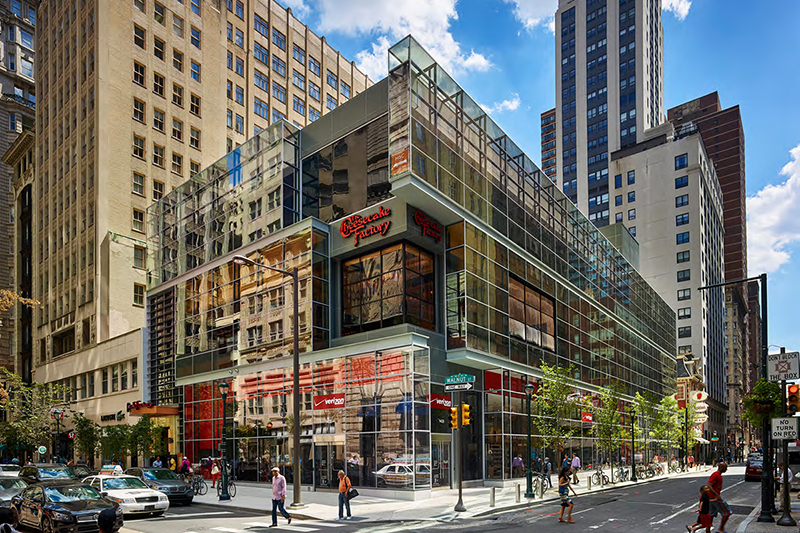 1430 Walnut Street Retail Development
Contractor: Clemens Construction Company | Architect: Bohlin Cywinski Jackson | Owner: Midwood
This three-story retail space, currently home to The Cheesecake Factory and Verizon Wireless, features a sleek all-glass exterior. The highly distinctive façade is a truss-stiffened unitized curtain wall, and this building marks its first-ever use in the nation. A portion of the roof is also unique to the city of Philadelphia. It features intentional slopes, elevations, and drain controls to limit the amount of surge on the city's aging storm water mains.
Excellence in Craftsmanship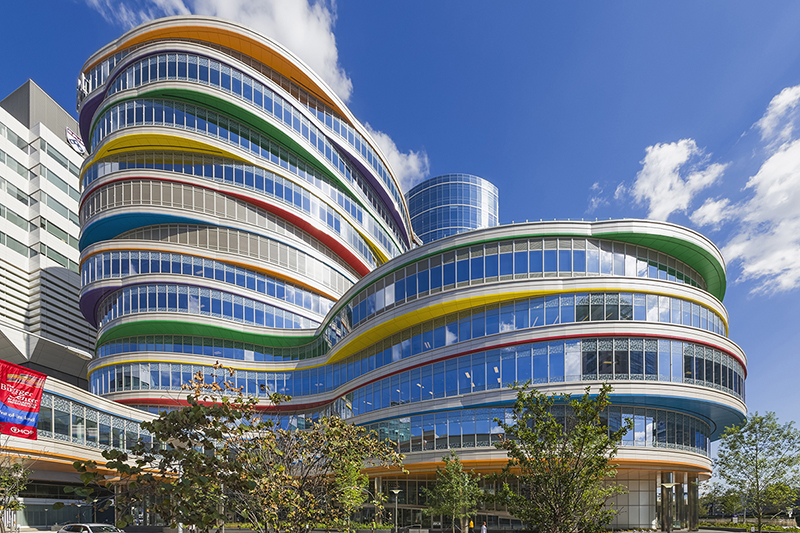 The Children's Hospital of Philadelphia Buerger Center for Advanced Pediatric Care
Contractor: Turner Construction Company | Architects: FKP Architects, Pelli Clarke Pelli Architects, Nelson Byrd Woltz | Owner: CHOP
Child-friendly considerations were a priority throughout design and construction of this project, including a two-story-tall ramp playfully twists through the expansive lobby; the rooftop terrace — the largest green roof in Philadelphia; and radiused corners in exam room walls and countertops avoid hazardous sharp corners. Careful attention to detail and the teamwork of dozens of individuals, totaling more than 2 million man hours and, at its peak, more than 600 tradespeople on site, allowed for the exceptional construct of the largest building project in CHOP's 160-year history. The 700,000-square-foot facility features a stunning, curved curtain-wall façade that soars 12 stories and features more than 4,500 units.
Excellence in Technological Advancement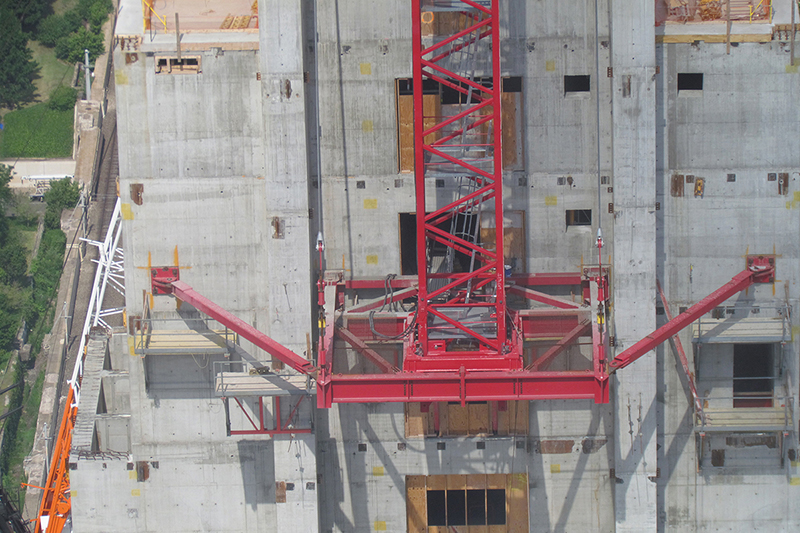 AmQuip
Contracted to furnish the tower crane on the concrete core of the new Comcast building, AmQuip provided a unique solution, which involved engineering and fabricating an outrigger system that supports the crane and which attaches to the outside of the concrete core. Additionally, AmQuip designed and fabricated support bracing inside the core to carry the loads. There were two outrigger support systems attaching the crane to the core. Prior to each climb, a third outrigger support bracing was attached to the core. The crane was climbed to 87 feet, and the bottom support bracing was then removed. This process continued throughout the job until the crane reached a final height of 1,100 feet above street level.
Excellence in Diversity & Inclusion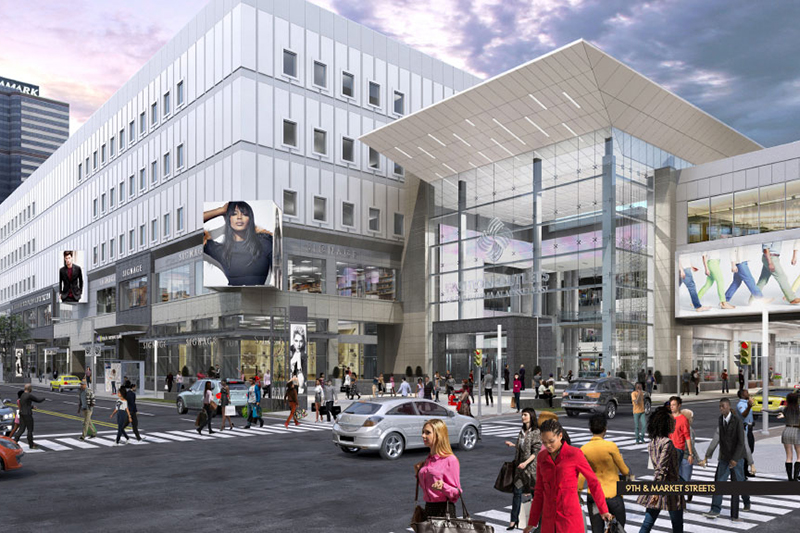 Shoemaker Construction Company
Shoemaker strives to go above and beyond in the inclusion of minorities and women, and has developed a strong working relationship with many minority- and women-owned businesses. In fact, some of their most high-profile construction projects were completed in a partnership with minority-owned firms. Shoemaker's dedication to inclusion and equal opportunities extends beyond the construction site fence as well. Led by General Manager Maura Hesdon, Shoemaker actively pursues ways to involve women, minorities, and low-income residents within the community in construction activities, and to pave the way for more a diverse construction workforce in the future. For example, Hesdon co-founded the camp Mentoring a Girl in Construction (MAGIC) Philadelphia, as part of the National Association of Women in Construction.
Excellence in Safety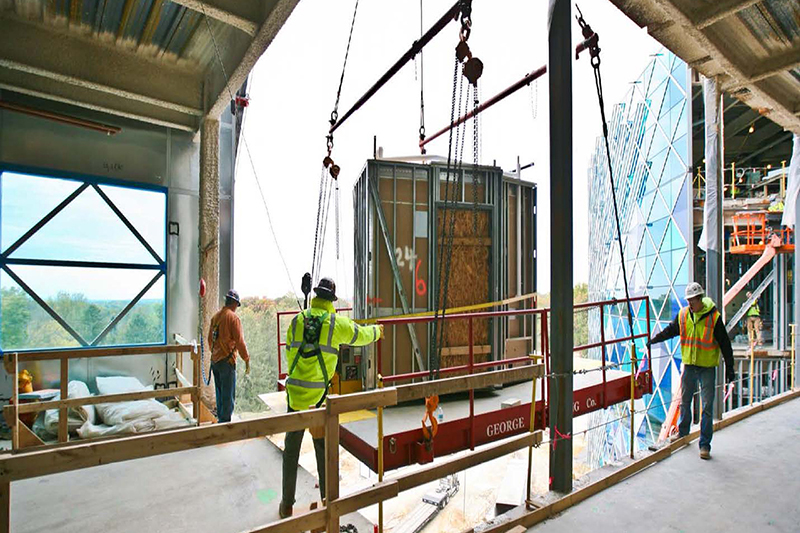 Skanska USA Building, Inc.
With the promotion of an Injury-Free Environment (IFE) throughout the entire company, Skanska empowers every employee, whether administrative, field, or management, to actively engage in and ensure that safety practices are upheld on the job. Skanska was a founding member of the Mid-Atlantic Construction Safety Council (MACSC) and is part of the MACSC Construction Managers meetings, with full involvement in initiatives, including Fall Protection Equipment Inspection Month. Skanska also works closely with local OSHA representatives on special events, such as outreach with the Youth Build Organization, where more than 80 students were invited to a major renovation project and took part in demonstrations on proper safety precautions and equipment use.
Affiliate of the Year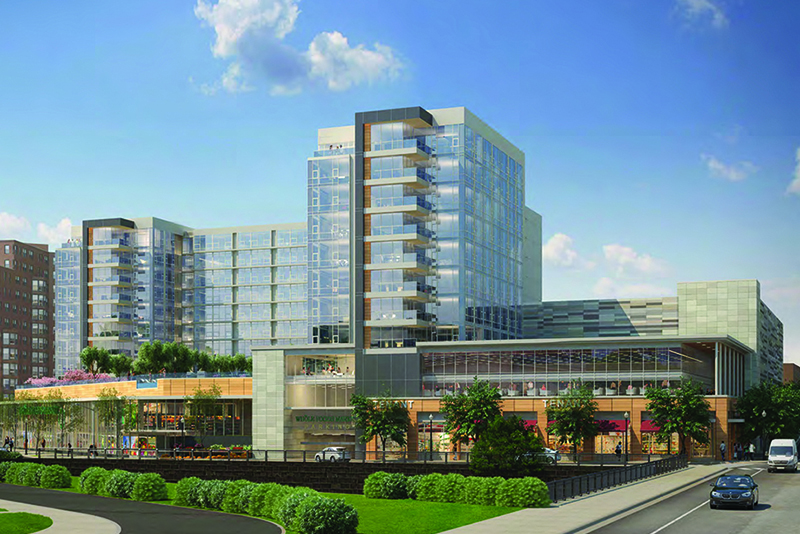 Kieffer's Appliances
Established in 1917, Kieffer's Appliances, now in its fourth generation of family ownership, serves thousands of trade partners each year, and has become the appliance supplier of choice in the Greater Philadelphia region. Recently, Kieffer's has facilitated the delivery of appliances as well as homeowner upgrade options at several area luxury apartment complexes. Through Kieffer's long-standing relationships to high-end appliance companies, they're able to offer competitive builder pricing programs and leverage buying power for high-volume jobs. Keiffer's also boasts fully trained installation professionals with flexible delivery and installation services, and knowledge of and strict adherence to union protocol.