It is rather obvious where business is trending. More and more companies across the country are prioritizing digital transformations in just about every phase, from records and payroll to transactions and meetings.
But one aspect of business that has lagged behind is networking. People used to rely on their circles and stuffy networking events to meet new people, but that is changing with today's technology.
Now, you can connect with like-minded professionals to help advance each other's careers, provide insight, talk about the industry or just simply chat via your mobile phone. Shapr, a free networking app, is making it easier than ever to make the right connections.
The app is for professional networking only but uses the familiar "swipe to connect" that dating apps made popular. Once you set up a profile and add interest tags, you will see 10-20 professionals in your area every day that match your interests. If you and the other person swipe right you'll be notified of the match and be able to message each other directly to set up a call, coffee, or lunch depending on how you prefer to network.
"Being able to find an app that's not about dating, but rather finding people you could potentially work with on a simple swipe, that's pretty awesome," Erika Flythe said. "You have a way to branch out without declining someone."
Flythe was in the beginning stages of growing her brand, Women On the Move, a women's empowerment brand, when she decided to get on Shapr. She liked the familiarity with Tinder-like apps, but for ways to meet people who could help her.
"You can go to networking events, but even when you do, most people are so focused on just getting the gist of their business out there that they're not really willing to offer help," Flythe said.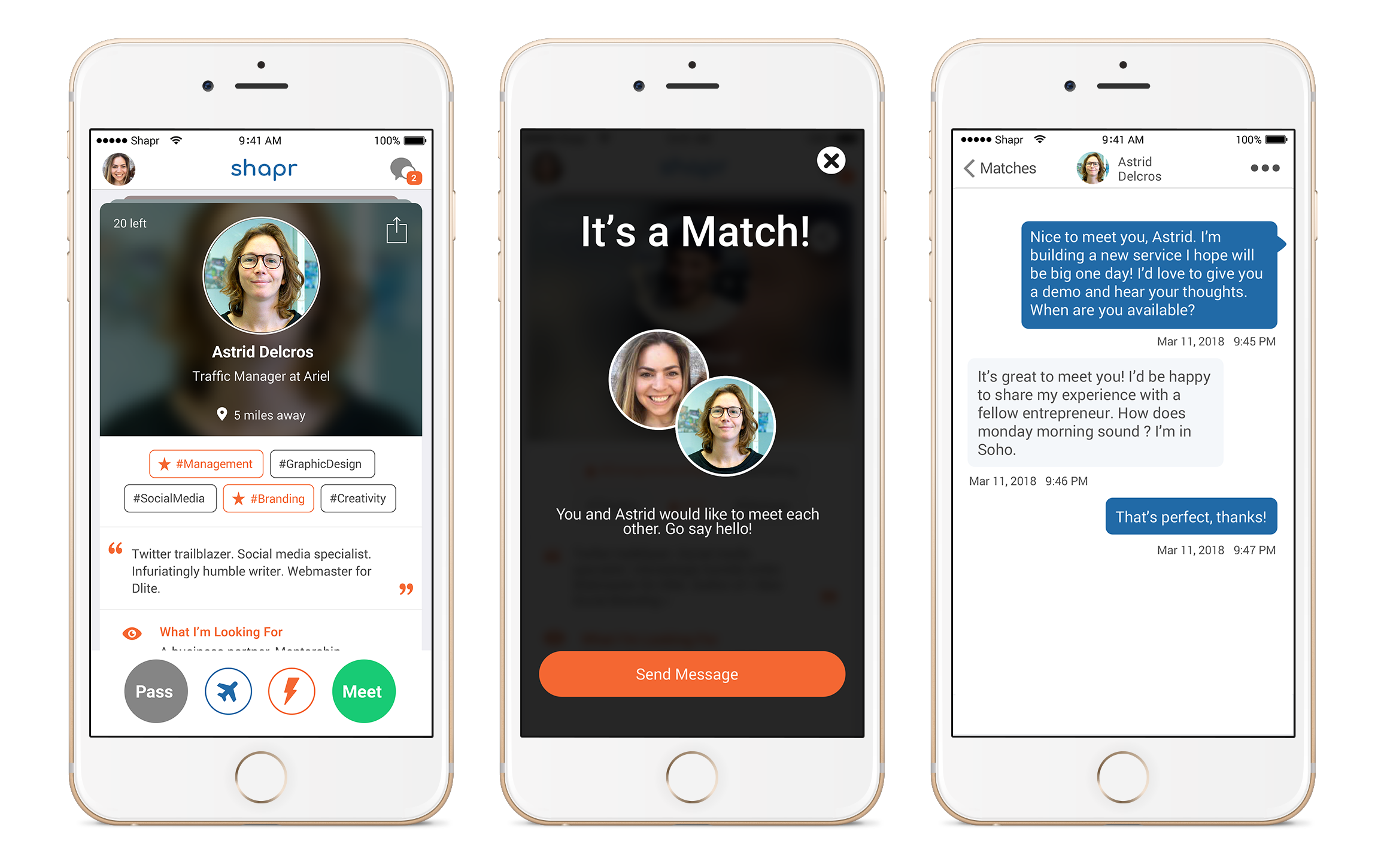 Flythe said the response she got was overwhelming. After swiping through to see who was the most suitable, she started messaging the people she connected with to see if they were a potential match for collaboration. She says a woman named Veronica, a life coach, stuck out and made an impact on her professional life in a big way.
The two women talked over Flythe's business plan and model, and devised a checklist with deadlines to hit. Flythe said Veronica's life coaching and help forced her to get very regimented with her progress, and has paid off in the long run.
Women On the Move is growing-- thanks to the help Flythe found networking. She is also collaborating with other people in the industry to help both her brand and theirs get to the next level. She credits the modernization of networking for opening those doors.
"[Shapr] makes it so much more casual," Flythe said. "You can have regular conversations where you're actually getting to know each other. People are more calm and can be themselves in this setting, which helps them open up more. I've had a great experience meeting people this way."
With the digitization of just about everything these days, networking through an app seems to have a future as well. And it looks like Shapr is at the forefront of the revolution.
What are you waiting for? Download Shapr today and see who you can meet!