Philly.com is excited to announce the launch of a new look for its sports section.

As you can see, the new site was built to be easier to navigate, to be quick to load, and to push more of the award-winning coverage from the Inquirer and Daily News higher on the page. You'll see immediately what's happening in Philadelphia sports, as told by the best sports writers and bloggers, as shown by the best photographers, and as filmed by the best sports video team anywhere in the country. (We don't mean to brag, but we really are proud of the people who work with us.)
Please pay special attention to these new features:
A smaller page topper that includes a live scoreboard - and a status update.
We are packing useful information into space that previously did not offer it. On the team pages, watch for the start times for upcoming games and for live box scores while the game is on. (Or check out what we're watching / chatting / arguing about in the status update.)

A shorter home page, improved inside pages, and sports-only navigation.
The previous Sports home page was verrrry long. How many of you scrolled to the bottom? In the new site, a better navigation bar helps users jump immediately to news of their favorite team. The navigation bar also has links to high school sports, to sports columnists and to our new community site, a home for forums and other ways for fans to connect, as well as for contests and other fun stuff.
An improved treatment for sports headlines and blogs at the top of the right-hand side of the page.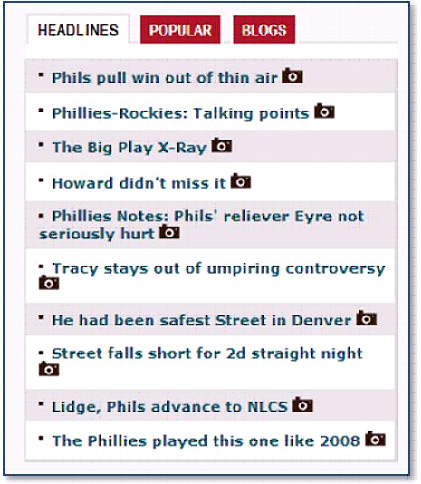 We're packing more headlines higher up the page. There's that much Philly sports to cover.
Integrated ticket sales and a push to newsletters.
Read the game preview, buy a ticket, then get all the analysis delivered to your in-box.
Integration of new tools.
They include FanChatter, which integrates Facebook and Twitter feeds onto our articles, and Accuscore's simulated games.
Improved article pages that make it easier to share stories with friends, that encourage commenting and that play up our video.
This is just the beginning for improvements to our sports product. It's an exciting time for Philadelphia sports. Like you, we live and die with the Phils, we obsess over the Eagles, we are reveling in the start of the Flyers and Sixers seasons and we're looking forward to the Union. We love the guts and tradition of our college and high school teams.
And we're thrilled to give all this action the online home it deserves.
We invite your feedback. Please take a moment to comment below, or e-mail us at feedback@philly.com with your thoughts on the new look and ideas for what we should continue to improve.
Thanks very much,
Philly.com
Congrats to the Philly.com sports team that built and maintain this site: Yoni Greenbaum, Bob McGovern, Sheil Kapadia, Mike Potter, Jon Tannenwald, Matt Mullin, Ryan Wixted, Brian McCardle, Benjamin Singer and Litty Samuel.

A HUGE thanks to our talented designers: Johnny Bilotta, Chris Corter and Gregg Meyer.

And, of course, milkshakes, Tylenol and much gratitude to the tech team: Jennifer Musser-Metz, Toan Dang, Nadya Harvey, Matt Torbin, Ian Krantz, Perri Duncan and Hung Dao.