Archive: November, 2010
Tom Belden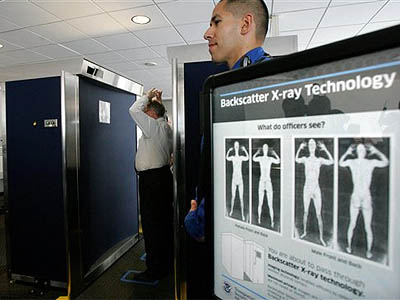 Ahhh, what a mess we've created for ourselves when it comes to airport security screening. Our political leaders, responding to anguished cries after 9/11 for aviation security at practically any price, created a massive burearacry -- the Transportation Security Administration -- that did what we asked and devised one new way after another to check for bad things bad people might try to carry on a flight. Now we're paying the price, with the choice a full-body scan that reveals everything under your clothes or an "enhanced patdown," or frisking, that some are calling sexual harrassment by government agents.You will find other posts from the last two weeks on these issues if you scroll down.
Here are today's stories and links to the ongoing media coverage of this brouhaha. First, a link to national opt-out day, an effort that could create terrible airport terminal jams on Wednesday Nov. 24, the day before Thanksgiving when airline passenger counts are at their peak for the year. The leaders of the movement are calling for all travelers to ask to "opt out" of use of the body scanner and ask for the more time-consuming patdown. This movement appears to be somewhat nonpartisan, although much of the noise generated so far seems to have come from ultra-conservatives and / or libertarians.
Warning: The www.optoutday.com site is a volunteer effort. Scroll down to see images of what full-body scanning really means. The post starts with the news that a Senate oversight committee will question TSA officials about its efforts at a hearing tomorrow.
Tom Belden
The Inquirer's Linda Loyd has a great "good news" story today about a team effort of the airport, airlines and a pediatrician who treats autistic children to help the kids cope with flying on a commercial jet. Here it is if you missed it on the business page.
Tom Belden
Lots of media, and other sensible people, are picking up on the fact the TSA has a major public relations problem on its hands because of new screening procedures it's using -- although it's unclear if the airport security agency knows what a good public image is, or if it cares much. As you can see from the post below from Tuesday and another post last week, TSA is installing scanners at airports that basically do a strip search on you, or if you don't want to use the machines and expose yourself to the radiation involved, you can get an "enhanced" patdown, which by all reports is a pretty thorough rubdown of your whole body, genitalia included.
The Inquirer's Linda Loyd had a good story today on the new procedures, which are only being used at PHL's Terminal F right now, and the concerns of US Airways pilots about them. For anyone who doesn't see this is as a problem, read the personal account of a young mother who went through the full patdown process in front of her small children in July and now has nightmares about it. Her words were left as a comment (from Sharon) on my Winging It blog post Tuesday.
To learn more about this whole topic and particularly the concerns of American Airlines pilots, The Atlantic magazine's Jeffrey Goldberg has written extensively about it. The best of his information is in previous posts on the Atlantic's Web site; links to those articles can be found just to the right of this one about the American pilots. In several articles, an important Goldberg source is Bruce Schneier, a security consultant who I quoted in a Winging It column early this year, soon after the Christmas Day underwear bomber incident.
Tom Belden
A week ago, I told you about my experience with TSA screening at PHL's Terminal D-E checkpoint, and also linked to a New York Times column on the full-body scanning or full patdowns of your body, your choice, now going on at most major airports. Today's Sharkey column and a companion news story on growing unhappiness on travelers' part about the screening process are on the same subject and speak for themselves. Read them and let us know what you think of airport security these days.
Tom Belden
Airlines and airports continue to have relatively good on-time and customer service records, and that applies both to PHL and US Airways, based on statistics for September releaded today by the U.S. Bureau of Transportation Statistics. The bureau's parent, DOT, pointed out in a news release that long tarmac delays, which are now subject to heavy fines on airlines if they last more than three hours, have dropped sharply since that rule took effect at the end of April. Cancellations were about the same as they were in September 2009. But spinning the statistics another way shows that cancellations in the five months since the rules were imposed have gone up by 62 percent compared with the same year-ago period.
PHL's largest carrier in flights and passengers, US Airways continues to make great strides in comparison to other large, old hub-and-spoke airlines. In the mishandled-bag category, US Airways had fewer in September than any of the five other carriers, a far cry from where it was a few years ago.Compared to other major airports, PHL during the month finished in 21st place for on-time arrivals, an improvement from September 2009. Find all the DOT statistics you can stand -- and more -- at this link. The individual airport stats can be found here.
What would you prefer, a long tarmac delay or a canceled flight? We're open for comments.
Tom Belden
In case you missed it in today's Inquirer, here's the story of the NAACP voluntarily dropping a racial discrimination suit it had filed in Philadelphia against US Airways.
Tom Belden
This is not good news if you're Qantas, the Australian flag carrier, or among its passengers. The airline said it had found new problems with engines on its superjumbo A380 jets. One of the engines broke up and caught fire in flight last week, leading to a grounding of the planes. Read more on the latest development here.