Archive: September, 2012
Ronnie Polaneczky

, Daily News Columnist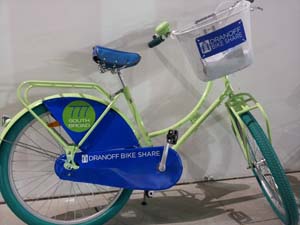 It's a bummer that Philly has yet to launch a bike-sharing program, which looked promising two years ago but today, well, not so much.
So it'll be fun to see a way-scaled-down program in action starting Wednesday, when Dranoff Properties launches its own bike-sharing program, which will allow residents of Dranoff buildings the free use of a fleet of bikes.
This is from the press release:
Ronnie Polaneczky

, Daily News Columnist

My favorite extortionist pleaded guilty today (Monday) to extorting the Philadelphia Parking Authority for $500.

South Philly shakedowner-wanna-be Rocco Martinez, 30, had shot a video in September 2011, using his cell-phone camera, of a hinky-looking interaction between a PPA ticket-writer and a bootleg-movie seller who called himself "The Movie Guy." Rocco said it depicted the PPA ticket-writer cancelling a parking ticket in exchange for two free, bootlegged movies.

Rocco attempted to sell the video to the Daily News, but we don't pay for that kind of stuff. He did let me see the video, though, which was just too blurry and garbled to confirm, unequivocally, that it showed what Roco said it did. When I called the PPA for comment, no one would comment on the video, either. So I didn't pursue using it.

Plea Memo - Martinez, R
Ronnie Polaneczky

, Daily News Columnist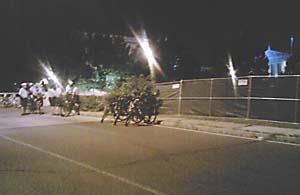 Reader Brendan Flannery read my colleague Stu Bykofsky's column this week about a die-hard Eagles fan who has been ordered not to peer through a fence to watch the the Birds practice at the Novacare Center on Pattison Ave.
And he has his own tale of viewer frustration to share.
He says he was denied the chance to be a peeping Brendan at last weekend's Budweiser Made in America Festival. His frustration went down near the ramp that leads east from the Spring Garden St. bridge. He was standing near theclosed-off entrance to the Vine St. Expressway – located to the right of the Philadelphia Museum of Art and flanked by the Park Town Place complex. Attached here is the fuzzy photo which, presumably, no one prevented Brendan from snapping.
Ronnie Polaneczky

, Daily News Columnist
Just got off the phone with Jim Trachtenberg, who wanted to add a different perspective to my column today about last weekend's Budweiser Made in America Festival. For 35 years, Trachtenberg has lived on the 2300 block of Pennsylvania Ave., in view of the Art Museum's front steps. So he's long been in the thick of every event staged on the Ben Franklin Parkway.
He says he has never, once, moaned about the disruptions the activities cause. Instead, he embraces them for the vitality they bring to the place he calls home.
So it means something that Trachtenberg says the festival was "obscene" for its lack of regard for area residents. The reasons he's steamed:
Friday night, neighbors were ordered to move their cars from Pennsylvania Ave., which runs parallel to the Parkway. The spots were then promptly taken by concert vendors.
The music was scheduled to begin at 2pm, but Trachtenberg says the blaring sound checks started at 8am. That means the noise, which mayor Nutter said wouldn't be heard beyond the fabric-lined fences, boomed from 8am to 11pm, nonstop. Trachtenberg says he needed earplugs, four Xanax and two pillows over his ears to get to sleep.
Trachtenberg's house sits at the corner of Pennsylvania and Judson, a skinny little side street, which became a gigantic urinal for music fans who didn't attend the concert but wanted to be close to the action.
The concert lights shone all night long, right into neighborhood bedrooms.
The festival ended Sunday night, but the noise hasn't abated as workers toil around the clock to return the Parkway to normal. Tractor trailers and trucks have destroyed vast swaths of grass the grounds, including patches of Von Colln field, where kids will soon play fall sports.