Archive: March, 2012
Ronnie Polaneczky, Daily News Columnist
My column today mentions Upper Darby teen Nadin Khoury, who was brutally attacked by bullies in January 2011. A video of the assault went viral, and Eagles wide receiver DeSean Jackson came to Nadin's rescue. Here's how it went down, on "The View." Makes me smile every time I see it.
Ronnie Polaneczky, Daily News Columnist
Best of luck on Thurs., Mar 28, to Rep. Gene DiGirolamo (R-Bucks), chairman of the House Human Services Committee, and Rep. Thomas Murt (R-Montgomery/Philadelphia), who will join Self Advocates and Family Alliance (SAFA) and 18 families for a press conference and hearing in Harrisburgh to scream bloody murder about the impact that proposed state budget cuts will have on those with disabilities and on the loved ones who care for them.
Also attending will be Dee Coccia, co-executive director of Vison For Equality Inc., who shared wrenching stories with me last week about how desperate families are for services - especially elderly parents caring for their disabled adult children. Dee told me about a middle-aged, mentally impaired man who lived with his caregiver mom, who was in her 80s. One day, as he was helping her on the stairs, she fell, suffered for three days from her injuries and then died at the foot of the stairs. The son didn't know what to do. Finally, he knocked on a neighbor's door and said his mother was sick. The neighbor came over and found the body.
The irony? The son had been on a waiting list for services from the state, which would've been a help to both him and his mom. Now that the mom is gone, guess what? There are plans to place the son in an institution - which will cost hundreds of thousands of dollars. Why in God's name wasn't it possible for the son to receive services in the home prior to his mother's passing, at a fraction of what it will now cost to institutionalize him?
Ronnie Polaneczky, Daily News Columnist
Many thanks to Gedaliah Lowenstein, rabbi at the Jewish Center of Northern Liberties, for sharing the lovely essay, below, about how his congregation helped save the lives of three neighbors whose house caught fire on St. Patrick's Day.
(When you're done reading the piece, click here to read a wonderful profile of Lowenstein that appears on MetroplisMag.com - it's about how Lowenstein decided that the perfect place to open the Jewish Center is inside an old beer-bottling plant.)
Here's the essay:
Ronnie Polaneczky, Daily News Columnist
If I had any suggestion to give the planners of this important annual men's health fair at Enon Tabernacle Baptist Church, it would be to hold it on Father's Day. It could be nicknamed "Test For The Cure," because, the medical screening tests find sneaky illnesses - like heart disease, prostate cancer and the like - that , if found early, would keep more of our beloved men with us much longer.
Having said that: Fellas, get thee to this important event on Saturday, March 24! It's free and - yes! - even includes massages ...
Here's the press release, from sponsor Einstein Healthcare Network:
Ronnie Polaneczky, Daily News Columnist
My column on Thursday, 3/22, allowed Dee Coccia to tell stories of how the state's already miserable supports for adults with disabilites is impacting vulnerable lives in Pennsylvania. Below are additional stories Dee has heard, in her capacity as co-executive director of Vision For Equality Inc. Space constraints kept me from including them in my column, so I am running them here because these tales need to be heard.
Some of them are written in the first person, culled from letters Dee has received. Others are in the third person, written by advocates for the disabled folks/families whose stories are chronicled.
How I wish Dee were making them up.
Ronnie Polaneczky, Daily News Columnist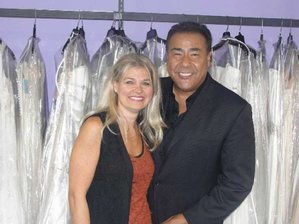 You know your personal drama has earned national cachet when it inspires a segment on "What Would You Do?" - the John Quinones-hosted ABC show that uses actors and hidden cameras to stage ethical dilemmas and record real-people responses to the scenarios.
So it is for Alex Genter, the lesbian bride-to-be whom I wrote about last year, who, because she is gay, was refused service from a Somers Point, NJ bridal salon owner.
Inspired by Genter's story, "What Would You DO?" staged a scenario at Bella Sposa Bridal Boutique, in Denville, N.J., in which a phony salon consultant refuses service to a phony lesbian bride.
Ronnie Polaneczky, Daily News Columnist
Philadelphia has been called the fattest city in America. We're really ugly, too.
Now, according to a survey by a company called Lookout - "the global leader in mobile security" - we lose our cell phones more than people in other U.S. cities do. So I guess we're also dopes.
This is from Lookout's press release:
Ronnie Polaneczky, Daily News Columnist
This just in from the pollsters at Quinnipiac University:
"There is a reverse gender gap as voters oppose 48 - 42 percent legislation that would require a woman seeking an abortion to undergo an ultrasound at least 24 hours before the procedure. Men oppose the measure 51 - 39 percent, while women are divided 45 - 45 percent. Voters with a college degree are opposed 57 - 35 percent while voters without a degree are divided 45 - 44 percent.
"Voters oppose trans-vaginal ultrasounds 64 - 23 percent, with men opposed 67 - 18 percent and women opposed 61 - 28 percent.
"A total of 54 percent of voters say abortion should be legal in all or most cases while 37 percent say it should be illegal in all or most cases.