Archive: February, 2009
Ronnie Polaneczky

, Daily News Columnist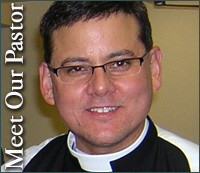 Parishioners at St. Miriam Church have a new way to receive the Catholic sacrament of Reconciliation, once known as penance.
They can now web-surf to an on-line confessional on the church's website, confess their sins, hit "send" and then wait for an e-mailed absolution.
Which is just gr8, IMHO.
From a church press release, here's how Father Jim St. George, pastor of the small Manayunk congregation, describes how his church got into cyber-forgiveness:
'The [web] site has recently undergone some needed revisions and so we decided to make it also a bit easier for people to cleanse themselves and heal. Confession attendance is down across the Catholic spectrum, and a recent survey by our church shows people are ashamed and afraid. I think it awful that someone would be afraid to sit with me or a fellow priest, but it is reality.
"The newly revised site has increased security, needed to ensure that only the eyes of a priest would ever 'hear' the sent confessions... The 'online confessional' explains all about the sacrament, why it is important, how it works, and then provides a means for the person going to confession to submit their 'sins'.
"They may then choose to meet with a priest in person, receive counseling and pastoral care online, or speak over the telephone and/or via email.
" We took this decision very seriously when we created it. But we feel it is a good decision in keeping with our commitment to God's people."
"The Roman Catholic Church (Latin Rite) believes that the penitent and the priest must be in the same physical location. The RC Church maintains that it must take place in a public venue - like a church - because it is a personal and a corporate act.
" At Saint Miriam, we believe this to also be true, but we also maintain that God brings people together in marvelous and unique ways! So, God is truly present, then, between priest and penitent as they make a confession, even online.
"And, since our priest brings your confessions with him to the Eucharist Table weekly in and their private devotions, the act is at once both a personal act of confession, and a celebrated act of the entire community of believers.
"The final act - the absolution formula and penance- will be sent to the confessing person in return, so all aspects of the sacrament are met; just in a time-sensitive manner unique to the online environment."
The on-line sacrament is available to anyone with a heavy heart, not just to members of St. Miriam, says Father Jim, (whom
I wrote about last fall,
when he got into a bit of a donnybrook with some local church pastors over whether his church is truly "Catholic").
So you can unburden your soul whenever and wherever the spirit moves you - and not worry about looking your Sunday best.
Ronnie Polaneczky

, Daily News Columnist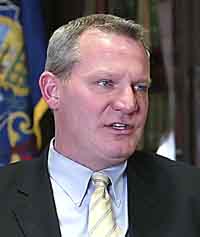 It was a close call last week for Family Court Administrative Judge Kevin Dougherty, who's sore but doing fine after a one-car accident that demolished the city-owned Ford Crown Victoria he was driving.
The judge was traveling on the Pennsylvania Turnpike, headed to a conference in Pittsburgh, when he swerved somewhere in Somerset County to avoid a car that was fishtailing in the driving snowstorm.
"I bailed to the left, then lost control," he says. "I did several three-sixties then crashed into the median. It was a blessing at that moment that no cars behind me were close enough to hit me."
Ronnie Polaneczky

, Daily News Columnist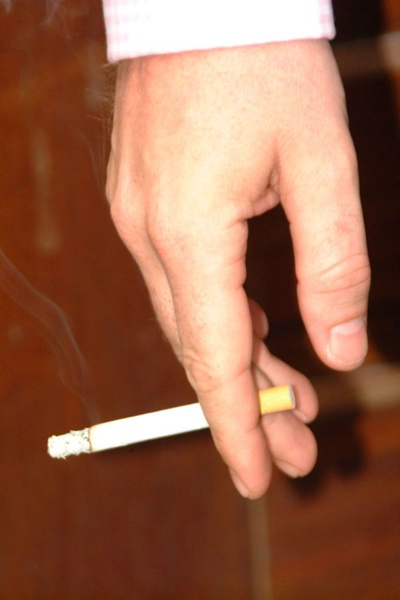 Pennsylvania's no-smoking ban is such a wuss of a law. It's supposed to prohibit people from lighting up in most public buildings and businesses. But loopholes to the five-month-old law abound.
Now, reports the Allentown Morning Call, the state Health Department's Division of Tobacco Prevention and Control is doing a legal review of the ban, after attorneys for about a dozen Pennsylvania hotels called to challenge it.
The department ought to tell those lawyers to go blow smoke.
Ronnie Polaneczky

, Daily News Columnist
Remember that funny school teacher who drove his tiny red Fiat around Citizen's Bank Park on the morning of every Phillies playoff game last fall, to bring the team good luck?
Luigi Borda decorated his car with a lot of big Phillies P's and christened it "The Philly Phiat." Then he drove that thing around the park, beeping it's horn like a world championship depended on it.
Which, it turns out, it kind of did.
Ronnie Polaneczky

, Daily News Columnist
Two weeks ago, I wrote about Carmel Kropp, the cantor at the Cathedral Basilica of Ss. Peter and Paul on Logan Square.
Carmel has a strange claim to fame: She has sung at the funerals of the six area police officers killed in the line of duty these past 16 months, as well as for Jon Pryor, the Penn surgeon and U.S. Army reservist killed while manning a combat hospital in Iraq on Christmas Day.
Because parts, if not all, of these somber services have been televised, many of us have heard Carmel's comforting voice at least once.
Ronnie Polaneczky

, Daily News Columnist
My column today contains thoughts about the word "sacrifice," given that Americans are being told we'll have to sacrifice much during these economic times.
But what does the word mean to everyday Americans?
I posed the question to a few dozen readers, and included some of their remarks in my column. Since I couldn't fit everyone in, and since a lot of people had such insightful things to share, I wanted to print here the e-mails that didn't make it into my column, for space reasons alone.