Archive: October, 2010
Ronnie Polaneczky, Daily News Columnist
I wish something like Summer Search were available for every kid in the city who feels ground down not just by poverty but any tough circumstance they're having a hard time weathering.
Summer Search Philadelphia describes its mission this way: To find resilient low-income high school students and inspire them to become responsible and altruistic leaders by providing year-round mentoring, life-changing summer experiences, college advising and a lasting support network.
The kids selected to participate in the Philadelphia program, which begins in the sophomore year of high school and ends two years after graduation, spoke about their accomplishments last night at a celebratory dinner held at the High School of the Future at 4021 Parkside Avenue.
Ronnie Polaneczky, Daily News Columnist
The weather today and tomorrow is perfect for some nice, urban pedal-pushing. Why not try out one of the cool two-wheelers being demontrated by Bike Share Philadelphia? The organization wants to bring bike-sharing to the city - a notion more overdue than my latest credit-card bill.
The first demonstration takes place today in front of the Academy of Natural Sciences, 1900 Ben Franklin Parkway, from 4 PM to 8:30 PM. Tomorrow's demo is at Love Park on JFK Plaza, from 9 AM to 2 PM.
(For a lovely piece about the potential of the program, click Andrew David Watson's "Philadelphia Stories" video, below.)
Ronnie Polaneczky, Daily News Columnist
Many congratulations to Fishtown's Joe Varsanyi, Sr., who turned 90 yesterday and celebrated, the day before, with a gallery-like showing of his beautiful paintings. The oils and watercolors were displayed in the sanctuary of Atonement Lutheran Church at 1400 Montomgery Ave., where his devoted son, Rev. Joe Varsanyi, Jr. is the acting pastor.
"He's my hero," says Joe Jr. of his dad.
"He's my angel," responds Joe Sr.
If the Fightin's had let Luigi Borda do his magic, the team might've won this weekend. At least, that's what Borda believes, and I believe in Borda. So that's good enough for me.
Readers of this blog might recall a post from February 2009, when I wrote about Borda, a South Philly schoolteacher who is convinced, when it comes to the Phillies, that his Phillies-decorated, 1966 Fiat - or "Phiat" - is key in whether the team makes it to the World Series.
(Click here for a cute video about Borda, which aired on 6-ABC News.)
Ronnie Polaneczky, Daily News Columnist
Yes, really. This photo doesn't quite do justice to an art installation, called "be like water," currently on exhibit at The Skybox in Fishtown. So my imperfect words must describe what has to be the most lovely and ingenious re-use of plastic bottles and caps you'll ever gaze upon and wonder, "How did they do that?"
Better yet, you should go see it for yourself. The Skybox is the massive, two-story atrium located within 2424 Studios, at 2424 E. York St., whose lofts house eclectic businesses with a creative bent. One of the residents is art curator Eileen Tognini, who commissioned last year's funky and beautiful "Titan and the Firelies," a crazy exhibit that made wonderful use of the gallery's huge space
"Be Like Water," another Tognini commission, is just as arresting. Created by artist Aurora Robson, with copious help from students at city public, private, community and charter schools, the installation uses thousands of plastic bottles and caps, collected by the kids, to create ethereal, delicate, crystal-like forms that gitter and sway on suspended filament. Walking under them is like gliding beneath dangling ice sculpures.
Ronnie Polaneczky, Daily News Columnist
The best reason to rise at an ungodly hour on Thanksgiving morning is not to prepare a feast for guests but to stick a fake rubber nose on your face and entertain the crowds that descend on Center City for the annual Turkey Day parade. This year will be the fourth time that my family has marched as volunteer clowns in the annual 6ABC/IKEA march (that's orange-wigged me in the photo - second from the right - with some young'uns from the extended Polaneczky tribe and a very nice Philly cop).
And I wouldn't miss it for the world. (Okay - not true. I missed it two years ago when I was recovering from foot surgery. Call me a wuss.)
There's something freeing about being totally unrecognizeable, even to your loved ones, and acting like an idiot with parade-goers who'll probably never see you again. (To hear a 2007 podcast I recorded about that, after the first parade I marched in, click here.)
Ronnie Polaneczky, Daily News Columnist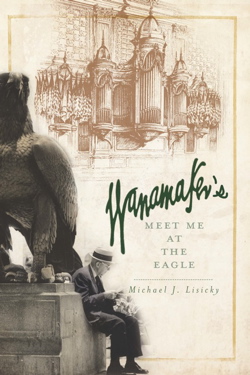 I rarely have my act together to buy Christmas presents earlier than Dec. 1st. But I'm about to make an exception and order a few gift copies of Wanamaker's: Meet Me at the Eagle, a wonderfully affectionate look at the Market St. store whose name, for generations, was symbolic of Philly. Published by History Press, it hit print this weekend.
Author Michael Lisicky says his love letter to the landmark institution is not just a history book but a "nostalgia" book. It's crammed with over 100 rare photographs and interviews with local celebs - from Ed Rendell and Sally Starr to Michael Nutter, Lynn Abraham and Pat Ciarrocchi - who share personal memories of the department store known for its holiday light show and - yes - that iconic, bronze eagle statue in the center of the first floor, which became a reliable meeting spot before we had cell phones to let us find each other when meeting downtown.
Ronnie Polaneczky, Daily News Columnist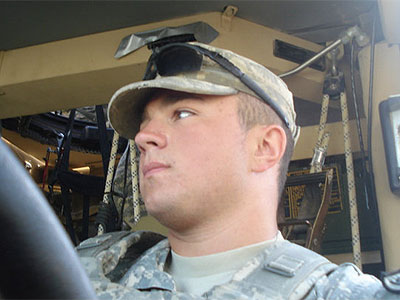 Good news for U.S. Army Spec. Richie Gegeckas.
By midnight tonight, Gegeckas should be on a military medical-transport plane out of northern Afghanistan, headed for Walter Reed Army Medical Center in Washington. D.C. Hopefully, he will get the care at Walter Reed that he's not been getting at his base in Afghanistan, where he contracted leishmaniasis, a parasitic disease caused by the bite of infected sand flies.
As I wrote in my column on Tuesday, Gegeckas' case of the flesh-eating disease has steadily worsened since it first made its nasty appearance in early September. A hideous-looking sore the width of a lemon and almost a half-inch deep had opened on his thigh; a smaller one ravaged his calf. Gegeckas has lost 15 pounds in the past two weeks, his lymph glands are swollen and he is having trouble walking. No one on his base seemed to know how to treat the disease, which prompted his mom, Philly Police Ofc. Robin Zaborowski, to contact the Daily News for help.