Archive: November, 2009
Join members of the Bicycle Coalition of Greater Philadelphia at 1 p.m. today for a chat about how bicyclists, pedestrians and motorists can peacefully coexist in the city and suburbs. Ask questions and post your thoughts on an issue that's gaining more attention as more cyclists take to the roadways.
So, they were talking, after all.
Last week, I wrote of persistent and excited rumors that North Catholic High School, scheduled to shut its doors for good in June, might reincarnate as an independently run Cristo Rey High School. It was all that everyone at the beloved Torresdale Ave. institution was talking about - except that the Philadelphia Archdiocese put the kibosh on the story when the Daily News called to get the skinny on the chatter.

"It's all rumors," Archdiocese spokeswoman Donna Farrell told my colleague Val Russ. "There have been no negotiations. North Catholic is not going to become a Cristo Rey school and, sadly, North Catholic will be closing in June."
So imagine the confused joy felt by North's supporters yesterday when they learned that, indeed, there was some meat on The Rumor's bones: A feasibility study will be conducted by North Catholic's Alumni Association and by Cristo Rey to determine whether the school might indeed join the Cristo Rey Network.
Two years ago, I had a startling realization: My kid was sort of outgrowing Philly's annual Thanksgiving Day Parade. The insight was bittersweet: I was delighted to see my daughter hit canny adolescence, but bummed that our annual family ritual of waving to Elmo and Santa on the Parkway looked to be petering out on us.
Then a friend suggested we become parade volunteers. Turns out that scads of free helpers are needed each year to dress as clowns and work the crowd, to handle the huge helium balloons that forever threaten to sail away into the ether and to man the floats. We signed up and had a blast bumping into our fellow citizens and esteemed celebs (the 2007 photo, left, is of me and Michael Nutter, who'd just won his mayoral election).
We laughed ourselves silly and - voila! - just like that, the parade was returned to us as a family tradition.
In case anyone's wondering, it appears - according to at least one happy citizen I've chatted with - that Susan Cornell does real work over at the Philadelphia Parking Authority.
Cornell is the former Montgomery County state rep who asked newly indicted State Rep. John Perzel to help her find employment after she lost her re-election bid in 2006. On page 143 of the grand-jury presentment, note my colleagues Chris Brennan and Catherine Lucey, Cornell stated that Perzel found her a ghost job in former state rep George Kenney's office, a no-work-for-a-paycheck gig that made her feel icky.
So she asked Perzel to help her score a different position, and that's how she landed at the PPA, where she's paid $67,894 per year to do government relations and customer-management work.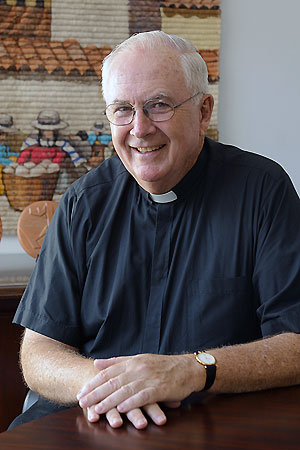 Last month, the Philadelphia Archdiocese announced the closure next June of Cardinal Dougherty and Northeast Catholic high schools. Within days, a rumor took hold that deep-pocketed alums were looking at the chance that Northeast - "North" for short - might be converted to a Cristo Rey school. The conversion - a complicated long shot that would no doubt greatly alter North in unexpected and maybe unwelcome ways - could breathe new life into the Torresdale Ave. institution.
(On a side note, maye I just say that North has the most fiercely potective and devoted alums I think I've ever met? With the exception, perhaps, of Cardinal Dougherty's, whom I've gotten to know better in these last few weeks than I know the alums at even my own alma mater, Bishop McDevitt - Go, Lancers!)
In today's Daily News, I wrote about the juicy rumor - which the archdiocese has said is, sadly, not true - but space constraints prevented me from explaining in greater detail just what Cristo Rey is all about. So I thought I'd provide a link here to the Cristo Rey Network, founded by one Rev. John Foley, whose outside-the-box business model is helpig to save Catholic education in poor neighborhoods throughout the country.

I had a lovely telephone conversation yesterday afternoon with John Polec, who was grateful for and touched by the words of support posted by readers in response to my blog post about the 15th anniversary of his son Eddie's funeral. John said his family is happy and doing well - there are now grandchildren in the Polec clan, and they bring joy every day to the family. Beyond that, he declined to speak about Eddie's case and its aftermath.
On a separate note, reader Pattye Stringer shared with me this memory from 1994, related to Eddie's friends, whom she happened upon the day after his death. She has allowed me to reprint it here:

"Dear Ronnie," it begins, "Your column on the 15th anniversary of the murder of Eddie Polec brought back many memories.
"First, some background; I live in Burholme, a little neighborhood just below Fox Chase. I am not a member of St. Cecilia's church, but I certainly know it as a landmark.

Today marks the 15th anniversary of the funeral of Eddie Polec. He was the Cardinal Dougherty High School senior who was beaten mercilessly by a gang of baseball-bat-wielding thugs on Nov. 11th, 1994, on the steps of St. Cecilia - the Fox Chase Catholic church where he'd served as an altar boy. He died the next day of his brutal injuries. His funeral, four days later, was so crowded with mourners that the neighborhood around St. Cecilia's was jammed for hours.

I could recount the whole sad and terrible story here, but I'll link, instead, to this piece, published in the Northeast Times on the 10th anniversary of Eddie's passing.

For many of us, though, no recap is needed. We recall vividly how terribly Eddie's vicious murder rocked the city. Not just for the fact that it was a gang of marauding suburban teens who inflicted the blows that killed him. But because Philadelphia's 9-1-1 system failed Eddie so completely that night.

And yet in the awful aftermath of Eddie's death we also witnessed moments of incredible grace as his wonderful family - parents John and Kathy and siblings Billy and Christy - handled their shock and sorrow with extraordinary dignity and resolve. They repeatedly called for calm, urging Eddie's grieving friends and the community at large to honor Eddie's memory by not partaking in the brand of violence that had torn him from them. And they refused to turn the teen's death into a multimillion-dollar lawsuit against the city. Instead, the Polecs pushed for wholesale changes in the 9-1-1 system.

I've reached out over the last few weeks to John and Kathy Polec, to ask how their family has fared in the last 15 years. They've not responded to requests for an interview.

So I'd like to take this opportunity to tell them what I would've told them, face to face, if I'd had the chance:
That I'm still so sorry for their loss. That I know I'm not alone in saying I remain inspired by the courage and character they exhibited during a time of unimaginable heartbreak.
And that we'll never forget their son.


Space constraints kept my story in today's Daily News from including the entire e-mail that Valley Club president John Duesler sent to members this week, announcing the pending bankruptcy of the small, Huntingdon Valley swimming pool. So I'll paste in Duesler's letter, in full, right here:
"Friends and Families of The Valley Club,
"I am writing with a heavy heart to inform you that The Valley Club will be filing for Chapter 7 bankruptcy this week.