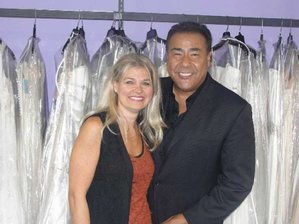 You know your personal drama has earned national cachet when it inspires a segment on "What Would You Do?" - the John Quinones-hosted ABC show that uses actors and hidden cameras to stage ethical dilemmas and record real-people responses to the scenarios.
So it is for Alex Genter, the lesbian bride-to-be whom I wrote about last year, who, because she is gay, was refused service from a Somers Point, NJ bridal salon owner.
Inspired by Genter's story, "What Would You DO?" staged a scenario at Bella Sposa Bridal Boutique, in Denville, N.J., in which a phony salon consultant refuses service to a phony lesbian bride.
Philadelphia has been called the fattest city in America. We're really ugly, too.
Now, according to a survey by a company called Lookout - "the global leader in mobile security" - we lose our cell phones more than people in other U.S. cities do. So I guess we're also dopes.
This is from Lookout's press release:
This just in from the pollsters at Quinnipiac University:
"There is a reverse gender gap as voters oppose 48 - 42 percent legislation that would require a woman seeking an abortion to undergo an ultrasound at least 24 hours before the procedure. Men oppose the measure 51 - 39 percent, while women are divided 45 - 45 percent. Voters with a college degree are opposed 57 - 35 percent while voters without a degree are divided 45 - 44 percent.
"Voters oppose trans-vaginal ultrasounds 64 - 23 percent, with men opposed 67 - 18 percent and women opposed 61 - 28 percent.
"A total of 54 percent of voters say abortion should be legal in all or most cases while 37 percent say it should be illegal in all or most cases.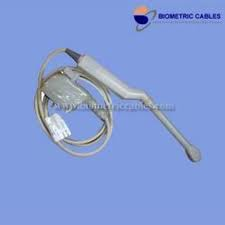 Democratic Attorney General candidate Kathleen Kane issued this needed-to-be-said statement on Saturday regarding PA House Bill 1077, which mandates a preabortion ultrasound test. The bill was passed out of the health committee by a 15-7 vote and is scheduled for House floor action today.
Tell it, Ms. Kane (the itals are mine). And thank you.
"I am adamantly opposed to the controversial bill before our state legislature that would require women seeking a legal medical procedure to undergo a mandatory ultrasound exam 24 hours prior to the procedure. As the only candidate in the Democratic Primary race for Attorney General who actually has had an ultrasound, I can tell you that it is an invasive, uncomfortable, often humiliating experience. As the only candidate in the Democratic Primary who actually has prosecuted criminal cases in a Pennsylvania court room, I can tell you that this bill constitutes an illegal search and seizure. Before law enforcement can search the properties or possessions of drug dealers, we must first serve them with a search warrant. Criminals are afforded more rights than this wrongheaded ultrasound bill affords women. This bill is yet another assault on women's rights. I stand firmly against it and am urging state lawmakers to do the same."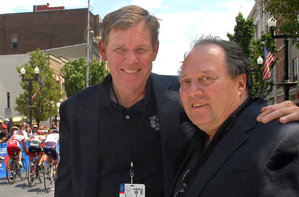 This week brought sad news to the family and friends of Chestnut Hill's wonderful Jerry Casale, co-founder of the T.D. Bank Philadelphia International bike race. According to Velo News, Jerry died Wednesday evening after a long battle with prostate cancer.
(That's Jerry on the right, with bike race co-founder Dave Chauner)
The last time I spoke with Jerry was three years ago, when it looked like money woes would sideline the annual bicycle race through Center City, Fairmount Park and, of course, Manayunk (where steep Levering and Lyceum streets were re-christened "The Wall"). You can read my column about it here.
The family of Joseph "Babe" McGeehan is grateful that the city has erected a series of cement bollards at the eastern base on Unruh St. in the lower Northeast, where it meets the Delaware River. They're just sad that it appears it took the death of Babe for anyone to realize that a hazard existed in the first place.
As I wrote in my column, Babe went missing the night of Jan. 7th. His family figured out, within 48 hours, what had happened to him: He'd driven down Unruh St., which is dark and poorly lit, and went over the street's berm, into the river. A surveillance video from a nearby business showed Babe's car heading down Unruh, its brake lights briefly tapping before the car disappears.
Police pulled Babe's Jeep from the river, but his body wasn't in it. For two horrible weeks, the family kept vigil at the water, hoping his body would surface. The Philadelphia Police Marine Unit wouldn't risk its divers' lives to search for the body, as the Delaware is choked, below the surface, with tons of trash and debrius that, combined with the river's wicked currents, make for dangerous exploration.
Not that we needed hard data to prove any of this, but the Bicycle Coalition reports today that cycling in the city is way up. If it keeps growing the way it's been growing, we'll soon be indistinguishable from Amsterdam.
The jewel city of the Netherlands has a lot of bikes; we have a lot of bikes. Amsterdam has a museum devoted to native son Vincent Van Gogh; we have the current Van Gogh exhibit at the Philadelphia Museum of Art. Amsterdam has delicious Belgian beers; so does Philly.
All we need are a few canals (excellent!), and we can all pretend we're Dutch (insert jokes about marijuana cafes and legal prostitution here.)
Just got a jubilant phone call from A.J. Thomson, a parent advocate from Fishtown whose daughter attends St. Laurentius School, which the Philadelphia Archdiocese had slated for closure come June.
A.J. tells me that an archdiocesan official notified St Laurentius officials just now with news that the school had succesfully appealed the closure and will remain open. A prayer service of thanks will be held at the school tonight at 7pm. It's located at 16th and Berks.
"In all my years as a community advocate, this is the most important thing I've ever been involved in," says A.J., an attorney and lifelong Fishtowner. "I am as excited as I have ever been and very grateful."