Ronnie Polaneczky, Daily News Columnist
Just got off the phone with Jim Trachtenberg, who wanted to add a different perspective to my column today about last weekend's Budweiser Made in America Festival. For 35 years, Trachtenberg has lived on the 2300 block of Pennsylvania Ave., in view of the Art Museum's front steps. So he's long been in the thick of every event staged on the Ben Franklin Parkway.
He says he has never, once, moaned about the disruptions the activities cause. Instead, he embraces them for the vitality they bring to the place he calls home.
So it means something that Trachtenberg says the festival was "obscene" for its lack of regard for area residents. The reasons he's steamed:
Friday night, neighbors were ordered to move their cars from Pennsylvania Ave., which runs parallel to the Parkway. The spots were then promptly taken by concert vendors.
The music was scheduled to begin at 2pm, but Trachtenberg says the blaring sound checks started at 8am. That means the noise, which mayor Nutter said wouldn't be heard beyond the fabric-lined fences, boomed from 8am to 11pm, nonstop. Trachtenberg says he needed earplugs, four Xanax and two pillows over his ears to get to sleep.
Trachtenberg's house sits at the corner of Pennsylvania and Judson, a skinny little side street, which became a gigantic urinal for music fans who didn't attend the concert but wanted to be close to the action.
The concert lights shone all night long, right into neighborhood bedrooms.
The festival ended Sunday night, but the noise hasn't abated as workers toil around the clock to return the Parkway to normal. Tractor trailers and trucks have destroyed vast swaths of grass the grounds, including patches of Von Colln field, where kids will soon play fall sports.
Ronnie Polaneczky, Daily News Columnist
Fishtown's Margaret Megill is 85 and needed a voter ID. Luckily, her daughter Margie Megill had the time and patience to help her get one. Because here's how their day unfolded:
Margie downloads the Voter ID form from Penndot's website and fills it out for Margaret. They drive to the PennDot center on Columbus Blvd, armed with Margaret's birth certificate, Social Security and two bills proving Margaret's address is legit.
At PennDot, an employee at the info desk tells them they have the wrong form. He gives them two new forms to fill out.
Ronnie Polaneczky, Daily News Columnist
An eagle-eyed reader snapped this photo of a Philadelphia Parking Authority van parked right next to the fire hydrant on N. 16th St., between the Ben Franklin Parkway and Cherry St.
Blocking a hydrant is a $76 fine for the rest of us, and with good reason: If there's a fire, how can firefighters access the hydrant if someone is blocking it?
Maybe the PPA-van driver has a magic ball and can see the future, and therefore knew that spot would be fire-free during the time it was occupied by the van and so figured, what the heck, why not block the hydrant?
Ronnie Polaneczky, Daily News Columnist
Today's print edition of the Daily News contains an error in my column that makes me turn red with embarrassment.
"Fast Times At West Philly High", the documentary about the little high-school automotive club that could - airs on "Frontline" at 10pm tonight, not 8pm.
To encourage you to stay up late and watch this wondeful, 36-minute tale of kids whom everyone under-estimated but the teachers who believed in them, click on the video below. I smile every time I watch it, and, trust me, the full-length documentary is even better.
Watch Fast Times at West Philly High Preview on PBS. See more from FRONTLINE.
Ronnie Polaneczky, Daily News Columnist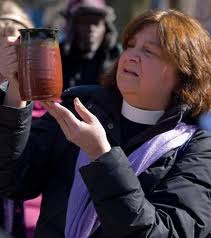 Regarding my column today about Pastor Violet Little's monthly church service and coffee hour for the homeless and others on the Ben Franklin Parkway, below is the full statement from City Hall spokesman Mark McDonald regarding the ban on Parkway feeding. The judge referenced by McDonald is Hon. William Yohn Jr., who's overseeing the federal lawsuit filed June 4 on behalf of Little and other religious leaders who say the ban is a violation of their First Amendment rights to to free speech and freedom of religious expression.

From McDonald:

"Upon the judge's suggestion, the City agreed to maintain the status quo and simply continue what we've been doing. We are encouraging groups to use the City Hall apron for food distribution and many groups are availing themselves of the space and having access to water, trash pick up, porto-potties, security and homeless outreach staff. We are encouraging groups to secure health permits and how to get them and to use the apron and not to use park property. We continue to educate food distribution groups about our long-term goal of expanding indoor dining. We were not and are not issuing fines."
Ronnie Polaneczky, Daily News Columnist
There wasn't room in today's column about kidney patient Aretha Swift to list all of the outdoor advertising companies that donated 24 billboards to her cause – a total worth of $260,000.
For that kind of generosity, I think a shout-out is deserved. So here's to Adams Outdoor, Besko Media, Catalyst Outdoor Advertising, CBS Outdoor, Interstate Outdoor Advertising, Jersey Outdoor Media, Keystone Outdoor Advertising, Land Displays, OOS Investments and Tri Outdoor.
"I've been in the outdoor business for 20 years, and I've never been involved in a group effort like this. It's really touching," says Jerry Besko of Besko Media. "Health is number one in everyone's life; without it, everything else means nothing."
Ronnie Polaneczky, Daily News Columnist
Argh. My apologies to Bucks County's Jerry Alampi, who I mentioned in my column today about Aretha Swift, a kidney patient whose need for a transplant is being advertised on 24 billboards.
I mentioned that Alampi's own billboard campaign netted him a life-saving kidney this time last year. I wrote that he had "bought" the billboard that generated the TV publicity that attracted the donor who eventually gave hima kidney.
There was no purchase. Multiple billboards were donated, and the way the campaign unfolded is a wonderful story all on its own.