Ronnie Polaneczky, Daily News Columnist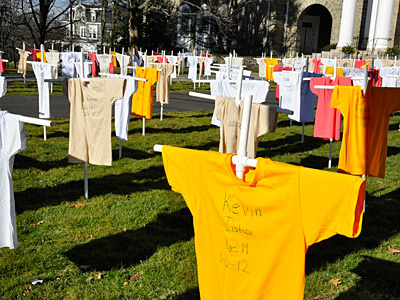 We could all use a visual reminder of how many lives are lost to guns in Philadelphia. This one is a stunner. It depicts, in T-shirts, each gun murder of 2012. You can see it on the front lawn on the Presbyterian Church of Chestnut Hill. It was erected on Saturday.
Here's info about the memorial, from a press release distributed by Heeding God's Call:
This project, intended to demonstrate to passersby on heavily trafficked Germantown Avenue, was the vision of Rev. Jarrett Kerbel, Rector of St. Martin in the Fields Episcopal Church in Chestnut Hill. The plan is to move the memorial every few weeks to another faith community, so many Philadelphians can get a graphic idea of the enormity of the destruction visited upon the city by rampant gun violence.
Ronnie Polaneczky, Daily News Columnist
Let's call it Backpedal Thursday!
Yesterday, a 9-year-old West Philly student claimed to have been the victim of an attempted kidnapping. When cops came to interview her, she recanted her story. A source told the Daily News that the child lied to avoid getting in trouble for being late to school.
Meantime, in a Center City courtroom across town, defrocked Catholic priest Edward Avery, who pled guilty last year to the sexual assault of an altar boy, recanted his plea. Word is, he had pled guilty to avoid a longer prison sentence.
Ronnie Polaneczky, Daily News Columnist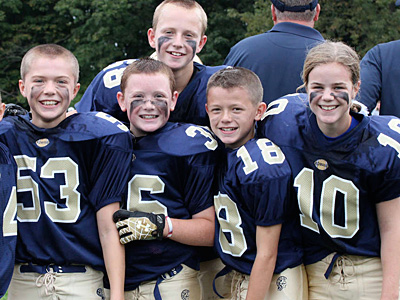 I know that Lance Armstrong's mea-culpa appearance on Oprah's show this week will make headlines. But it'll be stomach-turning. That's why I think the better athlete-on-TV appearance this week is Caroline Pla's, who was a guest on today's Ellen show.
Pla is the fierce 11-year-old who desperately wants to continue playing football in the Philadelphia Archdiocese Catholic Youth Organization's football league. The league is boys only, which Pla's coaches didn't know until Pla was into her second year with the team. Someone dimed her out to the Philadelphia Archdiocese, and she was ordered off the team. Her coach made the case to let her finish out her second season. Now, she'd like to stay for a third, but nada, says the archdicoese.
That's a shame for Pla, who's been an outstanding player.
Ronnie Polaneczky, Daily News Columnist
My column today about Suhaila Teran Ponce describes the accident that almost killed the 5-year-old imp from Cajamarca, Peru. This video footage actually shows what my words failed to describe accurately. The accident killed a pedestrian and maimed Suhaila, her mother and her older sister.
The audio is in Spanish, but you don't need to understand the language to marvel that anyone survived the carnage, which can be seen 0:16 into the video.
Ronnie Polaneczky, Daily News Columnist
Lord knows there is much to love about the Christmas Village of Philadelphia, the annual outdoor holiday market at LOVE Park that's modeled after traditional German Christmas markets. It opens Thanskgiving Day, runs through Christmas Eve and is studded with wooden stalls just like the ones that dot Germany's quaint villages. I'm a sucker for bratwursts and a gluhwine, stollen and spekulatius, so the food alone is worth several visits to 15th and JFK.
Ronnie Polaneczky, Daily News Columnist
Such a sweet photo of Weston Keeton (foreground) and his brother Easton sharing a bed at the Gift of Life Family House. I wrote a column last week about Weston's impending discharge from Children's Hospital of Philadelphia, where he'd been confined for 17 months, awaiting a heart and double-lung transplant.
He still needs the surgery, but doctors were able to stabilize his health enough that he could leave CHOP and live with his mom, Julie; Easton; and baby sister, Ellie, at Gift of Life, the new hotel at 4th and Callowhill Sts. for transplant patients and their families. Monday night was the first night, in 17 months, that Weston did not sleep in a hospital.
"He did great; he slept all night," says Julie, whose four other children are at home in Tennessee with dad Adam, praying for Weston's good health. "We are all thrilled."
Ronnie Polaneczky, Daily News Columnist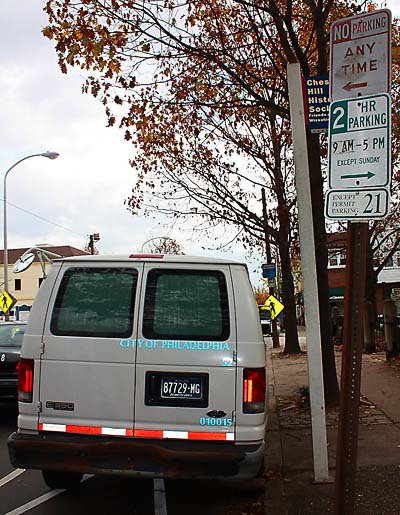 Len Lear, an editor at the Chestnut Hill Local, shared this photo yesterday, along with his outrage that drivers of Philadelphia Parking Authority enforement vans play by a different set of rules when it comes to parking in the neighborhood.
Tell us about, Len.
"The PPA continues to operate by a double standard in Chestnut Hill," he writes. "Apparently PPA reps are taught to write (tickets) but not to read (no-parking signs). They bring their vans to Chestnut Hill, park illegally or park at meters without putting any money in the meters (this is not the first time we have put photographic evidence of their arrogance in the Local). Then they get out of their vans and ticket cars all up and down Germantown Avenue for doing the exact same thing they do with impunity.
Ronnie Polaneczky, Daily News Columnist
Alice Farley and her daughter, Eizabeth, knew they'd be out of town on Nov. 6th, Election Day. Alice, a landscape architect, would be en route to Virginia, to speak at a conference. Elizabeth had recently taken a job in New York City and wouldn't be able to travel home to Chestnut Hill to cast her vote.
So in early October, mother and daughter applied for absentee ballots – Alice applied online, Elizabeth by mail. They figured they'd receive their ballots in plenty of time to meet the absentee-vote filing deadline of Nov. 2nd at 5pm.
Days ticked by, then weeks, but no ballots arrived. Alice called the city's Board of Elections for help – many times, she says – but no one ever answered the phone. By last Monday, Oct. 29, she was in a full-blown panic . She contacted Ellen Mattleman Kaplan of the Committee of Seventy, who put her in touch with city commissioner Stephanie Singer.