Archive: July, 2009
Ronnie Polaneczky, Daily News Columnist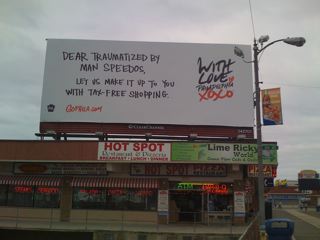 So I'm walking along the Boardwalk in Wildwood when I see this billboard, hanging above Lime Ricky, at Oak Ave.
It's sponsored by the Greater Philadelphia Tourism Marketing Corporation, which recently launched its fun "With Love, Philadelphia XOXO" marketing campaign to pull tourists into the city.

Cute ad, right? Except it had me wondering:
Since when does Philly have tax-free shopping?