Archive: March, 2009
Ronnie Polaneczky, Daily News Columnist
If there were such an award, I'd present it to Trish Houck, her daughter, Leah, and son, Eric. The family will be honored for volunteerism this Friday evening, Apr. 3, at the AIDS Fund's annual Black-Tie GayBINGO fund-raiser at the Crystal Tea Room.
GayBINGO, of course, is the hilarious, campy fund-raiser held monthly at the Gersham Y to benefit the AIDS Fund. It's described on one website as being "just like grandma's bingo only way more fun."

And tres more gay: Men in drag, looking better than many women do on their wedding day (well, except for that beard stubble...), roller-skate around the room, verifying Bingo wins. But it's a welcoming scene for straight folks, too, who want to support a good cause while having a blast.
Once a year, GayBINGO goes black-tie fancy to applaud its more committed volunteers. The Houcks, who live in Bridesburg, are among this year's honorees.
Ronnie Polaneczky, Daily News Columnist
The first day of spring is all about new beginnings. I can think of no sweeter way to observe the birth of the re-birth season than by sharing these lovely wedding photos of David Williams and his new bride, Pam Dooden.
The couple tied the knot this afternoon at The Cancer Treatment Centers of America's campus at 1331 E. Wyoming Ave., in Juniata.
I know - a hospital is a strange place to say "I do." Except that CTCA, says Dave, is responsible for his still being alive to utter the words to Pam, to whom he'd been engaged for three years.
Ronnie Polaneczky, Daily News Columnist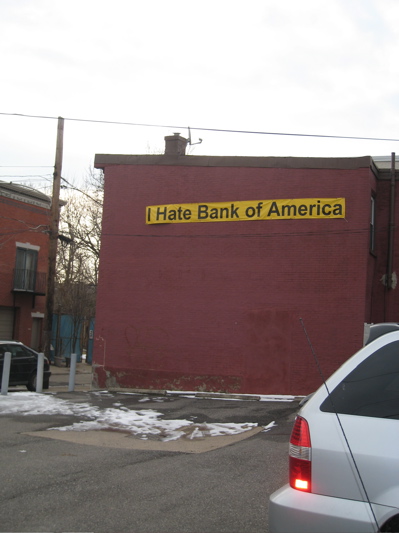 See this fun sign?

In these fragile, foreclosure-y times, it would be easy to assume it was mounted on this Fishtown house by someone having mortgage issues with Bank of America.

But, no, the sign's been hanging on Avi Oslick's side wall at Earl St. and Girard Ave. since those halcyon, pre-bank-mess days of November 2007.
Ronnie Polaneczky, Daily News Columnist
Yesterday, at about 6:46 a.m., I wrote a blog post about a gigantic sinkhole on the 400 block of Moyer St., in Fishtown. It had opened up on Feb. 4th, and residents were told it wouldn't be fully repaired until June.
Less than 12 hours after my post hit this website - voila! - city workers had filled the thing in.
Coincidence? Maybe. Maybe not.
Ronnie Polaneczky, Daily News Columnist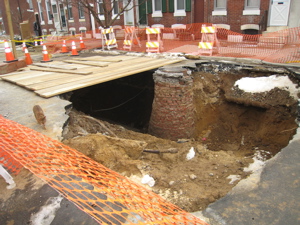 On the best days, parking is a bear in Fishtown. So imagine how bad it's gotten for the poor residents on the 400 block of Moyer St., which has lost about 20 parking spots because of this sinkhole.
It opened up on Feb. 4th, when two water main breaks sent water gushing into the neighborhood – and into the basement of at least one unlucky homeowner.
The hole was originally the length of an SUV. Now, it yawns from curb to curb, stretches the length of three house-fronts and plunges at least 20 feet deep. The initial breaks washed away all the dirt, grit and sand that used to hold up the street. Now, looking into it, you wonder what's holding up the houses alongside it.
Ronnie Polaneczky, Daily News Columnist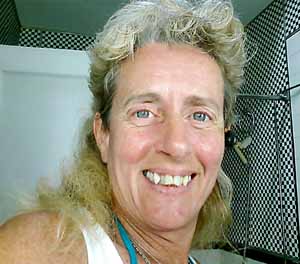 And now, in honor of today's re-opening of Pickett Pool, I present to you Peg Fredlund, one of my new favorite people.
I mentioned Peg in a column last week about how, back in January, budget woes forced the city's Recreation Department to close down four of its six indoor pools. One of those pools, Pickett, was home of several swim teams, including the Polar Bears, whose members were coached by Peg, a 16-year employee of the Rec Department.
When the department laid off Peg and 17 other aquatics staffers – who staffed those four shuttered pools – she was in the midst of coaching the Polar Bears for a big meet next month at the University of Delaware. The kids, just average swimmers, were eager to improve their skills so they'd do Pickett proud at UDel. And Peg was thrilled by their determination.
Ronnie Polaneczky, Daily News Columnist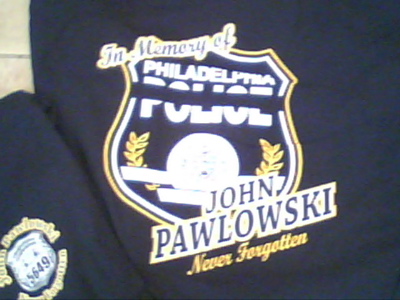 Now available for purchase are those memorial T-shirts that Matt McIntyre promised to produce in honor of slain Philly cop John Pawlowski.
Matt, you might recall from my column about him last month, is a Northeast Philly resident who works full-time at the Kimmel Center as a stage carpenter and part-time as an un-paid fund-raiser for the families of fallen Philadelphia police officers.
Known as "That T-Shirt Fund-Raiser Guy," Matt's title isn't one he ever planned for or wanted. But what began as a simple effort, back in 2006, to sell T-shirts as a fund-raiser for the family of slain cop Gary Skerski has sadly morphed into a bigger operation, as the city has since buried another six officers killed in the line of duty.