Archive: November, 2010
Ronnie Polaneczky

, Daily News Columnist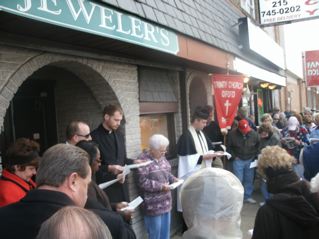 Got this photo from Tom Glennon, the retired firefighter I interviewed last month for my column about Lawncrest, where beloved, long-time jeweler Bill Gllatz was murdered in his store on Oct. 21.
Saturday, on the eve of the one-month anniversary of the slaying, the neighborhood turned out for a prayer vigil. Philadelphia Neighborhoods, Temple's urban-reporting lab, has a nice multimedia piece on the event. Click here to see it.
Rest in peace, Mr. Glatz. Your neighbors miss you.
Ronnie Polaneczky

, Daily News Columnist
In my column today, about the shenanigans going on at the Independence Visitor Center, I repeatedly referred to the place as "the IVC." However, the proper acronym of the entity is actually "IVCC" - which stands for Independence Visitor Center Corporation.
Who cares, right?
Actually, Nancy Gilboy does, very much. She's president of Philadelphia's International Visitors Council, which uses the acronym IVC. She dropped me a worried e-mail to tell me how her heart sank as she read the negative things I wrote in relation to the "IVC" - instead of the "IVCC."
Ronnie Polaneczky

, Daily News Columnist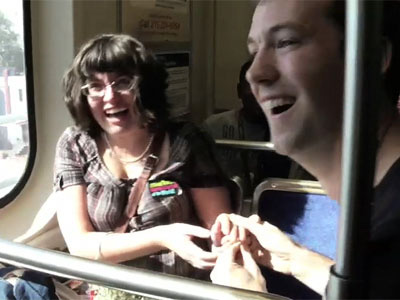 Got this fun e-mail from the people at the city's Mural Arts Program, about a surprise marriage proposal the program's folks helped arrange (a sweet video follows):
"A Canadian couple, Todd and Meaghan, learned about the Mural Arts Program's 'Love Letter Tour' and coordinated an extended layover in Philadelphia (en route to Paris) to experience this wildly popular tour.

"Todd contacted the Mural Arts tour office to let them know he wanted to propose to Meaghan on the tour, and the Mural Arts Program offered a clever idea in making his marriage proposal extra special.

"This video is a result of Mural Arts Program's partnership with The University of Pennsylvania - Penn Singers Light Opera Company and Penn Glee Club. We're excited to share with you the biggest surprise of Meaghan's life!"