Ronnie Polaneczky, Daily News Columnist
My deepest condolences to the family and friends of Port Richmond's Linda Belz, 30, who died Friday, June 21, after a long battle with ovarian cancer. I had the honor of meeting Linda when she entered Vitas Hospice in Frankford Hospital, and I was so moved by her dying wish:
To raise enough money to pay for her funeral expenses, so that her struggling parents wouldn't have to.
Linda didn't have a worry for herself - only for those who she knew would be caused heartache by her passing. Her humility and kindness were extraordinary.
Ronnie Polaneczky, Daily News Columnist
We all have our own Philadelphia Parking Authority horror stories. This is Kevin Mill's tale of mean-spiritedness, from a PPA enforcement agent named M. Sadowski.
Last week, Mill's adorable 9-year-old daughter, Kaya, broke her ankle when jumping down the steps at Carnell Elementary School at Devereaux and Summerdale in the Northeast, where she's a third-grader. She got herself a nifty cast but was still unsteady on her crutches - especially on steps - when she returned to school on June 11th.
So Mills, being a good dad, drove her there, parked the Nissan Quest at the curb out front, switched on the hazard lights, carried Kaya up the steps and into the school and returned, minutes later, to find a $36 ticket for Parking in a School Zone.
Ronnie Polaneczky, Daily News Columnist
SCROLL DOWN FOR FINAL UPDATE!
On Saturday, Mayor Nutter called to discuss my column about how to make it easier for everyday citizens to report unsafe-looking work-site conditions to Licenses and Inspections. He said he was intrigued by New York's construction-site signage program, which I'd referred to in my column, and wanted to learn more about it. So I shared some links with him.
Nutter also wanted to talk about the lone day - May 14th - that an L&I inspector visited the Market St. construction site in response to a citizen complaint about unsafe-looking condition. Much has been written about the fact that L&I issued no violations after that visit. But on that day, demolition had not even begun on the four-story Hoagie City property (whose wall collapsed three weeks later onto the roof of the Salvation Army Thrift Store next door, killing six people). As proof, Nutter had L&I spokeswoman Maura Kennedy email me a photo that was taken the day after the L&I inspection, when OSHA inspectors visited the site. The photo, which is time-stamped, shows Hoagie City to be clearly intact - so much so, you can even see, in the photo, that the fourth-floor lights are on.
Ronnie Polaneczky, Daily News Columnist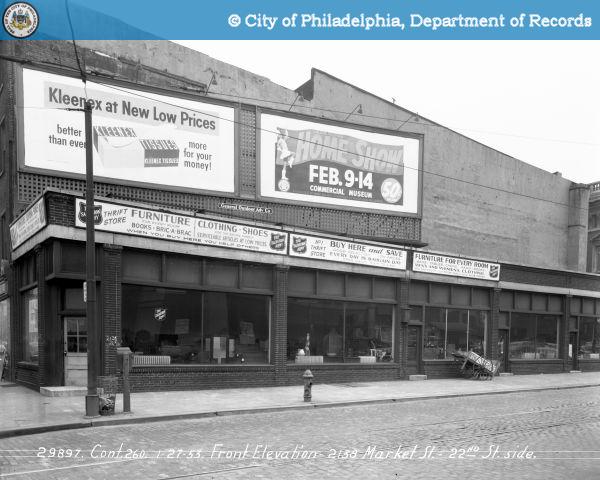 Many thanks to loyal reader(and WXPN producer and host) Robert Drake for alerting me to this wonderful old photo of the corner of 22nd and Market Sts., depicting the Salvation Army Thrift Store, which has stood sentry at the intersection since at least 1955. The photo can be found at PhillyHistory.org., a fabulous compendium of historic photos and minutia about the city.
So sad that the store, which had survived decades of economic upturns and dips and the constant churn of change on Market St., was not able to survive the demolition of the building next door, which collapsed upon it yesterday, killing six and injuring more.
Ronnie Polaneczky, Daily News Columnist
It's been a rough month for my former co-workers at Philadelphia Magazine. First came author Bob Huber's controversial piece in the March issue, "Being White in Philly." It raised the hackles of many readers and journalists (including yours truly) who took issue with how it was written and reported.
And now, editor Tom McGrath has published an apology for and retraction of a fabricated piece in the current issue by author Anthony Gargano entitled "The War Within." Read McGrath's explanation here.
Ronnie Polaneczky, Daily News Columnist
During Monday's opening arguments in the trial of "House of Horrors" doc Kermit Gosnell, his defense attorney, Jack McMahon, defended the deplorable condition of Gosnell's West Philly abortion clinic. He said the prosecution's experts unfairly expected Gosnell to uphold "Mayo Clinic standards" at the clinic he ran for poor women in the "nitty-gritty" neighborhood of tk.
"They don't run an urban clinic; a low-cost, urban, poverty-stricken clinic," McMahon said. "They want to put Mayo Clinic standards on a West Philadelphia clinic. If you want Mayo Clinic standards, go to the Mayo Clinic."
The way he said it, you'd think that every non-Mayo Clinic abortion center is as filthy as Gosnell's Women's Medical Center was at 38th and Lancaster. Here's how the hell-hole was described in the DA's 2011 grand jury report:
Ronnie Polaneczky, Daily News Columnist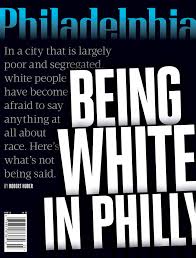 Philadelphia Magazine hoped to launch a conversation about race when it published its March cover story, "Being White in Philly."
The conversation turned out to be about how racist the essay was. Everyone from Philly Mag's own writers to Mayor Nutter to yours truly have found the piece contemptible.
On Monday, March 18, Philly Mag will host a discussion called "Can We Talk About Race?" - although I'm sure it will wind up being a discussion about the magazine piece - at the National Constitution Center. The event is free and open to the public, but spots are limited. To attend, click here to register online.