Archive: July, 2010
No mention of showers appears in this afternoon's official forecast, and while a respite may be welcome after all that rain, the avid weather folklorist may find the timing disconcerting.
Today, as colleague Joe Gambardello reminds, is St. Swithin's Day, and how could we forget? Legend has it that if it doesn't rain on July 15 it will stay dry for 40 days. That would not be good for the region's lawn and gardens.
Of course, it could be worse. The legend states that if it does rain, it will continue for 40 days.
With the atmosphere once again on simmer, at the midpoint of the meteorological summer, the temperature at Philadelphia International Airport already has reached the 90 mark 25 times.
The record, 52, set in 1991, probably is out of reach, but it would be an upset if the summer of 2010 didn't end up being one of the hottest ever.
The consensus among those who dare to venture into the long-range business is that August will be another toasty month. Joe Bastardi, the long-ranger at Accu-Weather Inc., has said it may be the hottest of the summer months.
Anywhere from 25 million to 70 million sharks are killed by humans annually. Evidently, two got away.
Two sharks were sighted near the surf in the Seaside Park area, the Associated Press reports. And shark expert George H. Burgess isn't the least-bit surprised.
Burgess, the shark-research director at the Florida Museum of Natural History, figures the finned ones are summer visitors from down his way, perhaps sandbars or duskys.
It is true that the weather in one spot on the planet, say Philadelphia, often has nothing to do with what is happening elsewhere in the world.
In this case, however, the recent record warmth in Philadelphia is indicative. The world just experienced its warmest June and warmest April through June period on record, according to the National Climate Data Center.
Arctic ice was at its lowest June extent since record-keeping began in 1979; conversely, Anartctic ice was its highest June extent in that period.
At midafternoon slow-motion rains moving with all the motivation of a cork in a pond were focusing on a narrow area near I-95 from Philadelphia into northern Delaware.
The rain was affiliated with a small area of low pressure over Delaware Bay, said Al Cope, the senior scientist at the National Weather Service in Mount Holly, and the rain has tended to train on that relatively tiny corridor.
Roadways are reported flooded throughout the area.
At 2:30 p.m. Peco is reporting about 1,500 customers were without power in parts of Philadelphia and Delaware County.
On its website, the FAA reported incoming flights to PHL were delayed about 90 minutes.
A flash flood watch now is in effect until 4 p.m. for Philadelphia and surrounding counties on both sides of the river.
Should it hold together a substantial slug of rain should cross the region around lunchtime and continue until mid-afternoon. Here is the latest radar image from Intellicast.com.
What happened yesterday showed how quickly creeks can respond to rainfall. The flow of Pennypack Creek, the site of a dramatic rescue and a drowning, became dangerous in a hurry.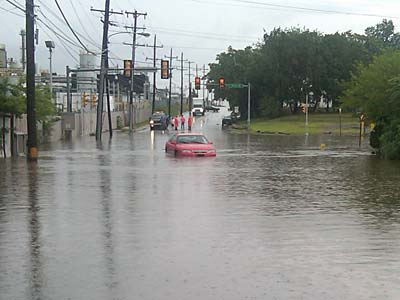 The rains that have turned parts of Delaware County into a water park and created a watery mess in parts of South Jersey are letting up, but the travel hangover continues.
Water up to 4 feet deep accumulated on some streets in Delco, and traffic was restricted to one lane on the busy portion of Route 291 around Stewart Avenue in Ridley Township. The Broad Street ramps of I-95 in Philadelphia were closed briefly.
On the Jersey side of the river widespread flooding was reported in Camden and along Route 130 in Collingswood, Haddon Township, Mount Ephraim and Gloucester City.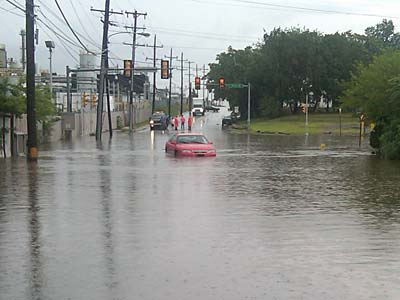 The rains that have turned parts of Delaware County into a water park are letting up, but water up to 4 feet deep has accumulated on some streets.
In the Marcus Hook-Trainer emergency personnel have been invovled in at least six water rescues, according to esteemed colleague Mari Schaefer, who is at the scene.
Evacuations were reported in northern Delaware. In Trainer, a dump truck got stuck in the water after the driver evidently ignored a police car located specifically to avoid just such an occurrence.