Archive: December, 2010
Tony Wood, Inquirer Weather Columnist
That week storm passing to our south evidently is going to nudge just far enough north and have just enough juice to give the immediate Philadelphia area a touch of snow in time for rush hour.
It's snowing at a decent clip in Washington, and it has crept as far north as the Eastern Shore of Maryland.
The National Weather Service is updating its forecast for Philadelhpia to call for a half inch or so of snow starting late in the day.
Tony Wood, Inquirer Weather Columnist
It's official: This won't be the most-snow-less winter in Philadelphia history. A total of 0.3 inches was recorded at Philadelphia International Airport/National Park, making this the first measurable snow of the season.
For the record, that would be 1/77th of what fell in the first snow of last winter (23.2 inches), but it beats the total for the winter of 1972-73, which was a "trace."
The consensus is that the 2009-10 total will go up on Sunday, but no consensus has emerged on how much.
Tony Wood, Inquirer Weather Columnist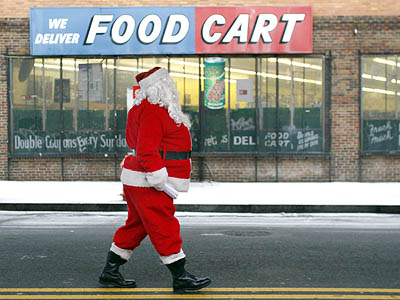 Light snow has crept into the immediate Philadelphia area, and with the ground ice cold and temperatures in the 20s, it won't take much to slicken the roads.
The forecast calls for less than an inch in Philly,with more to the south, this afternoon into this evening. About a half-inch has been reported already in Cape May, and steady snow was falling Delaware.
As the National Weather Service pointed out, this could be an especially troublesome nuisance snowfall around here, given that most area motorists have zero winter-driving practice since last February.
Tony Wood, Inquirer Weather Columnist
If you were reluctant to get out of bed this morning, you're probably human. The temperature dropped to 19 in Philadelphia for the first time since Feb. 7, and those biting winds didn't make the great outdoors any more inviting.
As mentioned, yesterday's high of 27 was the lowest maximum temperature in Philadelphia since January, and it was a huge day for power usage.
The PJM Interconnection, which encompasses all of Pennsylvania, New Jersey, Delaware and 11 other states, set an all-time December record for power usage yesterday, with 115,723 megawatts.
Tony Wood, Inquirer Weather Columnist
At 7 a.m. on Dec. 25, 2009, the official snow depth in Philadelphia was 7 inches, the leftovers from the colossal storm of the previous weekend.
Should measurable snow be observed at 7 a.m. this Dec. 25, it would mark the first time since 1966 that Philadelphia had consecutive White Christmases.
In any given year, the smart money would be on bare ground. On average, Philadelphians can expect a Christmas-morning snow cover about once every seven years.
Tony Wood, Inquirer Weather Columnist
As expected, the computer models continue to change their minds about the weekend snow prospects, but for now a coastal storm remains in the realms of possibility for the weekend.
In its morning updated, the government's Hydrometeorological Center said it is favoring the U.S. model, which is more bullish than the European.
Again, we will caution that it's only Tuesday, so don't take any of this too seriously just yet. We've mentioned before that the computer is the world's most prodigious producer of snow, and the most-efficient eraser.
Tony Wood, Inquirer Weather Columnist
At 4 p.m., the official temperature at Philadelphia International Airport reached 27, making it the lowest daily maximum temperature since Jan. 30.
The winds gusting past 30 m.p.h. gave the air an icy bite, and at 9 a.m., the wind-chill reading was +2 Fahrenheit. The wind-chills stayed in the teens all afternoon.
Last winter was historically snowy, as we all know, but it wasn't particularly cold. February finished 3 degrees below normal, and the December-January period came in about a degree below.
Tony Wood, Inquirer Weather Columnist
This time last week, computer models were hinting at a potential monster weekend snowstorm for the East Coast.
It turns out they were on to something with that monster-snowstorm idea; they just missed by about 1,000 miles.
So with that cautionary prelude, we note that once again computers are suggesting the possibility of a significant snowstorm for the I-95 corridor for the weekend.