Archive: April, 2012
Tony Wood, Inquirer Weather Columnist
It may have nothing to do with the Phillies' feeble offense, but this certainly hasn't been hitting weather around here.
During the weekend, not only was it quite chilly, but the air became desert-level dry, literally -- at 5 p.m. yesterday, the relative humidity dropped to an astonishingly low 13 percent -- thus the air had little buoyancy.
The barometric readings -- which captured the weight of the air -- were quite high, and that's a fancy way of saying the air was heavier than usual.
Tony Wood, Inquirer Weather Columnist
Despite April's flirtation with temperature normality, the first four months of the year constituted the warmest such period on record in Philadelphia.
The average temperature from Jan. 1 through April 30 at Philadelphia International Airport, 46.6, nipped the old standard of 46.3, set in 1921.
And, yes, it continues to be dry. The mere 7.7 inches of precipitation in a period that included one of the most snow-less winters on record resulted in Philadelphia's fifth-driest first four months of the year.
Tony Wood, Inquirer Weather Columnist
The National Weather Service has posted a "freeze watch" for Philadelphia's neighboring counties and warns that a freeze also is possible in Jersey's Pine Barrens.
Farther north and west, a freeze "warning" is in effect.
It could be a rough night for flowering plants, but generally the blossoms like a little chill in the air, which is why flower shops are chilly.
Tony Wood, Inquirer Weather Columnist
The National Weather Service has upgraded it freeze alerts to a "freeze warning" for all Pennsylvania counties, except Philadelphia, and a "frost advisory" for South and central Jersey.
Philly didn't quite make the warning or advisory grade because the urban heat-island effect should keep temperatures from dropping below freezing. New York City also is off the lists.
Winds are due to die down overnight, and that will allow significant radiational cooling. The warning and is in effect from 2 to 8 a.m., and the frost advisory from 4 to 8 a.m.
Tony Wood, Inquirer Weather Columnist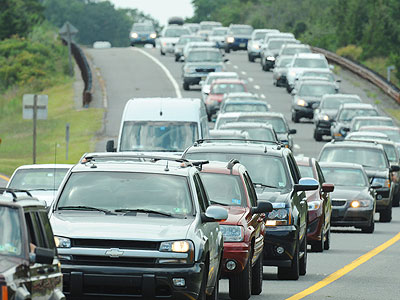 The numbers of tropical storms and hurricanes should be just about average this season, according to Accu-Weather, but some signs point to the potential for early activity.
In releasing its forecast this morning, the commercial service in State College, Pa., says it expects a total of 12 named storms, those with winds of at least 39 m.p.h., to form in the Atlantic Basin from June 1 to Nov. 30.
Of those, it looks for five to grow into hurricanes, with winds of at least 74 m.p.h., and two them would become "major," with peak winds of 111 m.p.h. or higher.
Tony Wood, Inquirer Weather Columnist
As he said in a Twitter message on Tuesday, Glenn "Hurricane" Schwartz had a double-bypass operation this morning that his employer, NBC10, described as "successful."
In a release posted on the station's website, Schwartz was quoted as saying that he noticed the symptoms when he was swimming while on vacation during the weekend.
"I started feeling this pressure in my upper chest that I hadn't felt before," he was quoted as saying.
Tony Wood, Inquirer Weather Columnist
As expected, the grasses have responded wildly to the recent widespread drenchings. Your local lawn service is appreciative.
But despite the 2-plus amounts of Saturday into Monday, rainfall for the year in Philadelphia is only abou 60 percent of normal.
Up to a half inch could fall tomorrow. Even so, by day's end April's total still could be a few drops below normal.
Tony Wood, Inquirer Weather Columnist
Officially, 1.87 inches of rain fell into the rain gauge at Philadelphia International Airport on Sunday, a record for an April 22. The old record was 1.67 inches, in 2006.
For the three-day period, the preliminary total for Philly stood at 2.19 at midmorning -- or about 40 percent of the entire precipitation amount that had fallen from Jan. 1 through last Friday.
As our online story indicates, the Philadelphia total was fairly representative of the region, and while the amounts were impressive, the region avoided significant flooding.