The wildfires season is just getting cooking, and the Pennsylvania Department of Conservation and Natural Resources is expecting an "exceptionally busy" spring, said spokesman Terry Brady.
The National Weather Service is warning that the potential for brush fires is quite high for eastern Pennsylvania and New Jersey, which explains the "red flag warning" hoisted for Monday.
Humidities are forecast to drop into the 20s, along with stiff, persistent breezes, and beyond the meteorological conditions another indicator is ominous.
The summer of 2014 generally was a mild one, with temperatures a hair below normal, and the numbers of 90-degree or better temperatures significantly below.
In its summer outlook released Wednesday morning, Accuweather is calling for temperatures near or slightly above normal.
It also sees about 30 days of 90-or-higher temperatures, compared with 19 last year and a long-term average of 24.
On April 27, 1967, 0.1 inches of snow was measured officially at Philadelphia International Airport, a final dot on quite an active winter.
That was and still is the latest date for measureable snow in Philadelphia officially, although traces have shown up in May, and no doubt some outlying areas have had later snows on the ground.
And it is with a near 100 percent certainty that we close with the book on the winter of 2014-15 and declare the final, official snow total to be an even 27 inches.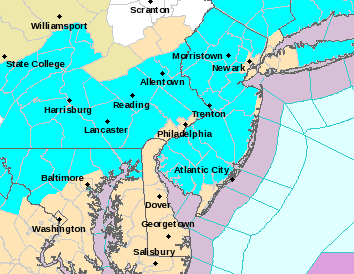 March-like northwest winds were gusting past 25 m.p.h. overnight, but we didn't hear the blossoms complaining.
Thanks to those winds and a steady overcast, the threatened freeze never had a chance Friday morning as temperatures didn't get below 39 at Philadelphia International Airport.
Even in the frozen northlands of Pottstown, temperatures bottomed out in the mid-30s.
The winds howled so fiercely Wednesday afternoon that they evidently blew the region all the way to March.
The National Weather Service has issued a freeze watch for entire region, save for Philadelphia and Delaware County, with temperatures expected to flirt with freezing Friday and Saturday mornings. That means it would be a good idea to bring in any potted plants.
It was obvious that change was in the air. On Wednesday, just before 3 p.m., a near-hurricane force gust – 71 m.p.h. – was measured by the official wind gauge at Philadelphia International Airport.
Just before 3 p.m., a thunderstorm wind gust of 71 m.p.h. was reported at Philadelphia International Airport as a strong line of storms zipped through the region.
The airport was experiencing departure delays of up to 25 minutes, according to the website flightaware.com.
PECO had reported over 5,000 power outages in Delaware and Montgomery Counties, with scattered outages in Bucks and Chester Counties and Philadelphia.
When Tennyson wrote famously, "In spring a young man's fancy lightly turns to thoughts of love," we suspect he was not writing about young allergy sufferers in a week such as this.

After a slow start to the season, tree-pollen counts have been in the "very high" category, according to the daily counts by The Asthma Center, in Center City.

For the region's countless victims who are allergic to those minuscule projectiles that trees eject in he pursuit of procreation, this is the season for sneezing and congestion, which greatly impairs the sense of smell.

That's a critical one in the mating game, says Charles J. Wysocki, formerly with the Monell Chemical Senses Center, who has been recruited by the people who make Nasacort Allergy nose spray to make a case for the joys of smelling.
While the Northeast was shivering, globally the Jan. 1-March 31 period nudged out 2002 for the toastiest, according to data released Tuesday by the National Climatic Data Center.
The globally averaged surface temperature was 1.53 degrees Fahrenheit above the 20th century average, edging out 2002 by 0.09 degrees; the margin of error was 0.16 degrees in either direction.
March, itself, also set a record with readings 1.48 degrees Fahrenheit above the 20th century average, nudging 2010 by 0.09 degrees, with a margin of error of 0.14, according to the climate center.