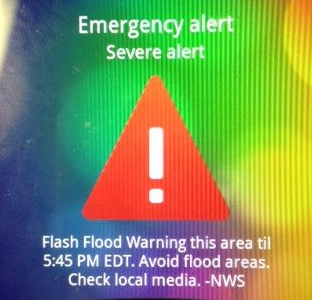 The catastrophic tornado that struck Joplin, Mo., last year hit late on a Sunday afternoon.
The derecho that ripped through the Midatlantic and tore up pieces of Atlantic County howled through the dead of weekend darkness.
In both cases, by government standards, warnings were issued well in advance, but it's quite possible that the timing of the storms in question added to the destruction and death tolll.
We can't speak on life in Joplin on a Sunday afternoon, but we do know from experince that not everyone at Shore on a summer Friday night is bonding with the news and weather.
The fact that storms can strike anytime in part explains why so many cellphones in the region went kablooey late yesterday with "head-for-the-hills" warnings about an impending flood.
We first heard about the cellphone warnings around 5 from our better-looking, nonetheless unrelated, namesake, Sam Wood, our social-media editor.
He was among the warned, and among the perplexed. He was at our new offices at Eighth and Market Streets in Center City, where it wasn't even raining.
The National Weather Service had issued a flood warning for portions of Bucks and Montgomery Counties.
The warning evidently set off the first activation of the national Commercial Mobile Alert System, or CMAS, in the Philadelphia region.
Part of the thinking behind CMAS is that people just might be at a Shore watering hole or the movies when violent weather strikes.
The system is a partnership among cellular carriers, the National Oceanic and Atmospheric Administration, the Federal Emergency Management Administration, and the Federal Communications Commission.
It went online in April, and not without adventures. As people in the Philadelphia region found last night, the area warned can far exceed the area endangered, said NOAA's John Ferree, a warning specialist in Norman, Okla.
Ferree said that was a function of the location of cell towers; warrning signals are being beeped out too expansively.
"The problem is known," he said last night, "and the problem is being worked on."
Technological brains are trying to figure out how to make the warnings more targeted.
This is a big deal.
The weather service doesn't anyone to be ambushed by an undetected threat, but it is at least as concerned about the "over-warning" problem.
The more people are warned about phantoms, the less likely they are to pay attention to the warnings.