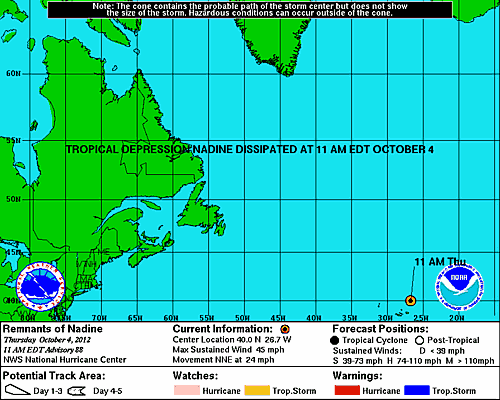 While it had an otherwise unexceptional career as a forgettable fish storm, Tropical Storm Nadine will be remembered for its tenacity.
The National Hurricane Center, which announced Nadine's demise today, said it will be an all-timer for duration, surviving 21.25 days. It entered that gray, impalpable world of non-name-dom after its winds fell below the 39 m.p.h. threshold.
Pending a post-storm analysis, Nadine would finish in a second-place tie with Ginger – 1971 – among the longest-lasting storms in the Atlantic.
In terms of tropical cyclones, which would include "depressions," it would come in at No. 5, at 21.74 days.
Nadine affected the Azores twice, stirred waves above countless fish, and was the subject of 88 hurricane-center advisories.
The endurance record for an Atlantic storm is 31 days, set in 1899 by a cyclone that long pre-dated the era of names.