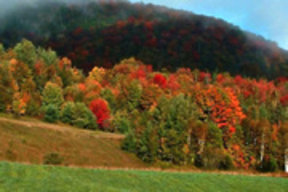 We still have a few weeks to go around here before the trees begin to show their true autumn colors.
But in a development that may bode well for that's to come our way, to our north the leaves are showing signs of out-performing the 2011 varieties for color and intensity.
That's the report from Gale Ross at the Maine Deparatment of Conservation, where the trees are as much as 45 percent of the way toward peak color.
She figures the Maine woods are somewhat behind, but from what she's seen so far, she's expecting a comeback year.
As was the case in Pennsylvania and elsewhere, the 2011 show was on the muted side up in Moose Country in 2011. "There really wasn't a good sason last year," said Ross. "We were muted, and extended."
The Midatlantic and Northeast, blessed with some of the world's most-dramatic autumn foliage, managed to dodge the horrid droughts that scorched the Midwest this summer. And the autumn weather evidently has been cooperating.
We have had a sequence of cool nights, and they are important for the complex physical processes that force the prosaic greens to yield to the flamboyant carotenoids, the stuff of carrots and pumpkins, and the anthocyanins that give apples and cranberries their blushes.
The latest long-range outlooks continue to show near-normal temperatures well into October, with no prospects for a color-muting warm spell. Nor do we see any threat of leaf-killing freezes.
If you want to get a jump on the season, according to the most-recent reports you should be able to see color now in the Catskills of New York and Alleghenies of Pennsylvania.
The more-adventurous might consider a drive to Vermont or the White Mountains -- the spectacular Franconia Notch area being one of our favorites.
The seasons are quite variable in timing and quality, and you would be well-advised to check on conditions before you go.
This site reports on conditions in New York, and here are sites for Connecticut; Vermont, New Hampshire, and Massachusetts.
New Hampshire also has a hotline with extensive foliage reports, 1-800-258-3608.
And in Maine, Gale Ross, herself, accepts calls and emails and will get back to you. You can contact here at gale.ross@maine.gov or 207-287-2793.