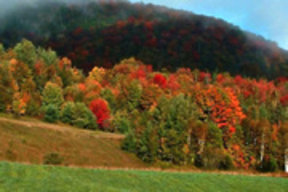 We still have a few weeks to go around here before the trees begin to show their true autumn colors.
But in a development that may bode well for that's to come our way, to our north the leaves are showing signs of out-performing the 2011 varieties for color and intensity.
That's the report from Gale Ross at the Maine Deparatment of Conservation, where the trees are as much as 45 percent of the way toward peak color.
She figures the Maine woods are somewhat behind, but from what she's seen so far, she's expecting a comeback year.