That a storm named "Sandy" would represent a major menace to East Coast beaches is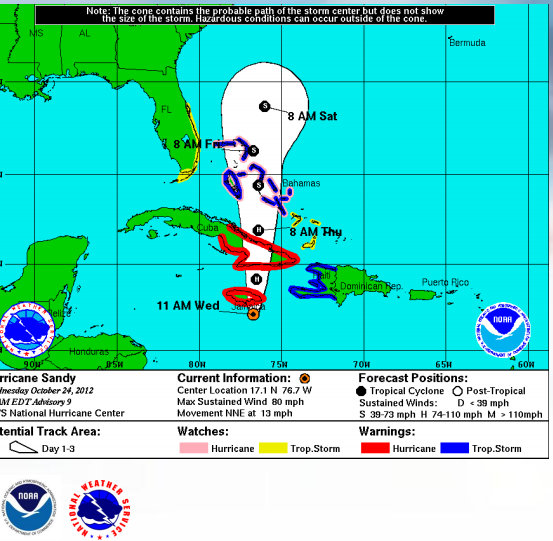 perhaps ironic, but recent model runs suggest that the Jersey Shore and the rest of the East have reason to be nervous.
Late this morning, the National Hurricane Center declared Sandy a hurricane, as its winds topped the 74 m.p.h. threshold.
A hurricane watch is up for the Bahamas, and a tropical-storm watch posted for the Florida East Coast.
Since Sunday, the European forecast model has been suggesting a track that would have Sandy walloping the Midatlantic and Northeast with damaging winds, waves, and rain early next week.
This morning, the government's Hydrometeorological Prediction Center observed that the European, the U.S. Navy, and the Global Hurricane models are spinning up a "tremendously deep" storm that would affect our region.
The storm's arrival would coincide with the full moon, and the potential effects include severe erosion, high winds, major flooding -- all the candy.
The model consensus is that a frontal system crossing the East will interact with whatever remains of Sandy, creating a dangerous hybrid.
Historically, some of the most-memorable storms on record have occurred at the end of October.
The "perfect storm" of 1991 was blamed for six deaths and ripping the Jersey Shore with over $100 million damage. And, of course, just last year we had the snow-covered pumpkins.
As for the would-be coming storm, while it is only Wednesday, the recent model runs suggest that the threat is real.
The Red Cross already has weiged in "to urge everyone in our region to prepare now."
We'll keep you apprised.