Archive: September, 2010
Tony Wood, Inquirer Weather Columnist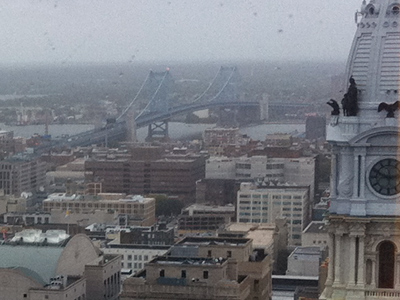 On top of all the other advisories, the government's Storm Prediction center now has a signficant area from Philadelphia on up to the Poconos under a tornado watch until 7 p.m.
No sightings have been reported, but that window-fogging air-mass is laden with storm-feeding moisture, and right now a nasty weather scenario appears to be unfolding for late this afternoon and tonight.
The heaviest rain is yet to come, and it's possible that 10 to 12 inches could fall to the west of Philadelphia, said Joe Bastardi, meteorologist with Accu-Weather Inc.
Tony Wood, Inquirer Weather Columnist
The downpours have subsided in the immediate Philadelphia area, with the heaviest rain passing off to the west, as seen on radar.
Round 2, however, is due later this afternoon, and this has the potential to be a nasty afternoon commute.
Already, well over an inch of rain has been measured at Philadelphia International Airport, and the next bath may have Philly in its crosshairs.
The National Weather forecast
map
is looking like a paint-by-numbers production, with watches and warnings up all over the place.
So far, no major flooding has been reported, but this will bear watching later in the day as the second slug of moisture comes through, and the weather service says the biggest threat for flooding will be tonight and tomorrow.
What is almost certaint, is that all this water will put a serious dent in drought anxieties.
This storm will not approach the levels of Floyd, which broke a much more serious drought with close to 7 inches of rain officially in Philadelphia, and over a foot reported elsewhere.
This one, however, affiliated with the amorphous remains of Nicole, does have the potential to leave about half that amount, and some places could see up to 6 inches.
Stay tuned.
Tony Wood, Inquirer Weather Columnist
It won't be a record, but September will end up quite toasty in Philadelphia.
The National Weather Service expects the average September temperature to come in close to 73 by the end of a rainy Thursday.
That would put it in fourth place among all-time warm Septembers, behind the 75.4 of 1881 and the 74.1 of both 1930 and 1931.
Tony Wood, Inquirer Weather Columnist
At 11 the National Hurricane Center decided to affix the name Nicole to that blob of moisture over Cuba.
Nicole has struggled with an identify crisis for days, but the hurricane center now says it's maximum winds are about 40 m.p.h., just over the 39 m.p.h. threshold for earning an identity.
By tomorrow it should become unrecognizable, however its generous moisture will be streaming northward, giving us a soaking and potential flooding.
Tony Wood, Inquirer Weather Columnist
It's been a long time since we've seen so much green on a National Weather Service forecast map.
Flood watches are in effect for erstwhile drought-challenged New Jersey, all of eastern Pennsylvania and Delaware.
"It could turn out kind of nasty," said Bob Wanton, a meteorologist at the National Weather Service office in Mount Holly.
He said that on average 2 to 4 inches of rain is expected Thursday from an ultra-juiced system affiliated with what just became
Tropical Storm Nicole
.
Those totals could be higher in areas that find themselves under thunderstorms.
Also, winds rising up the mountains just to the west may give the air an extra lift, thus wringing out heavier rain over areas such as the Susquehanna and Lehigh Valleys.
This far out, it's impossible to predict the exact track or to say how much thunderstorm activity would occur.
The rain would start after midnight and continue in fits and downpours Thursday, and the weather says says that "at least moderate flooding of area streams is a likely result."
Fortunately, most of the
streams
in the region monitored by the U.S. Geological Survey are at or below-normal levels, thanks to that long dry spell that set off the drought alarm bells.
Tropical-storm force winds aren't expected in the immediate Philadelphia area, but a high-wind watch is up for southern Delaware.
Under the circumstances, a good soaking wouldn't be such a horrible thing, said Wanton. "We need water," he said. "Sometimes this is what it takes to break the drought."
Tony Wood, Inquirer Weather Columnist
A tornado watch is in effect until 6 p.m. for the entire region, with the highest potential south and east of the city.
Nothing has been sighted yet, however, conditions are favorable and forecasters were tracking an ominous looking storm cell in northeastern Maryland, said Jim Hayes, a meteorologist at the National Weather Service forecast office in Mount Holly.
The weather service confirmed that weak tornado, probably with winds around 70 m.p.h., touched down yesterday afternoon in New London, Chester County, touching down behind the Avon Grove Intermediate School.
Tony Wood, Inquirer Weather Columnist
A strong thunderstorm is hammering parts of the region, but those forecasts of up to 3 inches of rain from this storm won't come close to verifying by the time it starts drying out this afternoon.
Meanwhile, a more-serious threat is on the horizon for Wednesday night into Thursday, and may come with a name.
"We're looking for a flood threat for sure," said James Hayes, meteorologist at the National Weather Service office in Mount Holly, with the potential for 3 to 5 inches of rain.
Tony Wood, Inquirer Weather Columnist
At last report (just before 4 our time), it was a steamy 94 degrees in downtown Los Angeles this afternoon.
In other words, a full 18 degrees cooler than it was the same time on Monday, when it was 112.
The high for the day on Monday, 113, wasn't just a record for a Sept. 27; the old record was 106, set in 1963.