Archive: July, 2012
Tony Wood, Inquirer Weather Columnist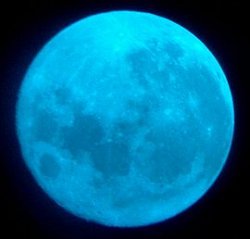 Connoisseurs of the full moon will be getting a double treat next month, which will be bookended by full moons on the 2nd and 31st.
Given that the lunar cycle unfolds over 29.5 days, it is unusual to get two full moons in a month, and that second one is commonly called a "blue moon." It happens once every two or three years.
Yet that definition of "blue moon" is quite modern, falling into common usage long after Rodgers and Hart wrote their famous song, "Blue Moon," and the Marcels covered it with a doo-wop version of the chorus.
Tony Wood, Inquirer Weather Columnist
Another month, another heat milestone, another rain deficit.
With today's high of 87, July will finish with an official average temperature of 81.8 in Philadelphia, making it the third-warmest month on record.
Those of you with memories may recall that July 2011 was the warmest in the period of record, dating to 1874, at 82.3.
Tony Wood, Inquirer Weather Columnist
Perhaps July was oven-ready because an otherwise-gentle June ended on such a hot note.
Whatever the reason, on the first of July, the official high reached 97 at Philadelphia International Airport.
That marked the fourth-consecutive day of 90-plus, and the 90s just kept coming.
Tony Wood, Inquirer Weather Columnist
It's been awhile since we've seen actual mud, but we did notice some this afternoon on our favorite trail in the woods.
That was the legacy of last night's rains. You might recall that showers were well forecast during the day, but the period of steady rain that followed that gust front was somewhat of a surprise.
Based on the Middle Atlantic River Forecast Center daily report, a general 0.4 to 0.7 inches fell across the region.
Tony Wood, Inquirer Weather Columnist
In the early going, the temperature rise has been capped somewhat by cloud cover and some ealry-arriving showers.
But the dewpoints have shot upward, meaning the air is filling with moisture, not to mention discomfort, and the National Weather Service is saying the heat index could shoot past 110 in parts of South Jersey.
But by day's end, thunderstorms could trump the heat in terms of the public's attention.
Tony Wood, Inquirer Weather Columnist
A rather scary looking cluster of thunderstorms is pressing toward the region, and the entire Philadelphia area is under a severe thunderstorm warning until 8:15 p.m.
The National Weather Service says winds could gust past 60 m.p.h., and a tornado isn't out of the question.
On radar, you can see that it's a menacing looking mast, but it's impossible to say just how much of that will hold together.
Tony Wood, Inquirer Weather Columnist
A tornado warning is in effect for the Williamsport area as a nasty line of storms presses southeastward across Pennsylvania.
It's unclear how strong that line would be if it gets this far, but the masters of mayhem at the Storm Prediction Center in Oklahoma have Philadelphia in the "moderate risk" zone for severe weather.
The watch is in effect for Philadelphia and all the neighboring counties on both sides of the river until 11 p.m.
Tony Wood, Inquirer Weather Columnist
We still have a ways to go, and the temperature forecasts for the rest of the month will show some fluctuation.
The temperatures on this anomalously magnificent day -- dewpoints are in the 40s, and the brilliant blue sky is almost water-vapor free -- will cool the monthly temperature a tad.
But we've seen enough already to declare that when it all ends next Tuesday, July 2012 almost certainly will become one of the warmest five months in Philadelphia in the period of record, dating to 1874.