Tony Wood, Inquirer Weather Columnist
Overall the summer of 2015 that is about to reach it's unofficial end with the Labor Day weekend has been a gentle one.
The heat waves haven't been extreme, the temperature hasn't got above 95, and the heat index has made it to triple figures only twice, according to Lance Franck, meteorologist at the National Weather Service Office in Mount Holly.
That said, it has been consistently warm, a trend that has lapped into September.
Tony Wood, Inquirer Weather Columnist
All the outlooks suggested that this would be generally gentle Atlantic hurricane season, and with the annual peak period approaching, the forecasts are holding serve.
Fred, which began the workweek as a hurricane, is barely hanging on to its name.
At 11 a.m., the National Hurricane Center reported that its peak winds were down to 40 m.p.h. – that would be exactly 1 m.p.h. higher than the minimum threshold for a named tropical storm.
Tony Wood, Inquirer Weather Columnist
If you missed Glenn Schwartz's July treatise on ocean temperatures, we would recommend you give it a read.
Two months later, the waters off the Jersey coast remain quite warm.
As of 10 a.m. Thursday, the surf temperature off Atlantic City was 74.7; the average is around 72. Near Cape May it was 79.2, better than 6 degrees above average.
Tony Wood, Inquirer Weather Columnist
In its weekly update Thursday morning, the U.S. Drought Monitor placed all of South Jersey in the "abnormally dry" zone.
More than a quarter of the Northeast and Midatlantic now is in some state of dryness, according to the drought center, better than a 15 percent increase over last week.
Around here this has been quite a dry run, something apparent in the leaf-fall we noticed upon returning from a two-week hiatus.
Tony Wood, Inquirer Weather Columnist
With the 10th anniversary approaching, in the coming days Hurricane Katrina might rival the visit of Pope Francis for media attention.
Katrina remains one of the world's all-time worst disasters, with thousands of lives lost, families disrupted, and a price tag so hefty that U.S. taxpayers still are paying for it.
Katrina inundated the National Flood Insurance Program, which relies on the U.S. Treasury – as in taxpayers – as the reserve fund.
Tony Wood, Inquirer Weather Columnist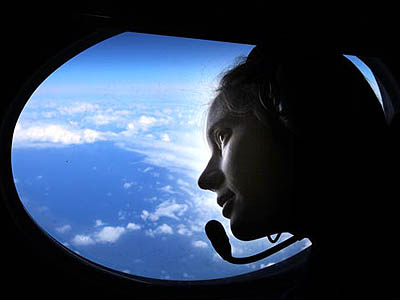 In our Inquirer article we noted that the tragic death of paratrooper Malvin L. Brown, on the same day that an atom bomb was dropped on Hiroshima, was tied to one of the great discoveries in the history of meteorology.
Given space limitations we could give only a drive-by reference to Wasaburo Ooishi, the brilliant researcher who discovered the upper-air jet-stream winds that make and move storms across the planet.
The Japanese used them to launch the world's first inter-continental ballistic missiles – in this case bomb-carrying balloons.
Tony Wood, Inquirer Weather Columnist
With warmer-than-usual waters brewing in the tropical Pacific, and cooler waters in the tropical Atlantic, the hurricane season is looking like a quiet one.
In updating its outlook Thursday morning, the National Oceanic and Atmospheric Administration said that chances are 90 percent that hurricane activity in the Atlantic Basin, which includes the Caribbean and the Gulf of Mexico, will be below normal.
That's the highest confidence level in the 18 years NOAA has been doing this.
Tony Wood, Inquirer Weather Columnist
Today is to be the seventh consecutive day that high temperatures at Philadelphia International Airport will reach at least 90.
That's an impressive stretch, and we of the local media have been calling this a "heat wave."
But we can't remember a more-benign one, akin to a gentle overnight snowfall on a late March weekend that disappears when the sun comes up. So is this truly a heat wave?