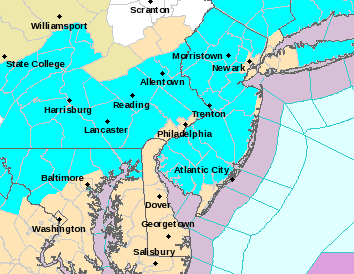 March-like northwest winds were gusting past 25 m.p.h. overnight, but we didn't hear the blossoms complaining.
Thanks to those winds and a steady overcast, the threatened freeze never had a chance Friday morning as temperatures didn't get below 39 at Philadelphia International Airport.
Even in the frozen northlands of Pottstown, temperatures bottomed out in the mid-30s.
The winds howled so fiercely Wednesday afternoon that they evidently blew the region all the way to March.
The National Weather Service has issued a freeze watch for entire region, save for Philadelphia and Delaware County, with temperatures expected to flirt with freezing Friday and Saturday mornings. That means it would be a good idea to bring in any potted plants.
It was obvious that change was in the air. On Wednesday, just before 3 p.m., a near-hurricane force gust – 71 m.p.h. – was measured by the official wind gauge at Philadelphia International Airport.
Just before 3 p.m., a thunderstorm wind gust of 71 m.p.h. was reported at Philadelphia International Airport as a strong line of storms zipped through the region.
The airport was experiencing departure delays of up to 25 minutes, according to the website flightaware.com.
PECO had reported over 5,000 power outages in Delaware and Montgomery Counties, with scattered outages in Bucks and Chester Counties and Philadelphia.
When Tennyson wrote famously, "In spring a young man's fancy lightly turns to thoughts of love," we suspect he was not writing about young allergy sufferers in a week such as this.

After a slow start to the season, tree-pollen counts have been in the "very high" category, according to the daily counts by The Asthma Center, in Center City.

For the region's countless victims who are allergic to those minuscule projectiles that trees eject in he pursuit of procreation, this is the season for sneezing and congestion, which greatly impairs the sense of smell.

That's a critical one in the mating game, says Charles J. Wysocki, formerly with the Monell Chemical Senses Center, who has been recruited by the people who make Nasacort Allergy nose spray to make a case for the joys of smelling.
While the Northeast was shivering, globally the Jan. 1-March 31 period nudged out 2002 for the toastiest, according to data released Tuesday by the National Climatic Data Center.
The globally averaged surface temperature was 1.53 degrees Fahrenheit above the 20th century average, edging out 2002 by 0.09 degrees; the margin of error was 0.16 degrees in either direction.
March, itself, also set a record with readings 1.48 degrees Fahrenheit above the 20th century average, nudging 2010 by 0.09 degrees, with a margin of error of 0.14, according to the climate center.
The Storm Prediction Center has issued a tornado "watch" for Philly and the four neighboring Pennsylvania counties; Gloucester and Camden Counties, in New Jersey; and northern Delaware.
Nothing has been sighted, and a watch means simply that conditions in the atmosphere are conducive for stirring up a tornado cocktail.
The Storm Center in Oklahoma lists the chances at 5 percent for an area that encompasses Philadelphia and all of Delaware and Chester Counties, and 2 percent elsewhere.
As we observed, after more than 30 years of long-range hurricane outlooks at Colorado State University, 85-year-old Bill Gray has announced that he plans to move on from hurricane forecasting.
We spoke with him this week about his plans, and suffice to say he isn't quite ready for a life of pipe and slippers. "I'm working to save the world from global warming," he said.
On matters of long-range hurricane forecasting, Gray is recognized as a pioneer whose methods have been adopted by meteorologists in the government and private sector.
Over 30 years ago Bill Gray became one of the nation's first meteorologists to issue hurricane seasonal forecasts months in advance.
In the years since private and government meteorologists have been using key components of his methodology in their outlooks, which is one reason why they looks so similar from year to year.
In the outlook issued last week for the season that begins June 1, Gray and Colorado State University associate Phil Klotzbach called for a profoundly quiet season – almost as quiet as Gray's planned exit.