Yes, it's Veganuary, when ever more people try on the plant-based lifestyle at the year's outset, some choosing to make this their own "Year of the Vegan."

Using such a term for the wider culture, where "vegan" keeps showing up — from Franklin Graham's "conversion to veganism" to Hellmann's "Vegan"-certified mayo to ongoing gendered trends — has, frankly, become redundant. Time to go to "The Century of the Vegan" and be done with it?
After all, a top obstacle to people staying vegan are habits of convenience, which trip up many resolutionists around the second week of January: Working the finding of vegan food into your daily routine can be a big issue. But the good news is that vegan items continue to multiply and become even more readily at hand right in the heart of Philadelphia.
Wherever you go around Center City, it seems, you're just a few blocks from a cheery spot to grab, say, a plant-based sandwich (the epitome of quick-and-easy convenience food).
Just recently, five new hearty sandwiches have hit local menus to make animal-free eating even easier and more convenient.

The trend is spearheaded by the two new vegan spots closest to City Hall. HipCityVeg and Bryn Mawr's Vgë Café opened a little over a week apart in 2012, and last month saw the opening of both a third HipCityVeg location in the second block of South Broad (121 S. Broad St), and — a little over a week later — the PlantPure Café, a Vgë sequel that pushes the plant-based fast-food menu into markedly healthful territory, all while retaining the fun and flavor.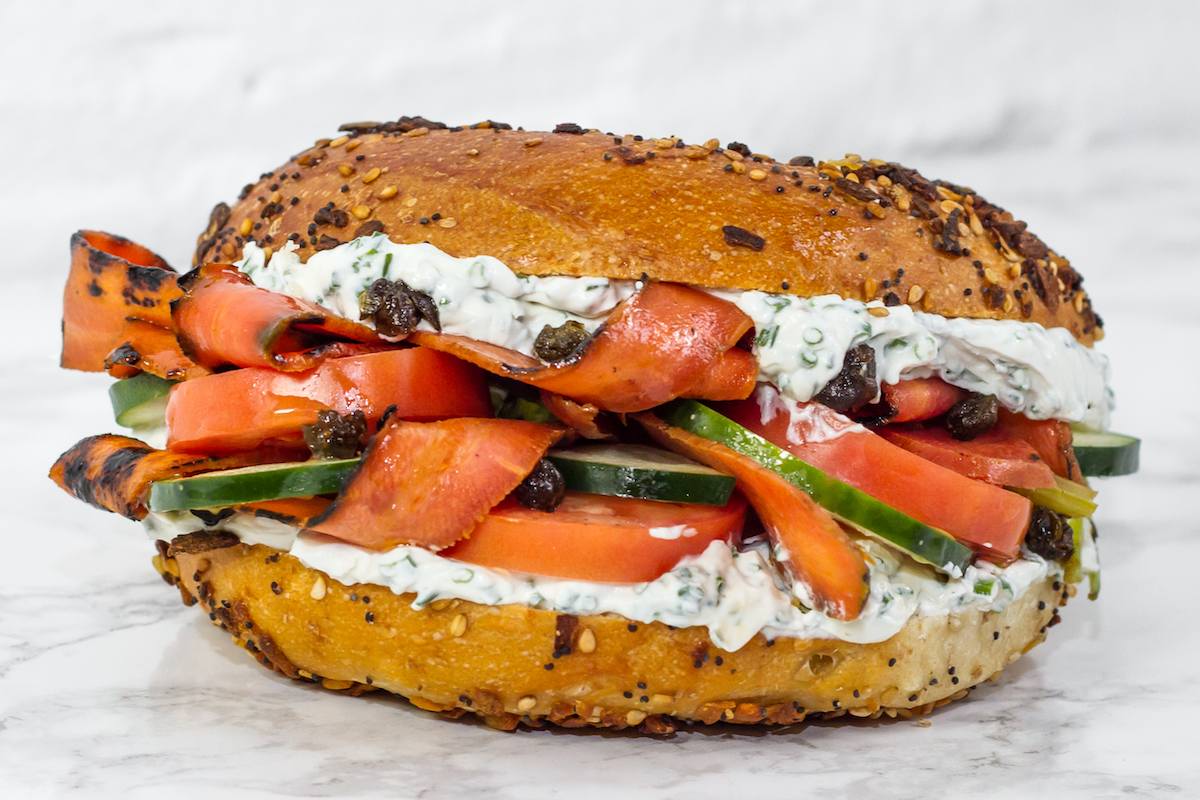 While HipCityVeg leans on its popular original menu, the new sandwich worth noting is the Lox n Loaded, a vegan breakfast bagel sandwich that mimics lox with smoked carrot, loading on avocado, cucumber, tomato, red onion, alfalfa sprouts, and scallion cream cheese. This is part of a new HCV breakfast menu introduced at this location in morning-commute central. Newly-appointed culinary director Justin Petruce is shaking up some of the Marquis & Co. menus, and the Huarache Sandwich at Bar Bombon — smoked hen of the woods on cornflour fry bread with parsnip escabeche and celery root purée — sounds worth noting along with the breakfast push.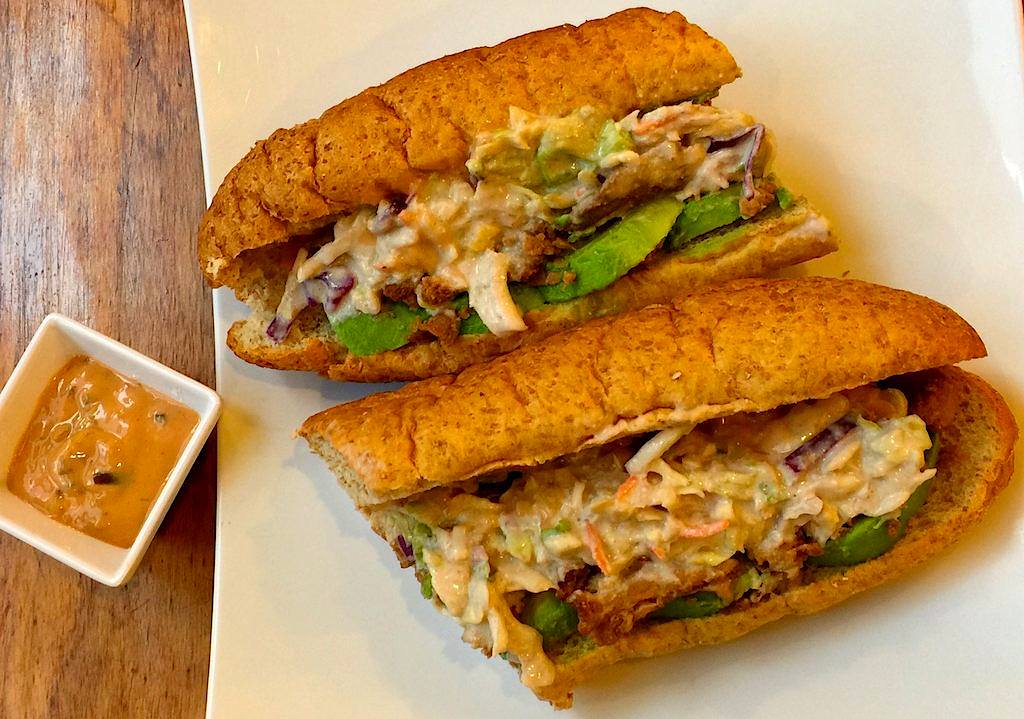 Two blocks down Broad and a couple blocks east (1115 Walnut St.) is the ambitious PlantPure Café, which opened quietly in December and will have a grander opening event later this month. As with VGE, many sandwiches are on offer, but the clear favorite of many — and the top seller — is the Reuben, pairing preseasoned seitan with a low-oil vegan Thousand Island sauce.
The Café works with PlantPure Nation, whose adviser T. Colin Campbell wrote the book on the benefits of the Whole-Foods Plant-Based diet (The China Study and/or Whole), and with Jefferson Hospital less than a block the joint may become a favorite of both patients and staff looking to healthy-up their eating habits without much sacrifice.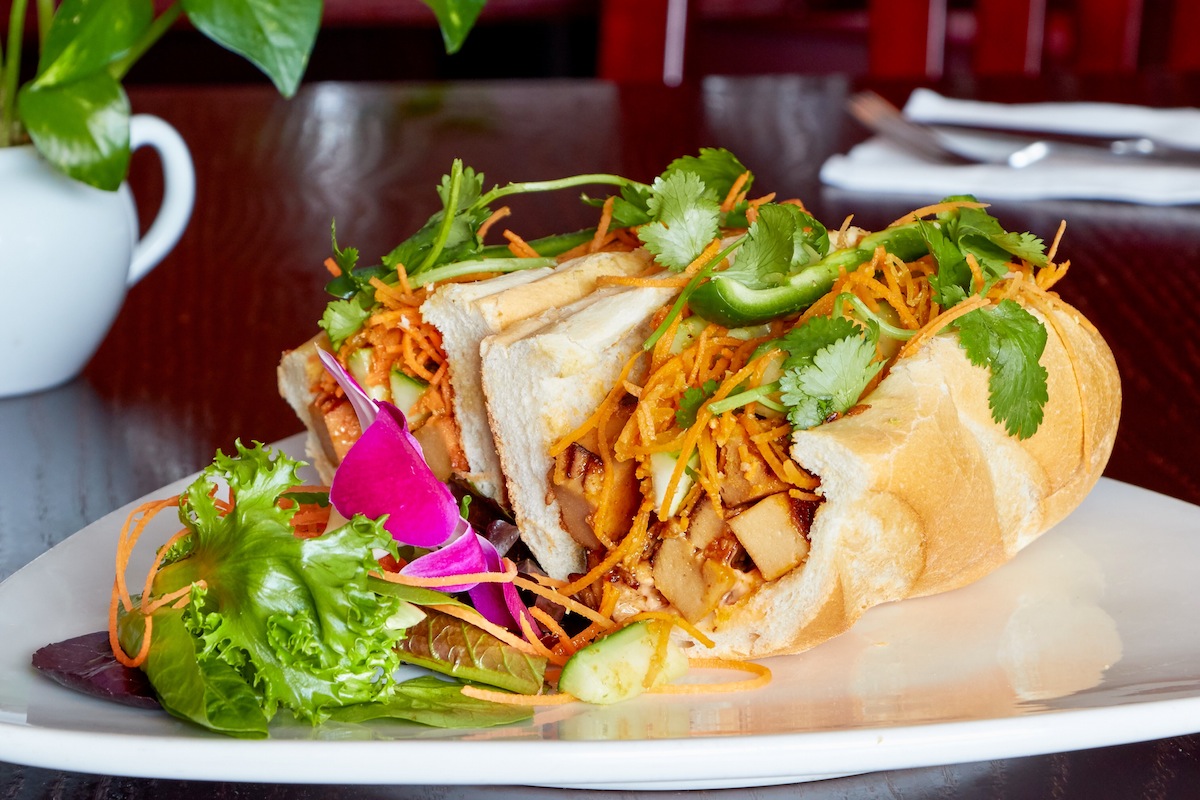 Going a little further afield to South Street, a new/old entry that also opened in December is Mi Lah, formerly just west of Broad Street, moving to Ambler in 2015 for a mostly-vegan incarnation. The new spot at Third and South (615 S. 3rd St.) is all-vegan with an eclectic menu recalling that of the former location, but with an approach that's more "dim sum/tapas."
You might stop in and try the Vietnamese Hoagie (available also at Ambler location), a riff on the banh mi that features marinated tofu pan-seared and placed in an oven-roasted baguette, dressed with spicy vegenaise and topped with carrots, cucumbers and cilantro that are tossed in a cilantro vinaigrette.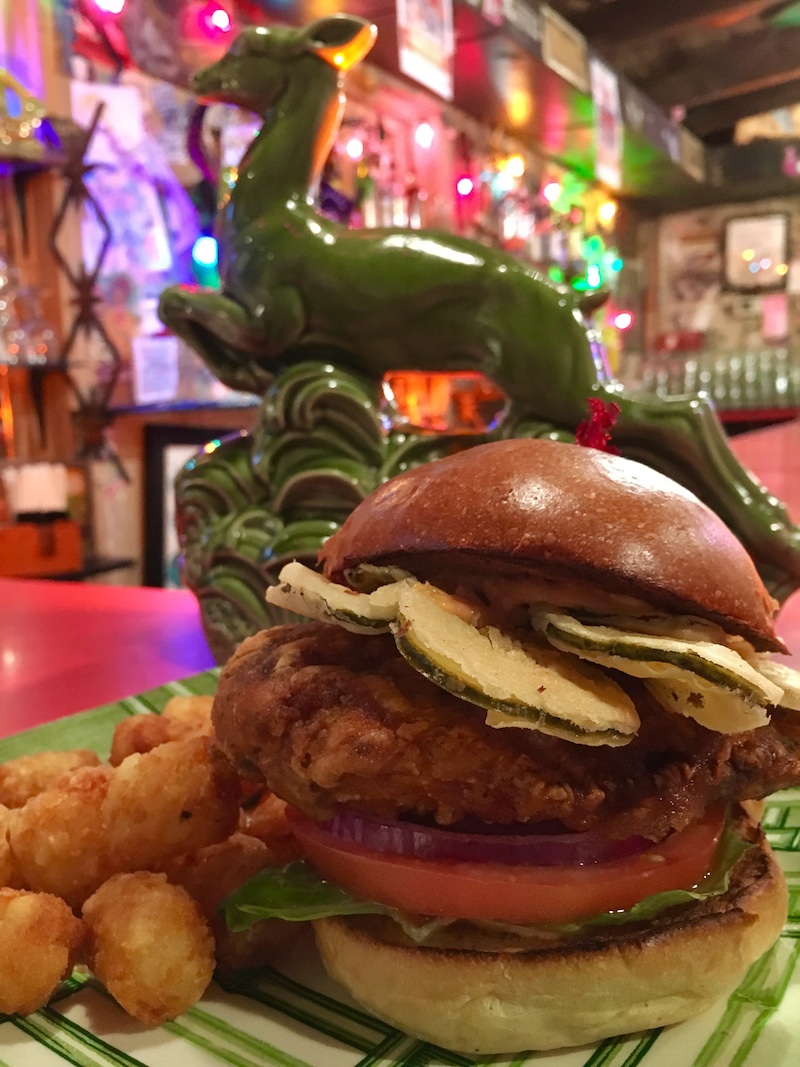 Meanwhile, a couple blocks away (530 South St.), the quirky and super-vegan-friendly pub Tattooed Mom (half-price veggie menu on Mondays!) this fall introduced a sandwich that has many Philly vegans' tongues wagging in more ways than one. The Pickle Fried Chcken Sammy is composed of house-brined plant-based fried "chicken" breast with fried pickles, lettuce, tomato, onion, and crystal-hot sauce mayo.
I've tried the sandwich with a cold beer and it decidedly hit the spot. But for the more adventurous sandwich-grabbers out there, owner Robert Perry suggests you "Pair it with a Pickletini cocktail and get pickled at Mom's!"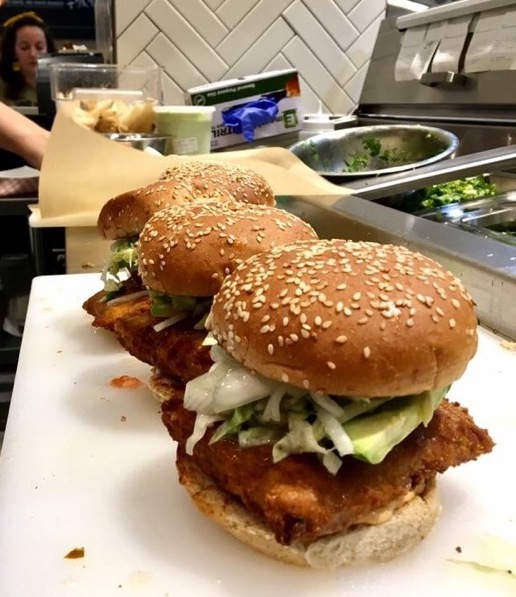 Our fifth sandwich is at Wiz Kid — currently on the outskirts of Center City, just off the Parkway in the new Whole Foods (2101 Hamilton St.), but due to open a 19th Street location this season. And although the signature item is the Wiz Kid cheesesteak, I want to give a shout-out to the less-heralded KFT Sandwich — Korean-Fried Tempeh.
Listen, I know I'm not the only vegan who's historically gravitated toward tofu, seitan, TVP, or mushrooms as our go-to hearty protein instead of tempeh. It's not as forgiving as those other "meats," and has a thickness to its flavor that's hard to work with. But come on, this is the "Wiz'"himself we're talking about, and with his wizardry, this sandwich could seriously turn the most totally tempeh-tossed into a tempeh top champion.
Just as the hot fried tempeh contrasts with the cool tomato, kimchee, and daikon, their fresh, light and piquant flavors play off of the more solid taste of the tempeh and the crunchiness of the breading for a great combo and a terrific sandwich. I rechecked the quality on Sunday and found it delightful as ever (and also found at Wiz Kid a new must-try dessert treat, "Potholes"), so whether you hightail it to the Whole Foods on the Parkway or watch for it at Rittenhouse Square, the KFT does the hometown Philly sandwich proud.
Then again, all of these are great sandwiches, but it's really the whole set that makes the case: Eating vegan in and around Philly is easier than ever, and if you're trending animal-free, keep going, because the perfect vegan sandwich may be just around the corner!