Archive: July, 2009
Trudy Rubin, Inquirer Opinion Columnist
Here are some more details about Prime Minister Maliki's new Education Iniative, announced on July 25, 2009, that I believe exemplifies the kind of relationship we need to shape with Iraq in the future.
Iraq will be working with AED, a nonprofit educational consulting firm in the United States, that works on global education and other social issues, to set up the project. The initiative will send up to 10,000 Iraqi students per year over the next five years to the United States, United Kingdom, Canada, and Australia to complete their higher education studies.
The Initiative, created, funded, and managed by Iraq, is designed to mitigate four decades of underdevelopment due to wars and the economic stagnation of the last two decades.
Trudy Rubin, Inquirer Opinion Columnist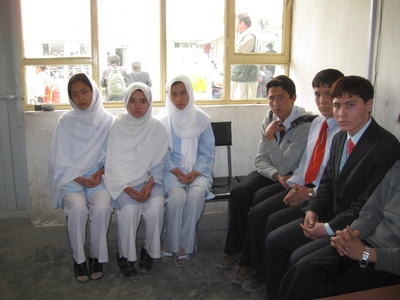 The National Constitution Center has just received a grant of $105,000 from the American Association of Museums for a civic photography program that will link high school students from Philly with minority students in Kabul.
Students from Constitution High School in Philly, where a mostly minority student body focuses on the role of citizens in a democracy, will pair with students from the Marefat High School in Kabul, whose students are members of the Shiite Hazara minority. They will exchange ideas and photos that portray how they, as minority students, define their role as citizens in their respective countries. The photos will be ultimately used in a joint exhibition to be hosted at the National Constitution center and the National Museum of Afghanistan.
I visited the Marefat school when I was in Afghanistan in April, and met the students who will take part in the program. Some of them are shown in the photo above. They may look a bit stiff (they aren't used to being photographed) but they broke up in giggles once the camera was off them. And they all spoke in English, with different degrees of fluency, about what the program means to them.
Trudy Rubin, Inquirer Opinion Columnist
Why did the U.S. military choose last Friday as the date to free five Iranian "diplomats" whom the United States arrested in Irbil, Iraq in January 2007?
The U.S. military had accused the men of being members of the elite al Quds force of the Revolutionary Guards; al Quds members have armed and trained radical Shiite militias in Iraq. The Iraqi government, which has close ties to Iran, has been pressing for the release of the men since they were arrested.
But why let them go now, in Baghdad, just a day after an Iranian-American academic, Kian Tajbakhsh, was arrested in Tehran - apparently by the Revolutionary Guards? The Guards have been the military muscle used by the Iranian regime to crack down on post-election protests.