Archive: May, 2011
Trudy Rubin, Inquirer Opinion Columnist
I am in Islamabad now, and attended an extraordinary press conference at the U.S. embassy with Sec. of State Hillary Clinton and the Chairman of the Joint Chiefs Mike Mullen.
They were here on an unannounced visit aimed at easing tensions between the two countries, in the wake of the U.S. raid that killed Osama bin Laden. Clinton, in an orange pants suit, looked exhausted and tense, and her words, aimed at a largely Pakistani press corps, were carefully chosen and delivered slowly.
Her whole pitch was an effort to move beyond Pakistan's anger, and embarrassment over America's decision to go it alone in killing bin Laden. She stressed that the U.S. had no evidence that top Pakistani officials knew he was living an hour from their capital, but hanging in the air was the reality of Pakistan's failure to find him.
Trudy Rubin, Inquirer Opinion Columnist
Many people ask me about security in Kabul. Do I feel safe, and how do I protect myself?
When I answer, I always reference Baghdad. Even though bombs go off periodically in Kabul (I was not far away when a suicide bomb tore through a military hospital) I feel the Afghan capital is an oasis of calm compared to the Iraqi capital in the middle of the last decade.
True, a story was circulating during my stay in Kabul that the Taliban wanted to kidnap a foreign journalist; but unlike in Baghdad, there were not men with cell phones lurking around guest houses where foreigners stay, ready to relay the drivers' license plates to waiting cars manned by kidnappers. Nor are their casual gun battles on city streets.
Trudy Rubin, Inquirer Opinion Columnist
There was one day I spent in Kabul that felt like old home week. I interviewed two top members of General David Petraeus's team who came from the Philly area.
Lt. Gen. David Rodriguez is the deputy commander of U.S. forces and heads the joint command of coalition forces. That means he directs day to day operations of all coalition forces in Afghanistan.
The tall, craggy Rodriguez grew up in Westchester PA, where his father worked at Luken Steel. After attending Henderson High School, he went on to West Point, Class of 1976. His bother is a UPenn grad. Rodriguez came back to West Chester last year to get inducted into his high school's hall of fame.
Trudy Rubin, Inquirer Opinion Columnist
As I wrote in my column today, there has been a frenzy of meetings in Europe, the Mideast, the Maldives and Kabul, seeking a way to jump start talks with the Afghan Taliban. I think this is worth trying, but without any illusions about its chances of success. Indeed a heedless pursuit of such talks could produce a new Afghan civil war.
I spoke about this risk with Dr. Abdullah Abdullah, a former foreign minister of Afghanistan who got thirty per cent of the vote when he ran against Hamid Karzai in 2010 presidential elections. Abdullah was an aide to Ahmed Shah Masoud, the legendary leader of the Northern Alliance, a predominantly Tajik movement that succeeded in overthrowing the Taliban with U.S. assistance. He is now leading an opposition movement that has spoken out against the dangers of talking with the Taliban.
"Everyone is talking about peace talks without a plan which is very disturbing," he said, sitting in the lovely home, furnished with Afghan carpets and antique furniture, from which he fled when the Taliban took over Kabul in 1996. "Would such talks lead to peace, and what is the cost?" he asked. "Where would be be if we made peace with 15,000 Taliban? What about the wider population of thirty millions?
Trudy Rubin, Inquirer Opinion Columnist
I will write in more detail on the divergent speeches of President Obama and Israeli Prime Minister Netanyahu when I return from South Asia, but I'll just put down a few immediate thoughts here.
There was something tragic about Netanyahu's speech to the U.S. Congress, and something bizarre about attempts to demonize Obama's earlier speech as anti-Israel. Obama's framework – a return to approximate 1967 borders with agreed land swaps – is the formula that U.S. and Israeli leaders have been talking about for the past two decades. It is the basis on which Israeli leaders from Yitzhak Rabin to Ehud Barak to Ehud Olmert negotiated with the Palestinians.
True, final agreement was not reached. But the reason those Israeli leaders attempted to talk on that basis was that they knew Israel could not forever rule over 3-4 million disenfranchised Palestinians. That is all the more true at a time when Mideast revolts are enabling many Arab publics, for the first time, to have a voice in political systems that were long run by autocrats or despots. In the coming era, Arab publics will be much more vociferous in pressing their leaders to obtain those rights for Palestinians.
Trudy Rubin, Inquirer Opinion Columnist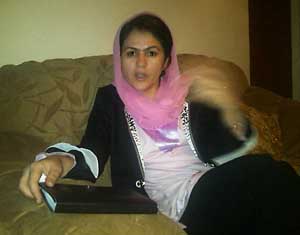 Fawzia Koofi, 35, has been a member of parliament since 2005, and its first female deputy speaker; she worries that talks with the Taliban will set back the real, if halting, gains Afghan women have made in the last decade.
"There is a very confusing and uncertain situation when it comes to talks with theTaliban," she told me in her living room, which is lined with plush, gilded couches for constituents to sit on when they arrive to tell her their troubles. When I arrive, a woman with dark bruises on her face was begging Koofi for help in dealing with an abusive husband.
"It's not clear who we're talking to," she says."If we're talking to the Taliban as an ideologic group, those Taliban willnot change. They say they will accept that some girls go to school but not to have women in politics.
Trudy Rubin, Inquirer Opinion Columnist
Even as Afghan media outlets were still pushing the premature tale of Mullah Omar's death, senior U.S., Afghan and Pakistani officials were meeting in Kabul to try to devise a strategy to negotiate a peace with Mullah Omar's Afghan Taliban.
There is a huge amount of hot air being spewed about potential talks with the Taliban, and I will write about the reality of these efforts in my Thursday column. There is no question that the United States is now interested in pursuing such talks. But no one knows for certain, at this point, whether the Taliban are truly interested in diplomacy. And if they are, ,no one knows whether Pakistani efforts to control the process will jinx it.
However, it is clear that many Afghans are worried that such talks will lead to a major Taliban role in their government that will set back the gains in civic and human rights that have been made at a very high price over the past decade.
Trudy Rubin, Inquirer Opinion Columnist
The rumor that Mullah Omar had been killed in Pakistan seems to have been a product of wishful thinking from the Afghan National Directorate of Security, or NDS. No evidence has turned up to support this rumor, but Afghan media are still promoting it. It's easy to understand why.
Every since Osama bin Laden was killed, there has been a powerful expectation here that the United States would strike next at the Afghan Taliban leader who is sheltering in Pakistan.
Many people I've spoke to in Kabul believed Omar's death would so weaken the Afghan Taliban that many local Taliban might accept reintegration into society. They also think Omar's death might make a negotiated peace settlement with remaining Taliban leaders easier to achieve, because the movement would be weakened. And if Omar were killed on Pakistani soil, it would smash Pakistan's efforts,to dominate any peace talks.