Archive: March, 2012
Trudy Rubin

, Inquirer Opinion Columnist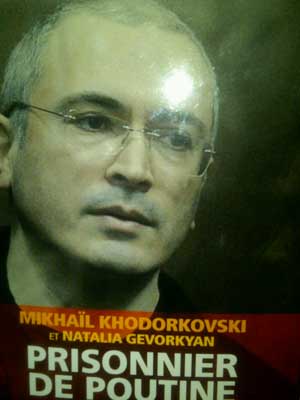 Outgoing Russian President Dimitri Medvedev caused something of a stir Monday when he ordered a review of the case of Russia's most famous political prisoner, former oil tycoon Mikhail Khodorkovsky. But every knowledgeable Russian with whom I've spoken dismisses the move as a PR gesture as Medvedev prepares to step aside for Vladimir Putin to take up his third term as president.
Medvedev might want to free Khodorkovsky, but Putin has all the power.

Khodorkovsky angered Putin several years ago by entering opposition politics despite warnings not to. As a warning to others who might have similar ideas, Khodorkovsky was charged with tax fraud and embezzlement – in blatantly political trials – and convicted in 2005 and 2010 ; he still faces years more in prison and his giant oil company was effectively nationalized by the state.
Facing opposition at home, Putin is less likely than ever to free Khodorkovsky, whose release has become a key demand of Russia's new protest movment. But the case has also become a symbol of whether Putin is ready to reform a corrupted political and economic system under pressure from a new opposition movement.
Trudy Rubin

, Inquirer Opinion Columnist
It didn't take long after Vladimir Putin's controversial reelection to the presidency on Sunday for him to turn on the middle class opposition that has sprung up over the past five months.
Clearly last fall's massive protests against election fraud in parliamentary elections infuriated Putin. So did the fact that – although he won a majority of votes in Russia (the numbers apparently much padded by vote fraud) - he didn't win a majority in Moscow.
So, on Monday evening here, Putin was eager to remind these upstarts who was in charge.
Trudy Rubin

, Inquirer Opinion Columnist
MOSCOW - On election day I interviewed the most interesting figure in the new, exciting, youthful Russian opposition movement, the 35-year-old Alexey Navalny. A lawyer and blogger, he had made a name for himself by unearthing and publishing on line incredible details about massive governmentl corruption schemes.
In a country where official corruption rivals that of Nigeria, and undercuts the economy, efforts to build up small and medium private businesses, and every aspect of daily life, his online work has been little short of astonishing.
But when he was arrested and jailed after leading a protest against rigged parliamentary elections in January, his visibility suddenly skyrocketed. He is the opposition figure the Kremlin fears the most, because his good looks, charisma and anti-corruption fight appeal to disaffected nationalist youths as well as to liberals.
Trudy Rubin

, Inquirer Opinion Columnist
MOSCOW - The center of Moscow, during today's presidential elections, looked as if the Kremlin was preparing to fend off an invasion by an enemy army. Hundreds of huge trucks, some white, some black, with bars over the windows, blocked off street after street, surrounded the huge square in front of the Bolshoi Theatre, and barred access to Red Square; they were flanked by legions of special security police.
When I asked one policeman, in furry hat and grey uniform, what they were all doing, he replied, " We are protecting against any provocation. We have to keep Moscow safe." It was all in keeping with the effort by victorious candidate Vladimir Putin to portray the middle class youths who have recently mounted peaceful protest rallies, as a dangerous threat to stability – and the state itself.
Indeed, in his victory statement, as he strode in black jacket and jeans onto a stage in front of thousands of supporters in front of the Kremlin walls (bused in they had no trouble penetrating the security ring), Putin struck up the "defeat our enemies" theme. "Nobody can impose their policy on us," he shouted. "Our people could recognize the provocation from people who want to destroy us." My mind flashed back to an afternoon spent with young people planning to act as election observers at polling places, and I wondered if he really thought these youths were going to invade the Kremlin.
Trudy Rubin

, Inquirer Opinion Columnist
MOSCOW - Jean-Jacques, a popular French-style bistro in central Moscow, has become a popular hangout for young Russian opposition members. On the night before presidential elections, it was crammed with young Russian journalists, and volunteer poll watchers smoking, drinking, and discussing how they intend to monitor the vote.
Everyone knows Vladimir Putin, currently prime minister, formerly a two-term president, will win. What they are all debating is how far his minions will go in stuffing ballot boxes in Moscow.
There are various stories circulating, one that Kremlin officials will refrain from making the fraud too egregious in Moscow, where the opposition is strongest, and everyone believes Putin would only get 25% of the vote in a fair election, even though he is competing against a cast of lackluster candidates who all had to get Kremlin permission to run. This theory holds that the Kremlin will be wary of outraging young middle class Muscovites, and will make up it by grossly padding the vote elsewhere.
Trudy Rubin

, Inquirer Opinion Columnist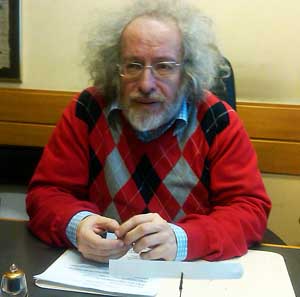 MOSCOW - Journalism is a dangerous business in Russia where those who challenge the authorities or investigate corruption are risking savage beatings, or even murder.
So right after arriving in Moscow today, I rushed to keep an appointment with Alexei Venedictov, editor-in-chief of Echo of Moscow, a fiercely independent radio station, operating out of cramped rooms on the 14th floor of an ugly concrete office building in central Moscow. The station reaches three million listeners and has kept up a drum beat of criticism against election-fixing and corruption.
While the Kremlin has slightly relaxed its tight control of the media in the run-up to Sunday's presidential election, Venedictov expects a crackdown once Vladimir Putin is confirmed for a third term, in a rigged electoral system.