Archive: February, 2011
Trudy Rubin, Inquirer Opinion Columnist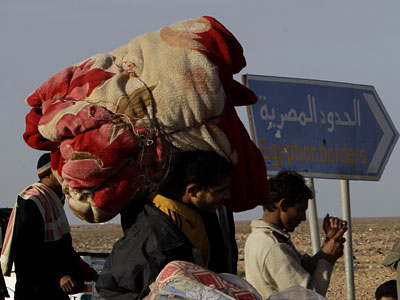 The bloody suppression of dissidents in neighboring Libya is galvanizing Egyptians. About 300 gathered in front of the Arab League building near Tahrir square in Cairo to demand (no doubt fruitlessly) that this pan-Arab organization do something. They chanted "All Arab regimes are the same" and "Lift up your heads, Oh Arabs!"
Psychologist Mohsen Mahmoud, visibly. agitated, was carrying a sign saying "I was Egyptian, now I am Libyan, Bahraini, Yemeni. I'm an Arab."
This sign accurately captures the ripple effect that the Egyptian rebellion has has on the Arab world.
Trudy Rubin, Inquirer Opinion Columnist
I came to this conservative middle and working class district of shabby apartment blocks and vibrant street life to see how things had changed since a secret policeman assaulted me there five years ago.
Back then, the goon came up behind me as I was interviewing shopkeepers who were complaining about the Mubarak regime. He snatched my notebook, ripped it up, tried to punch me. I ran.
This time, after the revolution, I knew the secret police wouldn't be a problem. But I wanted to talk to the locals about what they thought the revolution would bring.
Trudy Rubin, Inquirer Opinion Columnist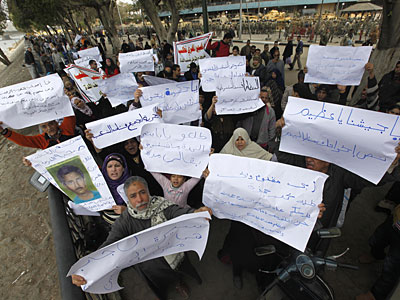 Take a look at this man. As Deputy Chairman of the Muslim Brotherhood, Rashad Mohamed Al-Bayoumi is a leader of the best organized political force in today's Egypt. This raises a big question mark over the revolution: Will an Islamist group become the strongest political party in an Egyptian democracy, and will they be ready to play by democratic rules?
Long banned as a party, the Brotherhood, known as the Ikhwan, proved its electoral skills in 2005 by running candidates as individuals (without party labels) and winning twenty per cent of the open seats. In the new Egypt, the Ikhwan will almost certainly become a political party, soon. And then what?
I visited Bayoumi in a shabby but bustling Brotherhood headquarters in the middle class Manial district of Cairo, riding up to their fifth floor headquarters in a rickety elevator. The Deputy Chairman looks grandfatherly, but he's tough. He's spent a total of 18 years in grim Egyptian prisons.
Trudy Rubin, Inquirer Opinion Columnist
I was riding in a cab with my translator Eyad – a young TV presenter with longish hair - when the cabbie asked him if he had been at the revolution in Tahrir Square. When Eyad said yes, the cabbie, a burly man in his forties named Mohammed Abdullah, told him that the revolution meant it was time for all Egyptians to start changing themselves.
In Egypt, as in much of the Arab world, there has never been much sense of civic awareness of protecting public space. Governments are corrupt and distrusted, and people tend to focus on family and clan; most have little sense of the common weal and little understanding of civic activism. That seems to be changing here since the Revolution of Jan. 25.
"When I went on picnics with my wife and kids," Abdullah said, "she told me to put my garbage in a plastic bag. But I used to throw it on the street and say 'this is not my country.' I threw trash out of the cab window.
Trudy Rubin, Inquirer Opinion Columnist
My translator Eyad, who was in Tahrir Square all 18 days of the Egyptian revolution, showed me a small flyer that is circulating widely around Cairo, instructing people on how to behave respectfully towards others and towards their country. (This is part of a whole burst of civic awareness and pride that has sent young men out into the streets picking up garbage and painting curbsides in the colors of the Egyptian flag: white, black and red )
The pamphlet reads in Arabic (translated by Eyad):
We will change ourselves first:
Trudy Rubin, Inquirer Opinion Columnist
There were many religious folks at the demonstration, but the Muslim Brotherhood is treading very carefully lest anyone think they wish to hijack the revolution. I will write in more detail about them in a future column. But at the demonstration one could see that Islamists will be a factor in the new Egyptian polity.
The once-banned salafi group Gamal Islamiya had a group of supporters in the square with banners calling for the release of the blind sheikh Omar Abdel Rahman, who was convicted of involvement in the first trade center bombing.
His followers and his son Mohammed insisted to me that he had been framed by the Egyptian secret police and the CIA and that the United States should send him home. They are also calling for the release of dozens of their followers in Egyptian prisons.
Trudy Rubin, Inquirer Opinion Columnist
Of course, the big question is what comes next, which I will be writing about in my column. Around the square I heard many intense debates over whether the six-month time frame the army has set by which to hold elections is sufficient for new parties to develop to offset the organizational advantage of the Islamists. And yet, all day, throughout the square, secular and religious Egyptians alike insisted the Islamists would not and could not dominate the political scene.
"I doubt the revolution could be stolen by the Islamists. They are 15-20 per cent," said well-known filmmaker Mohammed El Adl, "and they only look like more because they are organized and have the ability to organize since the Mubarak regime froze every other political group."
I heard comments such as this over and over. A group of veiled girls, one with her face covered, and all university students, told me vehemently: "We all want a civil, not an Islamic, state."
Trudy Rubin, Inquirer Opinion Columnist
The most touching story I heard came from a music composer designer, Mohammed Ali, who read about the plans for the Jan. 25 demonstration on Facebook and came to Tahrir Square every day during the 18 days of the revolt.
Last week on the day that Mubarak finally resigned, he was sitting with the mother of Khalid Said, the young man whose brutal murder by secret police in Alexandria sparked the Jan. 25 protests. (A facebook site called "We are all Khalid Said" with pictures of Khalid's battered face drew hundreds of thousands of signatures.)
Said's mother had come to today's celebration, which was also a memorial for the dead, and was invited up to an apartment overlooking the square, where she witnessed the historic announcement of the reservation.