Trudy Rubin, Inquirer Opinion Columnist
Russian leader Vladimir Putin is furious that rich Russian depositors in Cyprus banks will be forced to take a haircut as part of the European Union's bank bailout deal with Cyprus. Some reports say that as much as 40% of deposits in Cyprus banks come from Russians; depositors with over $130,000 in their accounts may lose up to 40% of their money.
But Putin's hypocrisy is so great it begs for a new term to describe it, a term that means chutzpah to the nth degree.
Much of that Russian cash is believed to be "hot" money which Russians park in Cyprus banks because the taxes are low and the money becomes untraceable. Back in Russia, Putin has yet to attack the stupendous corruption and diversion of public funds that undercuts Russia's economy and future. Bloomberg Businessweek reported that a big chunk of the $270 million defrauded from Hermitage Capital – a theft whose exposure by the brave Sergei Magnitsky led to his arrest and death in prison – can be traced to Cyprus.
Trudy Rubin, Inquirer Opinion Columnist
This week John Kerry got an earful from Afghan businesswomen when he was visiting Kabul.
The women were suspicious of official U.S. pledges to continue supporting Afghan democracy and rights for women. They told Secretary of State Kerry they were worried their leaders – or the US leaders - might negotiate a peace accord with the Taliban that would sell out their hard won rights for political gains.
I heard the same concerns voiced a week ago at the Brussels Forum by one of Afghanistan's most courageous woman leaders, Sima Samar, a medical doctor, educator and human rights canpaigner. "The job in Afghanistan is not finished," she told me, so the United States should not repeat the mistakes of the 1990s" when America turned its back on her country after the Soviet exit. In the ensuing chaos, the Taliban and al Qaeda took root.
Trudy Rubin, Inquirer Opinion Columnist
When the once-powerful Russian oligarch Boris Berezovsky died in exile near London on Saturday, I recalled an interview I did with him in Moscow in the late 1990s.
Back then he was one of the richest and most powerful of the Russian tycoons, a highly unlikeable man who billed himself, with some truth, as responsible for maintaining Boris Yeltsin in power. Berezovsky would later would help install an obscure KGB agent, Vladimir Putin, as president.
At the peak of his success, the tycoon controlled a huge oil company, along with the Russian airline Aeroflot, as well as Russia's national TV channel one – the main source of news for much of the population outside Moscow. When I met him, it was hard to imagine he would die despondent and almost improverished by a failed London lawsuit against another oligarch, whom he accused of conspiring with Putin to deprive him of his oil wealth.
Trudy Rubin, Inquirer Opinion Columnist
Here's what happens when U.S. disengages from Mideast
John Kerry just made a trip to Baghdad, the first for a U.S. Secretary of State since 2009. But his mission isn't likely to yield any success.
Kerry sought to persuade Iraq's leader, Nouri al-Maliki, to stop daily Iranian overflights to Syria, which are ferrying tons of weapons plus military personnel to help dictator Bashar al –Assad.
Trudy Rubin, Inquirer Opinion Columnist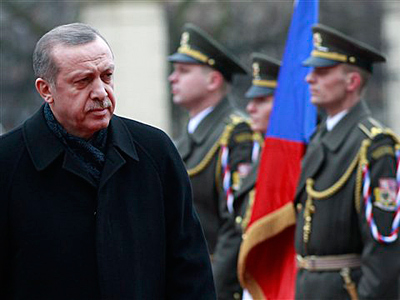 The long-delayed apology last week by Israeli Prime Minister Netanyahu for the deaths of 9 Turkish citizens on the Turkish aid ship Mavi Marmara in 2010 is a BIG DEAL, for which President Obama deserves kudos. Here's the backstory:
Turkish-Israeli relations have been frozen ever since Israeli commandos killed the civilians in a raid aimed at preventing the ship from breaching Israel's naval blockade of Gaza in 2010. This freeze has prevented these two, once-close, Mediterranean powerhouses from cooperating on key strategic issues in the region. That military and intelligence cooperation is now more vital than ever in dealing with Syria and Iran (even if Israeli-Turkish relations never return to previous warm levels).
Trudy Rubin, Inquirer Opinion Columnist
OK, so President Obama gave a great speech in Jerusalem yesterday to 1000 students.
He promised, again, to prevent a nuclear-armed Iran. He pledged undying support for the Jewish state, and urged Israelis not to forsake efforts to negotiate peace with the Palestinians. His rhetoric was so powerful that it elicted repeated cheers.
Now what?
Trudy Rubin, Inquirer Opinion Columnist
An Israeli friend of mine once said that, in talking to israelis, you first have to give stage directions, meaning you need to convince them you support them. Only then can you critique what they do.
In his speech today to young Israelis, President Obama managed to press all the right emotional buttons. He talked about holding an annual Jewish Passover seder in the White House, to commemorate the Jewish exodus from slavery in Egypt. He spoke of the Jewish need for their own homeland, dating back to the time of the bible, and fueled by centuries of persecution (in contrast to an earlier speech in which he said the Israeli state grew out of the Holocaust).
He spoke of the commonalities between our two countries and our unshakeable security ties. He pledged not to let Iran get nukes.
Trudy Rubin, Inquirer Opinion Columnist
On the tenth anniversary of the US invasion of Iraq there's been much commentary on the role the press played before the war. The common wisdom is that the media was too gullible, and too accepting of the Bush administration's arguments for war.
So, it's with some pride that I've looked back on the pre-war columns I wrote for The Inquirer - part of a collection of Iraq columns the newspaper published in book form in 2004 - which repeatedly rebutted the Bush pre-war thesis that Saddam was an imminent threat to the United States.