Trudy Rubin, Inquirer Opinion Columnist
Now that Dzhokar Tsarnaev has been captured alive we may get some answers to the meaning of his and his brother's Chechen connection – and whether any links to their ethnic homeland inspired their terrorist attack.
The Tsarnaev family apparently originated from the Russian Republic of Chechnya, which sits in the middle of a mountainous region in the northern Caucusus between the Black and Caspian seas.
At one point the family migrated to Kyrgestan in Central Asia, then moved to the Russian republic of Dagestan on the Caspian Sea – home to many Chechens. In 2002, the family received asylum in the United States.
Trudy Rubin, Inquirer Opinion Columnist
As emergency responders rushed to help the victims of the marathon bomb, police were pulling down multi-colored flags that had adorned the barrier between spectators and the street. Those flags represented the many nations whose nationals were running the race, a magnet for athletes from all around the world.
So it is particularly poignant that the third victim of the Boston Marathon bombing was a graduate student from China. 23-year-old Lu Lingzi, who was studying statistics at Boston University in hopes of pursuing a career in finance. She came with a friend to watchthe race: that friend is now among the injured.
It's hard to imagine the pain her parents are suffering, so far away from their only child on whom they no doubt pinned high hopes. Clearly this ambitious young Chinese woman had already made a mark, as dozens of her fellow students combed Boston hospitals, trying to locate her.
Trudy Rubin, Inquirer Opinion Columnist
I grew up in Boston and my childhood memories of the Marathon are vivid. What's especially obscene about the bomb attack is the desecration of an event that was unusually pure.
The marathon symbolized the best in people. Whole families lined the early phases of the route to offer water or spritz the runners as they headed through Boston suburbs. Children in Boston, who got the day off from school, headed by subway to Copley Square – or earlier phases of the route - with their parents, to try to get a glimpse of the runners.
Participants came from all over the world, and the crowd along the route cheered them all, with special pride that so many foreign runners participated. There were also special cheers for those who ran more slowly but kept slogging determinedly to the finish line an hour or more after the winners.
Trudy Rubin, Inquirer Opinion Columnist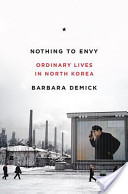 If you want to understand the nuclear bluster of North Korea's dictator, I'd suggest reading two fascinating books on the lives of some of the few defectors who have made it out alive.
It's no wonder that Kim Jong-un has to engage in nuclear theatrics (although he failed to conduct an expected missile test today on the birthday of his grandfather, North Korea's founder, Kim Il Sung). He can only maintain his huge military machine by conducting the most vicious repression of a starved population and by keeping them ignorant of the outside world.
Nothing to Envy, by Barbara Demick, a longtime, former Inquirer staffer, now the Beijing bureau chief of the L.A. Times, offers a rare, detailed portrait of life inside the Hermit Kingdom. By conducting extensive interviews in China and in Seoul with North Koreans defectors from one particular town, she was able to piece together the stories of six North Koreans – including a couple of teenaged lovers as well as a model factory worker who thought she loved Kim Il Sung more than life.
Trudy Rubin, Inquirer Opinion Columnist
Just returned from Fairmont Park where I watched the fabulous Tamagawa Taiko Drum and Dance Group performers at the Subaru Cherry Blossom Festival which goes on until April 26. This is the kind of event that makes Philadelphia a global city.
Today, Sakura Sunday, was the highlight of the festival when the cherry blossoms are at peak, framing the drummers, who leapt, postured, hammered and attacked their huge drums with enthusiasm and power.
Drum performances such as this, with their driving martial beat, can be almost frightening, especially if the drummers maintain stony or fierce expressions. But these young men managed to combine machismo with laughter, making clear they were enjoying the performance as much as the audience was.
Trudy Rubin, Inquirer Opinion Columnist
Growing frustration in Congress with administration policy on Syria – or lack thereof – was in full view at Senate Foreign Relations hearings Thursday. For a minute, it almost looked like Sen. John McCain (R. AZ) might come to blows with the U.S. Ambassador to Syria, Robert Ford. And Committee Chairman Robert Menendez (D, NJ got pretty frustrated, too.
McCain grew irate when Ford said that Syrian civilian and military leaders were "grateful" for U.S. aid. Saying he had spoken to those leaders, and to Syrian refugees, McCain said they were bitter at the United States and he understood why.
"We've watched as more than 80,000 were massacred and we've given them MREs (meals-read-to-eat) with an expiration date of June," McCain said. He was referring to the administration's refusal to arm Syrian rebels, while only belatedly deciding to provide them with army rations, and possibly with body armor.
Trudy Rubin, Inquirer Opinion Columnist
Reading about the death of a promising young U.S. woman diplomat in Afghanistan on Saturday, I was reminded of the tough choices that foreign service officers have to make.
Anne Smedinghoff, 25, was killed by a Taliban car bomb while she was on a daytrip delivering books to schoolchildren in southern Zabul province. She was killed, along with her military escort of 3 U.S. soldiers, a DOD civilian, and several Afghans when they were walking a short distance from a small airbase to the school.
Many good foreign service personnel in troubled countries are frustrated by the security rules that keep them from mixing with locals, and getting a feel for the country. There is always a tension between the desire to escape the embassy fortress and the risk of attack.
Trudy Rubin, Inquirer Opinion Columnist
My pick for most bizarre foreign story of the day is the tale of Eric Haroun, a former U.S. army private from Arizona who's under arrest for fighting with Syrian rebels seeking to topple the Assad regime.
Keep in mind that the United States backs the efforts of the Syrian rebels. But Haroun, who says he set out to join a unit of the Free Syrian Army, the umbrella group that Washington supports, wound up fighting with the most effective Syrian militia, the Nusra Front which is allied with al-Qaeda.