Archive: May, 2010
Trudy Rubin, Inquirer Opinion Columnist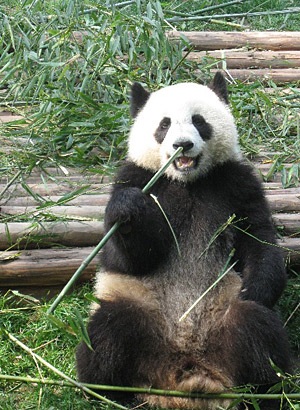 CHENGDU, China -- I'm here with the International Reporting Project to look at environmental issues in China. The most fun stop so far has been a visit to the Chengdu Panda Breeding and Research Center, home to 87 pandas (an estimated 1,500 more live in the wild).
The Center no longer takes in pandas from the wild (unless they are injured), nor does it return pandas bred in captivity to their natural habitat, because they would die. Pandas from this center are loaned out to many foreign zoos; I saw 3-year-old Mei Lan, the offspring of two pandas on loan to the Washington, DC zoo, who was returned here in February.
The habitat's 250 acres include 400 varieties of trees and 87 varieties of bamboo, the panda's staple, but they like only 27 varieties, according to a zoo staffer. I visited the panda kindergarten for their four 9-month olds, and the habitat of the 1 ½-year-olds. Once the pandas turn 3, they roam in solitary. Chinese visitors here go as ga-ga over pandas as do panda lovers in the United States

Trudy Rubin, Inquirer Opinion Columnist
I'm in China on an International Reporting Project Gatekeeper Editors trip which is focusing on economic, environmental and health issues.
This is not my normal political beat, but these issues are crucial to China's economic development, and are increasingly important to the world as China's breathtaking pace of development creates huge global warming issues.
Having seen Beijing when it was a dumpy low rise city whose most exciting shopping was the Friendship Store for people with foreign currency, it is overwhelming to wander the glitzy malls and high end stores, and take in the endless new high rises, whose architecture is not very inspiring but often a bit wierd.